Dunedin's main shopping street is yet to really feel the pinch of Covid-19's economic disruption following a recent audit of vacated premises.
Adam Binns Commercial Ltd director Adam Binns does a count of empty shops along three blocks of George St every three months.
The count on August 1 found little change from the previous count, done on May 1, after the lockdown.
The three blocks of George St that Mr Binns measures are the Farmers Block (between Moray Pl and St Andrew St), the Golden Block (between St Andrew and Hanover Sts) and the Edinburgh Way (between Hanover and Frederick Sts).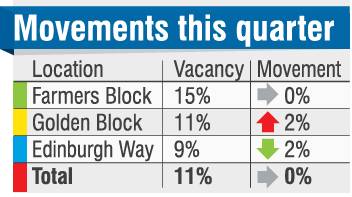 Farmers Block has 15% vacancy, Golden Block has 11% vacancy and Edinburgh Way has 9% vacancy. Vacancy was up 2% in the Golden Block but down by the same number in Edinburgh Way. It was unchanged in the Farmers Block since May.
Mr Binns was keeping a wait-and-see approach to how the retail strip would be affected by Covid-19.
"That's my feeling of where things are at right now.
"People on wage subsidies are still being paid. It may be the case some retailers are being insulated to an extent against where the economy really is at the moment.
"That's helped maintain the viability of those businesses. It could change once those wage subsidies come off. It remains to be seen."
He expected to see "churn" occur, where older tenants are swapped out for newcomers.
"[They] may be replaced by other retailers who can do a deal with the landlord at maybe lesser rent if the landlord sees the need to do that."
Already, new leases had appeared on the street that had offset vacancies, he said.
"I think some of those deals would have been done pre-Covid and the operators just took the view to carry on through."
He was not certain there would be a big downturn for George St retail, as the Dunedin economy was going to be supported by the hospital rebuild.
"... if it progresses — no reasons now that it's not going to progress — [it] is going to just carry on injecting large amounts of money into our local economy, which might help us insulate.
"We also benefit in Dunedin from the old conservatism that we've always had here. Our booms aren't as big as other centres but correspondingly our busts aren't as bad either."
Dunedin's size and layout of retail stores meant it had an advantage over other main centres such as Christchurch and Auckland.
"In Christchurch they have their out-of-town retail malls, which sucks potential customers away from CBD retail.
"Whereas in Dunedin we don't really have that. We have some retail, big-box ... ribbon development around the town and down Andy Bay Rd. But essentially, most of the retail is within the central city and that just helps keep what custom there is within the central city."
There was a low volume of "bricks and mortar" retail at the moment, Mr Binns said, and fewer alternatives drove businesses to prefer operating in George St.
Online was continuing to have a big impact on retail, purely because customers did not have to enter a site to get what they wanted,
and retailers with a lot of space to store product had an advantage over smaller ones.
"The bigger warehouse ... type retailers, the big-box retailers are probably taking up more of a market share because of the economies of scale they can get compared with a smaller, local retailer."
There was an appetite from landlords to keep a tenant rather than have an empty site, Mr Binns said.
"A lot of the landlords in town are very keen to see a vibrant main street and if that means doing a deal to get a tenant in, some of them will do that. Rather than have a unit sitting empty, something's better than nothing.
"That's caveated by the fact the landlord still needs to pay his mortgage. You can't just put a tenant in at any old rent, just for the sake of getting a lease or deal to occur. It's got to work for both parties."