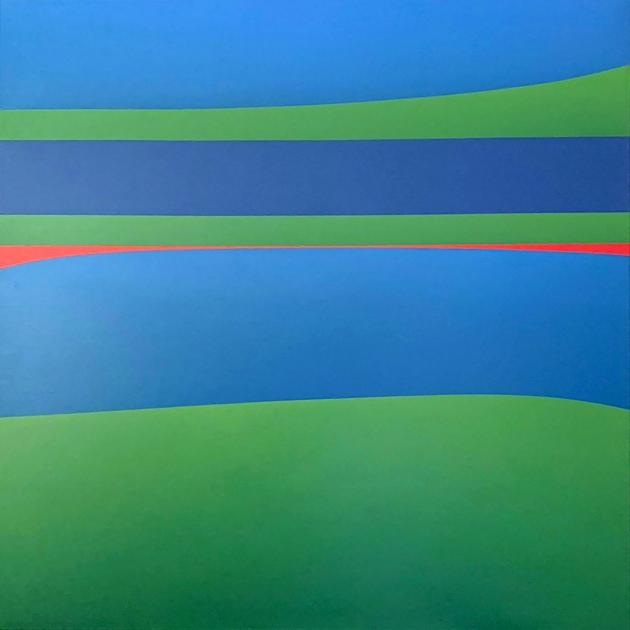 ''Paintings'', Jim Tomlin
(Fe29 Gallery)
Fe29 Gallery is displaying a group of paintings by Southland-born artist Jim Tomlin, created between the mid-1970s and 2000.
The works are minimalist, while still conveying a sense of space and place, most notably in a series of landscapes in which the landforms are reduced to areas of strong colour.
These pieces are attractive, vibrantly hues acrylic images, depicting land, sea, and sky as softly curved blocks of subtly varying blues and greens.
Against these pastoral colours, a vivid line of contrasting red serves to bring life to the gentler tones and to provide a focus for the pieces.
More abstract landscape-inspired forms are presented in the bold Blue Fall and subtle bronze tones of Green Zone, and in two pieces (Te Kianga o Nga Uri and Taku Wa kianga) in which traditional and modern Maori motifs appear in traditional tones of white, charcoal black and red ochre.
If these works seem more abstract and minimal, however, they are nothing compared to Tomlin's earlier Window series, in which surface texture is everything in works painted in tinted white on white.
The painted works are displayed alongside an impressive array of sculptures, ranging from subtle yet beautiful pieces by Barry Brickell, Jung Ki Jeon and Len Castle through to Bronwyn Mohring's musical Kokako.
''Para La Tierra'', Derek Onley
(Gallery On Blueskin)
Derek Onley has made a reputation as a fine illustrator of texts on bird life, a career which has seen him produce images of birds from New Zealand and around the world.
Onley's exhibition at Gallery On Blueskin presents a wealth of drawings, many of them those which became plates in these books. Other drawings on display include sketch workings, often annotated with field notes.
The images cover species from New Zealand and the South Pacific as well as Mexico and other parts of Latin America.
The illustrations are beautifully drawn, and place the focus firmly on the illustrator's art in which the emphasis is entirely on the bird, shown free from a background setting.
Works such as Cape Pigeon/Southern Royal Albatross are deliberately posed to show off the birds' markings to the best advantage, but still have the feel of birds in natural flight.
In the Seabirds of the World plates, compromises have been made to display as many birds as possible, yet the symmetry achieved adds an extra layer of appeal.
In the gallery's main room, works designed for book covers and as independent works are shown. These pieces present fantails, kereru, and tomtits in more naturalistic surroundings, culminating in two masterful images of an albatross and a mollymawk circling over the rolling grey ocean.
''Stories From My Sketchbook'', Tyler Kennedy Stent
(The Artist's Room)
Many of Tyler Kennedy Stent's artworks over the past few years have been inspired by his travels in Nepal.
As is commonly the case with artists capturing inspiration on the fly, Stent's images were mostly initially depicted as a series of sketches in one of his many travel journals and jotters.
As a form of closure and an announcement of the end of his Nepalese paintings, the artist has framed and displayed plates from these notebooks, making them more formally into what they always were, works of art in their own right.
The plates give insight into the artist's work, and are frequently accompanied by intriguing notes detailing his daily routines, itineraries, translated words of Nepali, and in one fascinating case, a conversation the artist had with himself about his budgeting.
It is the sketches which make the pages, though, with many of these initial artistic cartoons being wonderful paintings in their own right - not finished works, but only lacking a final finesse.
In one lovely image of a young child, Stent lists possible paint colours as well as an instruction to use ''Glenn Brown style, [with] lots of texture, drips, scribbles''.
These glances into the artist's mind are a captivating glimpse at the thought processes involved in the creation of a finished work.