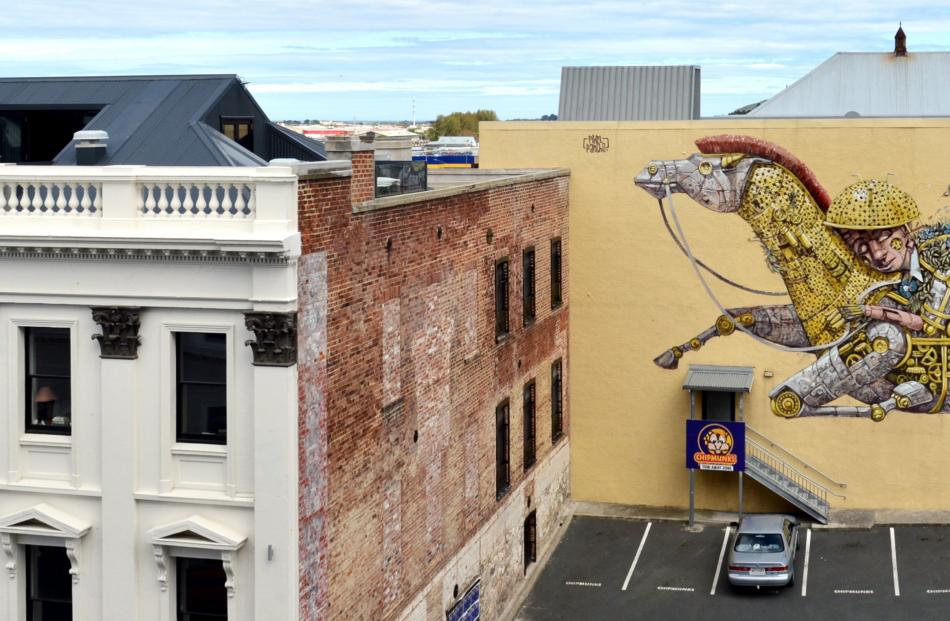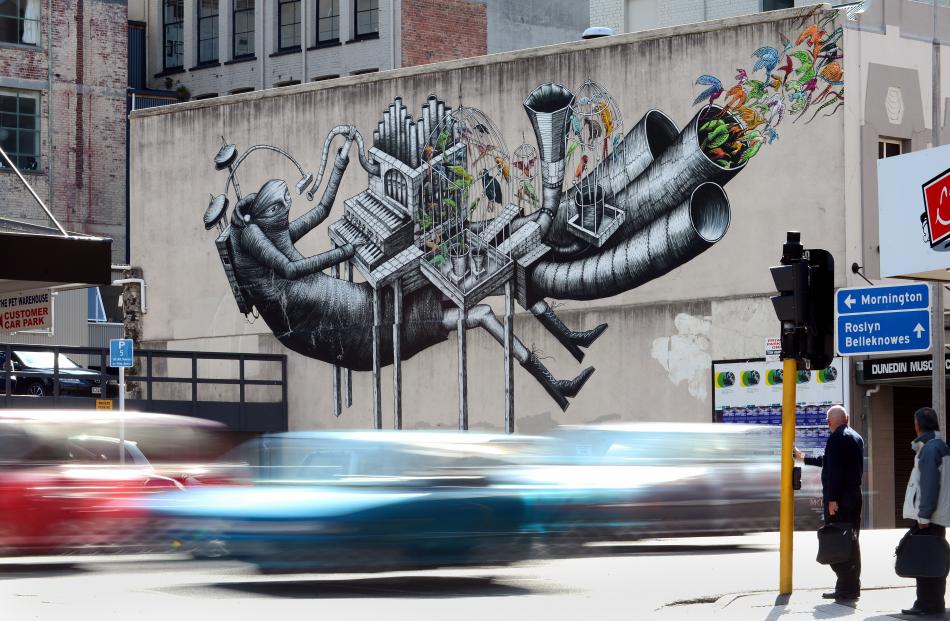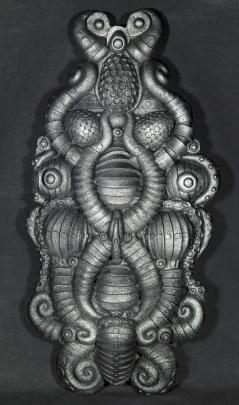 Support for Dunedin's street art endeavours is steadily increasing, so an auction has been organised to help fund more work, organisers tell Rebecca Fox.
Dunedin's street art has won over many of its detractors, creating a vibrant and interesting layer to the city's culture.
The group behind it, the Street Art Trust, wants that to continue, so  it is  organising an auction to help raise funds for the next stage of works.
It has been part of  its long-term plan. The trust has been collecting works, generously donated in many cases by international street artists, who have come to the city and been  impressed by what it offers.  Now  the trust has enough to make an auction worthwhile.
"It's been three years in the making. We are lucky we have a lot of Dunedin artists, who are not street artists, who are very supportive also and have contributed works, which is a nice gesture," organiser Justin Cashell says.
"Then we had an artist, who we thought wasn't that keen, say she was keen and is sending an art work to us this week."
The response from national and international street artists signified how much they shared  the trust's values, enjoyed working with the trust and appreciated what  it does.
"It's a great sign. So to do more street art in more public places, we need a boost."
Trust member Scott Muir said the trust's work was the result of "lots and lots" of effort from a small team of dedicated volunteers and co-operation from building owners and artists.
"We're just the glue; we try and help facilitate projects, match artists with building owners etc. We are a group of volunteers, and always trying to raise some money for projects," Cashell said.
They believe their unique approach had won converts to the cause, with many building owners being generous with their time and patience, although every project is "unique", Muir says.
"They share our vision. Everything we do is to get more public art in place that people can enjoy."
One of the key aspects of their approach is having Cashell source and host artists, introducing  them to Dunedin's sites and culture.
"We pride ourselves on looking after the people we are doing the projects with. We want to stay as authentic to the Dunedin experience as possible."
As a result, he had made friends with artists from all over the world, even staying with some while visiting Europe.
"I stayed with Phlegm and Pixel and collected a couple of art works while I was on holiday."
Phlegm, a British-born world-renowned cartoonist, illustrator and street artist, is an example of an artist who really enjoyed his time in New Zealand.
"He has a love of indigenous animals and New Zealand and the bush, so we took him to the Catlins and he drew on that as inspiration for his art work.
"He calls Dunedin his second home."
Phlegm, whose street art is featured in Manse St, Moray Pl and on Stafford St in a collaboration with Pixel Pancho, has contributed a limited edition print of the moa featured in Moray Pl and a "very rare" one-off hand drawing.
"While we don't want everything 'Dunedinised' it's nice to have local stories in some of the artworks.
"It's not overt."
Pixel, whose Riding the Dream mural is on Chipmunks' wall in Princes St, has based his contributions on that work.Australian street artist Fintan Magee, whose Chasing the thin white cloud in Rattray St is his largest work, wanted to base the children in his art works on local children, so there are three local children featuring in his contributed works.
"There are lots of stories about lots of the works as we have such a large variety of art works."
Dunedin artist Sam Ovens, whose work is featured in Vogel St, has contributed works with a nod to Dunedin Sound band The Bats, while Toothfish has a nod to The Chills. London street artist Cityzen Kane, who is  well known for his 3-D sculptural works on walls, has contributed an untitled 3-D work for the auction.
So far, there are 34 pieces of art for auction by 26 artists and they are already  attracting  attention from potential buyers and collectors.
"Some of the art works are highly sought after and quite rare.
"Organisers expect the works to go for anywhere between $50  and  $5000. Many of the artists have  donated the works, while a few have placed reserves on them.
"It's nice the artists have embraced what we are doing. They get asked all the time for art work. It's a good sign we are on the right track getting such great buy-in from artists."
All proceeds from the auction will go back "into the kitty" for more projects.
"We've managed to merge historic buildings with really high level contemporary art and it works."
Muir said the trust had also received good support from the business community, which saw value in the projects.
"They get the vision. Free public art for everybody."
For Cashell, seeing children stop and urge their parents to look up at a mural is one of the most satisfying things.
"The art works mean different things to different people."
It enabled people to see international art they might never get to see and provided access to works outside a gallery space.
"You don't have to go to a gallery. We mix local and international. You can see world-class art works right here, on your own street. It's free and accessible."
The auction
• Dunedin street art auction, December 6, Emersons Brewery, 70 Anzac Ave, Dunedin.