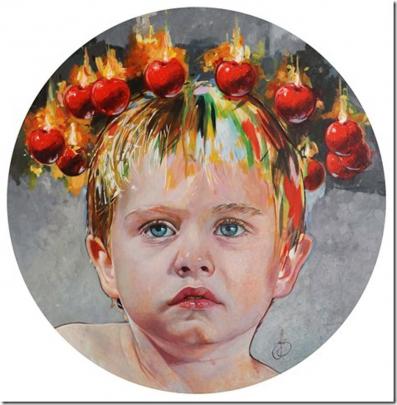 Loosing the use of an arm for a couple of months really tested painter Jasmine Middlebrook's fortitude, she tells Rebecca Fox.
Lying on a football pitch writhing in pain, all Jasmine Middlebrook could think about was her upcoming exhibition.
''My first thought was my arm, that I wouldn't be able to paint. They were telling me to calm down but all I could say is 'I have a show in three weeks'.''
A tackle gone wrong had left her with a broken collarbone.
''It's ironic. I chose soccer because you don't use your hands and here I was breaking my collarbone.''
While she had nearly finished the works for her exhibition ''Sink or Swim'' there was no way the 30-year-old was going to be able to complete the varnishing work needed, so the show was postponed.
''I couldn't lift my arm. I attempted to do it with my left hand but that was so frustrating I let it go and thought I just have to let this heal.''
The Otago Polytechnic School of Art-trained artist, who has a string of awards to her name - Adams Portraiture Awards finalist in 2016 and 2014 and first places in various Otago awards, including the Hope and Sons Art Awards, City of Dunedin Art Awards, Edinburgh Reality Premier Art Awards and Arrowtown Art Awards, was not used to enforced time off.
'' I don't normally take time off. I work through the holidays; I don't take a break. I work seven days a week, so it was a big shock.''
But, in hindsight, the experience was not necessarily bad.
''I reflected. I'd nearly finished most of the paintings, so it was a good chance to analyse them. I'd never had time to do that before. I was always, go, go, go preparing for a show.''
The time allowed her to develop a more subtle shift in tone and the way in which she drew the eye to certain points in her latest works.
The enforced break also reaffirmed her desire to paint.
''To not be able to do something you take for granted makes you really appreciate it.''
''Sink or Swim'' is a mixture of developed compositions and small studies.
In the three main paintings, Middlebrook explores the use of space to convey themes of isolation and internal reflection.
''By utilising the void-like expanse of seascapes, I'm able to create a sort of intimacy between subject and viewer.
''Unlike the jarring quality of my 'raw-style' works, where you are forced to be aware you are looking at a painting, these works allow the viewer to sink into a deeper state of contemplation.''
Middlebrook is known for bridging abstract, realism and surrealism, sometimes all in one painting.
Last year, The Listener named her as a key New Zealand artist to watch. Her works have sold to public and private collections around the world.
While she always wanted to be an artist, she still finds it strange that she has achieved her goal.
''I've worked hard to get to this point and I'm very fortunate I can do what I love to do fulltime. It's been a hard road.''
She works from her home and recently moved into a small specially-built studio on the property.
''It's great to get up and leave the house to go to work. To have that separate space where you don't get distracted by needing to hang the washing out or whatever.''
With this latest exhibition, her fifth since graduation, she has used an old photograph of a baby as the basis for some of the paintings.
''Usually, I start with an image or a photo.''
The work progresses as she uses hundreds of layers of paint to build up the image.
''Three are a shift from previous works as they are on raw canvas. I don't know if I'll continue with that but I enjoyed doing them.
''Although I don't feel I'm bound to a certain style or subject, the constant in my work will always be narrative.''
She often works on up to 10 works at a time as oil paint takes a long time to dry.
''I also like to change things up, so I move on to another work and then come back to it.''
By the time a work is finished, she is usually ready to take a break from it.
''I've usually had enough of it.''
University of Waikato Art Collection curator Steph Chalmers compares Middlebrook's earlier work to that of eminent New Zealand painters Jeffrey Harris and Seraphine Pick.
''Knowing when a painting is 'finished' is a skill painters develop after years of practice. For some artists this is a monumental, career-long challenge. Middlebrook has managed to find the sweet spot that lies between concept and technique.''
Middlebrook prefers not to explain the symbolism in her works.
''I want people to get their own meaning from it, from their own experiences. Relate to it in their own way.''
Because she works by herself, Middlebrook enjoys getting out and socialising when she can - hence playing soccer.
''My team-mates made me 30 frozen meals so they were really helpful.''
As for playing soccer again? Despite suggestions it might be time to retire, she will not make that decision until next season.
''Maybe I'll go for a run instead.''
To see
''Sink or Swim'', Gallery de Novo, until November 30