There are not many art mediums that Sorawit Songsataya has not tried, and they are revelling in the time that being the Frances Hodgkins Fellow is providing for them to investigate more, discovers Rebecca Fox.
Right before my eyes the trunk of New Zealand's tallest tree at Orokonui Ecosanctuary slowly transforms into cubes that become tumbling multicoloured polygons echoing the sound of raindrops playing in the background.
The effect is the latest skill artist Sorawit Songsataya has learnt as the Frances Hodgkins Fellow in Dunedin, and will form part of their contribution to the "Nature danger revenge" group show on at the Dunedin Public Art Gallery (DPAG) this month.
"It's quite exciting for me. It's all these possibilities of making imagery from a real place or real object."
Being free to just make art has meant Songsataya has been able to contribute to six exhibitions around the country so far this year.
"It's been a crazy year. I thought I'd have a lot of time to read, but I've still not made it to the central library yet. I wouldn't have been able to do it without being full time.
"I used to juggle two part-time jobs and the studio. To be paid and have the studio space to make, it is such a different story."
They are enjoying the time to explore and learn new digital techniques, especially in animation, which is forming a greater part of their practice. It is enabling them to reconstruct surfaces of actual objects in space.
"Since I've been here I've learned so much. I'm self-taught with everything, thanks to YouTube tutorials. Animation is quite exciting. You mostly see it being utilised in advertising or very commercially, but I think it has a lot of potential [in art]."
To date, Songsataya's works have developed from physical sculpture (such as a life-sized fibreglass moa surrounded by smaller native and endemic bird species created for the Auckland Art Gallery) with video to more digital-focused works featuring animation.
"I'm not an artist with a signature style - I enjoy being really versatile and flexible."
That means the fellowship studio space is empty and tidy as they work on their digital offerings for the DPAG show, which is an exhibition of paintings by the late Alexis Hunter which stem from a feminist and environmental consciousness of the 1980s, in conversation with new commissions from Songsataya, Evangeline Riddiford Graham and Deborah Rundle.
Songsataya's work for the exhibition, Crown Shyness, is on the tallest tree in New Zealand - an Australian mountain ash Eucalyptus regnans (Purukamu) in Orokonui Ecosanctuary planted around 1870 - using 3-D mapping of the bark. They then used a photogrammetric processing technique to convert the video footage of the tree's trunk into a set of "point cloud" data. This data is used to translate geospatial information into a new, textured landscape. Played across stacked vertical screens, the animation shows the digital "skin" of the trunk, composed of small polygons, stretching upwards. In another sequence, cascading 3-D particles illustrate the law of gravity.
It follows on from "Otherwise-image-worlds", a group exhibition presented by CIRCUIT in partnership with Te Uru in Auckland earlier this year where they used a scan of their mother's home in Thailand, featuring everyday objects like her cactus room and a lotus basin in the garden being filmed by animated hands holding a cellphone.
"I'm looking at the idea of place and the reconstruction of place from memory."
Concepts of "home" can be complicated for Songsataya, who was born in Thailand but grew up in Auckland, where they studied arts.
"I wasn't really planning to become an artist. I didn't really know what it means. I'm not good with language but I'm good with visual stuff so I did a degree in visual communication."
While they studied painting, the restrictions of two-dimensional work began to chafe and they moved into moving image for their post graduate work at Elam. They also experimented with 3-D-printed objects presented alongside video. By 2018 video installation had become the main medium of their work.
"It's always been this relationship between tangible objects and the material nature of the digital environment. I like to look at the idea of what is considered living and non-living things."
Using three-dimensional animation allows them to talk through those ideas, and they are also shown in the sculpture work Songsataya does. As part of their fellowship work, they will be carving limestone into large vessels, adding organic and non-organic material in a more architectural style.
"People say dirt, stones or rock are not alive, not living things. I'm not trying to say directly that rocks have lives, but I guess trying to get the audience to reconsider what is binary between living and non-living."
Another aspect of their practice tries to blur the lines between genres. "I guess presenting a spectrum of understandings."
While their fellowship work is still under development, Songsataya says it will work with ideas of home and making sense of calling New Zealand home when it is not their home country.
"It's been a constant contested experience, and then there is the complexities of [colonialism]. My relationship to place can be tricky. Every time I go back to Thailand I feel foreign there too."
They have also been recording the white heron in their nesting site on a West Coast river, and plan to head back there in spring.
"They're quite common in Asia. It was really bizarre to see them in a foreign setting. Through the birds I'm trying to draw a relationship or connecting them with ideas of home-making and my memory of home, and seeing them in Thailand and what the birds mean culturally here and in Thailand as well. "
"Nature danger revenge" curator Sophie Davis says she chose Songsataya to show in the exhibition as they have an interesting take and relationship to the natural environment that is often "playful" and accessible but also "thought-provoking".
"You get this feeling of the tree being this vital being and thinking about how art can be used as a tool to reimagine the way we think about nature and other living beings around us."
It was also a chance to take advantage of Songsataya being in Dunedin for the fellowship and making connections with the city's art community.
"It grounds the exhibition in a local context."
Songsataya's work is being shown alongside the work of Hunter (1948-2014), who moved to the United Kingdom in 1972. There she became part of the feminist avant garde art movement, making photographic work based on appropriating the language of film and television tropes, but in the 1980s she returned to New Zealand and developed a neo-expressionist painting style at Elam under Colin McCahon.
These works reflect the turbulent 1980s as the punk movement in London and political issues such as nuclear threats dominated. It is from this era of work that Davis selected from public collections around New Zealand to exhibit.
"Her works were a passionate rebellion against some of those things happening in society and it puts them in conversation with three new commissions."
Davis also selected Graham, a Nelson-born but New York- based writer and artist, to show, as she was working on an exhibition with the artist when she first saw Hunter's work at Te Papa in 2016 and could see the links.
"There was something about the connection with these works and Hunter. It was the initial starting point for this show."
Another link was that the DPAG has a Hunter work in its collection, which depicts a feral-looking black cat looking ready to strike.
"That work also served as a touchstone."
Graham, whose work considers persona, gender and power and how it plays out in the performance of character in literature, has created a new audio work, Mother juggernaut (2022), featuring the voice of a "needy millennial" daughter leaving messages on her mother's phone, playing in a living room installation.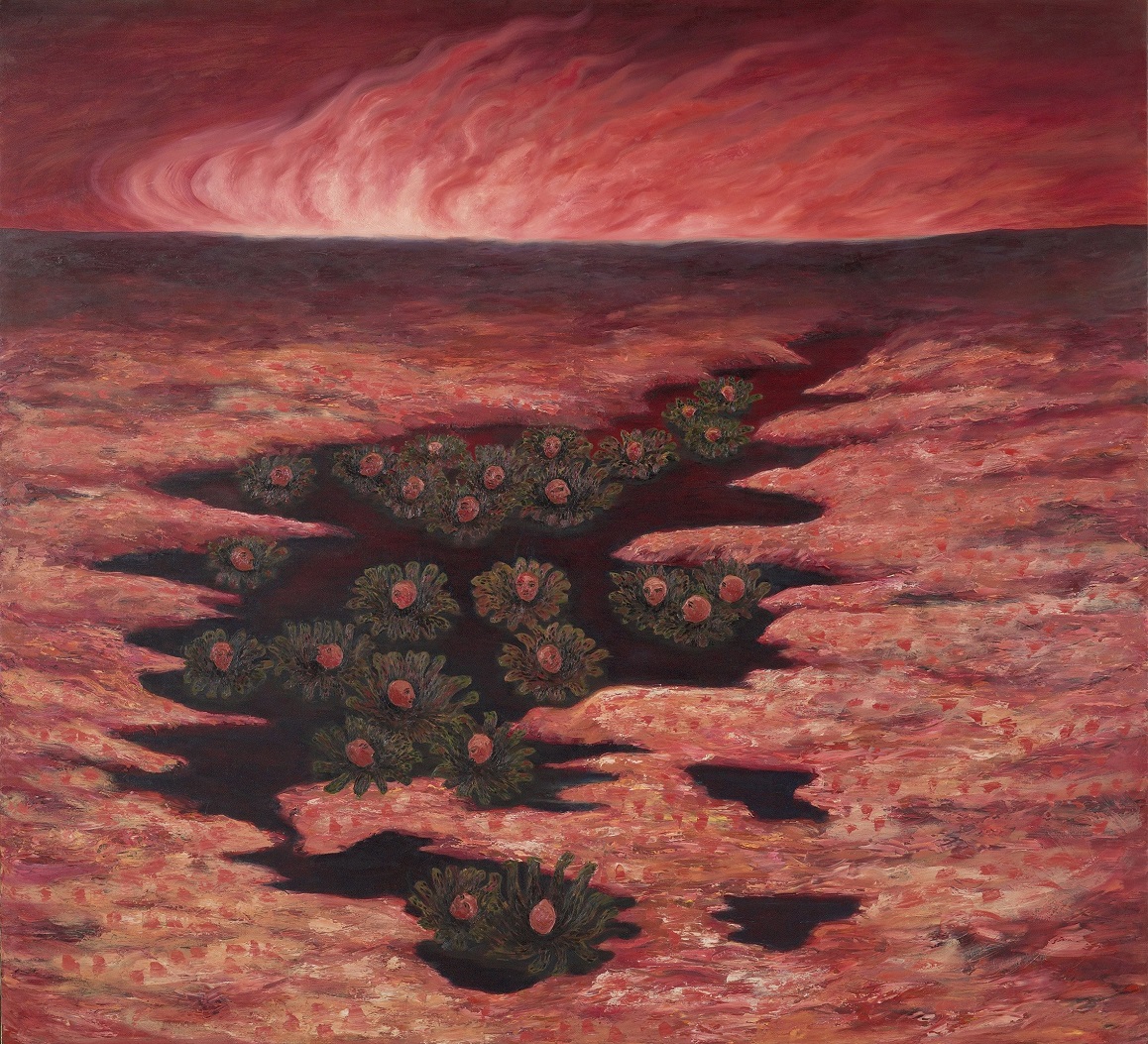 "It's playing on generational tension and also referencing a landmark in her local cityscape of Brooklyn, New York, which is the Green Point wastewater treatment plant, which the daughter works at, and so there is an environmental theme coming through there as well."
Rundle's interest in politics, history and labour movements made her a perfect candidate for the exhibition, Davis says. She has used a series of leftover textured roof tiles in My Body (2022), incorporating language referencing body sovereignty: "In my body still you write your name". It harks back to the 1970s when Hunter produced her work, but is also thinking about where "we" are now. The words fade in and out of view as a person moves about the exhibition space.
"She often uses language and sculpture in such a way where she's often again creating experiences for viewers that are captivating but also have a strong political charge to them."
For Rundle the work has even more "profound resonance" following the overturning of the Roe v Wade decision in the United States.
"The rights over your own body and who gets a say on what it means to be a person in this world."
Together all the artists say something interesting about where we are now, and the role of art in that, Davis says.
"They also bring out a wilder interesting parts of Hunter's work. The show has a lot of different textures, audio, digital video, wonderfully wild expressionist paintings, old-fashioned furniture paired with a '90s answerphone."
• Next week: Deborah Rundle's Blue Oyster exhibition "Tomorrow is Today Now".
To see:
"Nature danger revenge", Alexis Hunter, Evangeline Riddiford Graham, Deborah Rundle and Sorawit Songsataya, DPAG until November 6.