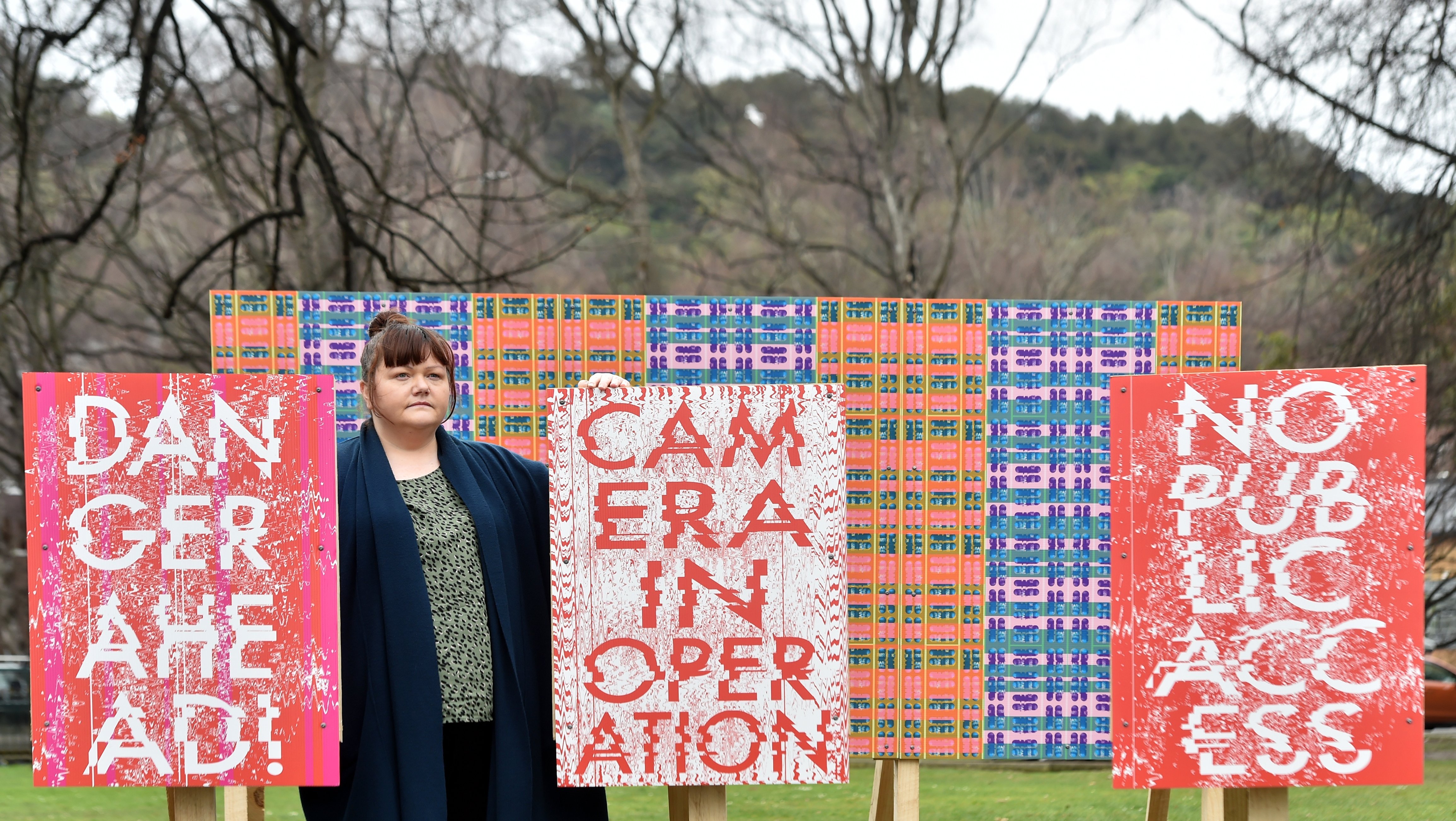 Instead of creating work and exhibiting it, Dunedin artist Maggie Covell plans to get the public involved in making work. She tells Rebecca Fox about the concept of social practice.
When Maggie Covell talks about mental health and trauma she speaks from personal experience.
She wants to help other people who identify as female to express their feelings about their mental health and trauma experiences through social art practice.
"Getting the conversation into the public forum where people are engaging and having conversations that are quite difficult to navigate is quite an important component.
"I'm taking a step back as it's not about my personal journey as there are many different facets to mental health and sexual trauma, and it needs to be a more universal story so more people can connect in and feel like they can contribute."
As part of her master's in fine arts project, "Hidden in Plain Sight", Covell has begun a social practice, which usually involves an artist coming up with a concept and then calling on members of the public to help make the work through participatory activities.
"The idea is that the artist isn't at the centre in a private space like a gallery or studio — they take on a more of a facilitation role. What I'm looking at doing is more of a hybrid."
To initiate the conversation Covell has installed billboards in three places around the city featuring wallpaper she has designed with abstract images referencing mass-produced objects, trauma and history.
"There are all these different objects you wouldn't necessarily think go together but appear in the private space and also appear in other spaces like medicine, rape kits and collecting evidence - it gives you fragments of the whole story."
One is constructed from medication used to treat various mental health issues relating to women, in particular PTSD, paired with a tartan pattern; another looks at elements from the domestic sphere which can take on other roles such as the comb, which is also used to gather evidence in rape kits. The final one incorporates a "speculum", which has a long history associated with women, mental health and body autonomy, printed on a traditional damask pattern from the Victorian period.
She is working alongside Life Matters Suicide Prevention Trust, OCASA and Kaitohutohu to ensure public safety and cultural differences in how people relate to these issues are considered.
Covell has tried to make the images abstract to ensure she does not re-traumatise people.
"It's a very complex subject. You have to be very careful how you present things and how you deploy them as well."
Each billboard also features information on to how to get help if the images trigger any concerning feelings and a QR code people can scan directing them to a site featuring more information about Covell's research, what the work is about and the history of wallpaper.
"It means people can make more choices - have more autonomy - which is important."
As a result of her ongoing research she has changed the focus from women to people who identify as female to open up the conversation to a more diverse audience.
"Opening it up to more than just women stops that 'othering' happening. Anybody can identify. A lot of men have started following the project too."
She has also discovered the number of people affected by trauma has been climbing. As part of her research she is also interviewing two psychologists, one from the North Island and one from the South Island, who specialise in trauma therapy for women.
"They've seen those numbers coming through. What they've both told me ... that's only the reported figures. I imagine the actual numbers will be a lot higher."
They also report that many incidents of trauma are reported retrospectively.
"Like myself. I'm now 40. When I experienced my trauma it was in my early 20s, so it took two decades for me to come out of that and to be in a position to talk about it openly. For a lot of people who identify as female there is still this shame."
The tartan and Victorian references in the billboards come from some of the attitudes from the past still being evident in today's society, she says.
"It's tied into regional heritage but only for one part of the community. It's not everybody's heritage."
The billboards' placement has been carefully thought through and they will be installed on the Otago Museum Reserve, University of Otago union lawn and at Logan Park.
"We thought recreational parks would be good as it ties into conversations regarding sports culture and violence against women."
The billboards will remain up at the parks for two weeks before being moved to new locations for three weeks.
"It's to give people time to know about it. By putting these billboards into public spaces, more people have access to it, so it'll be interesting to see how the public responds."
She hopes to hold a series of free public workshops later this year where people can come and make wallpaper and protest signs about their own mental health stories and body autonomy using language she has collected from public spaces around the city .
"I loitered around public spaces and noticed there are a lot of behaviour modifiers that we just wade through.
"By taking them out of that space and putting them in the context of mental health and sexual assault and violence against women it changes the way you digest that information."
She will not require the posters to be signed or be identifiable to allow people the freedom of expression.
"I don't want to censor people."
The works will then be shown in a public exhibition with a closing night showcase.
"I'm thinking of bringing in local musicians to make a work in response to the installation."
Another aspect of the project being planned is a performance art installation to be held early next year to "highlight how women have been erased throughout history".
It has taken Covell a lot of work to get to the point where she was able to install the billboards on Sunday.
"It is such a big project I've had to break it into more manageable phases."
She had to navigate the sometimes challenging processes required by the Dunedin City Council for permission to install the billboards and get ethics approval and public indemnity insurance from Otago Polytechnic.
As a lot of social practice works are considered events it can make it difficult to get funding and support.
"Displaying it becomes quite tricky."
So Covell decided to approach local businesses to see if they would support her project. A printing business has come on board to sponsor phase 1 of the project.
"It is working quite well. It gets them engaged with the creative community, they get a tangible benefit from being involved with the project and I get that financial support the project needs."
To fund further stages of the project she is planning to run a Boosted campaign in September.
Covell is thankful her background in performance installation through the group GloryBox, when she lived in Dunedin during her undergraduate days, means she has contacts to help her with her project.
Her work as a Creative New Zealand funding assessor and public arts in Rotorua also helped her understand the processes involved.