Emma Wood reviews the latest in books for young children.
BRUCE FINDS A HOME
Kathryn van Beek
Mary Egan Publishing
The Dunedin-based feline foundling, Bruce the Cat, has clocked up 38,000 followers on Facebook thanks to his unconventional start in life. Kathryn van Beek rescued 1-day-old Bruce after finding him alone and sodden with rain on a roadside, and now she has adapted and illustrated his story in this beautifully-realised book.
Here, a girl called Kate finds a kitten and calls on her delightfully eccentric neighbours to see if they know where he belongs. When no-one claims him, it is up to Kate to take care of the tiny creature and give him a suitable name.
This eye-catching book features vibrant coloured-pencil illustrations depicting interiors and exteriors that are distinctly New Zealand. The rhyming text flows smoothly, plus there is plenty of humour throughout and a fun twist at the end.
Ages 2+
I AM JELLYFISH
Ruth Paul
Penguin Random House
An impressive glow-in-the dark cover sets the tone for this luminous book about an unassuming little jellyfish who discovers she holds considerable power within.
Jellyfish outwits predatory Swordfish by luring him into the darkest depths of the ocean. But when Swordfish encounters a predator of his own, Jellyfish comes to his aid and teaches him a lesson in the process.
As usual, Ruth Paul's rhyming text is great fun to read aloud (``Swordfish slashed, Swordfish sliced, Swordfish dreamed of Jellyfish diced'') and her striking illustrations are full of colour, contrast and movement.
Ages 2+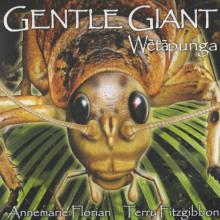 GENTLE GIANT: WETAPUNGA
Annemarie Florian and Terry Fitzgibbon
New Holland
Giant weta, or wetapunga, boast a lineage dating back to the Triassic period when dinosaurs roamed Earth. This comprehensive non-fiction book is brimming with information about these shy, fastidiously clean insects.
Author Annemarie Florian pairs poetic verse with fact-based prose which can be read together or separately, while Terry Fitzgibbon combines digital illustration and photography to great effect. The imagery brings a sense of character to the weta and breathes life into their habitats.
The book also outlines current efforts to conserve these insects and makes mention of New Zealand's other giant creatures, such as the now-extinct moa and Haast's eagle.
Ages 3+
MY FIRST BOARD BOOK: A DAY AT THE BEACH
MY FIRST BOARD BOOK: A DAY AT THE ZOO
Donovan Bixley
Hachette
These bilingual board books in English and te reo Maori feature bright, high-contrast illustrations that are bound to appeal to babies and toddlers.
The settings the zoo and the beach will be familiar to many children. The zoo animals are engaging and suitably diverse, such as a flamingo (waekura) and a tortoise (honu whenua). At the beach, the sights include jandals (parekereke) and waves (ngaru). The final spread of each book combines all of the featured images and invites readers to identify them by name.
Great for the youngest of children, and also for older readers keen to extend their Maori vocabulary.
Ages 0+
THE ART GARDEN
Penny Harrison and Penelope Pratley
EK Books
Sadie loves colours and patterns and wants more than anything to be an artist, but her efforts at painting feel underwhelming compared to those of her friend Tom. Gradually, she learns there are many other ways to express her creativity.
Initially, I felt a little uneasy about Sadie's dismissal of her paintings. However, the ultimate message here, about recognising and cultivating ones own strengths, is a redeeming one.
Penelope Pratley's colourful and charming illustrations are a particular highlight, effectively conveying the emotions that accompany Sadie's artistic ups and downs.
Ages 3+
WHAT'S YOUR FAVOURITE COLOUR?
Eric Carle and friends
Walker Books
There are plenty of formulaic concept books in circulation, but this inspired offering is not one of them.
Fifteen prominent children's book illustrators each contribute a double-page spread of art and text as an ode to their favourite colour. The outcome is thoughtful and joyful; an eclectic celebration of individuality and expression. Interestingly, grey is the only colour chosen twice.
The book ends with childhood photographs and short biographies of all of the contributors, who include Eric Carle (yellow), Lauren Castillo (white) and Marc Martin (crimson).
Ages 1+
Emma Wood is a Dunedin writer and communications specialist.