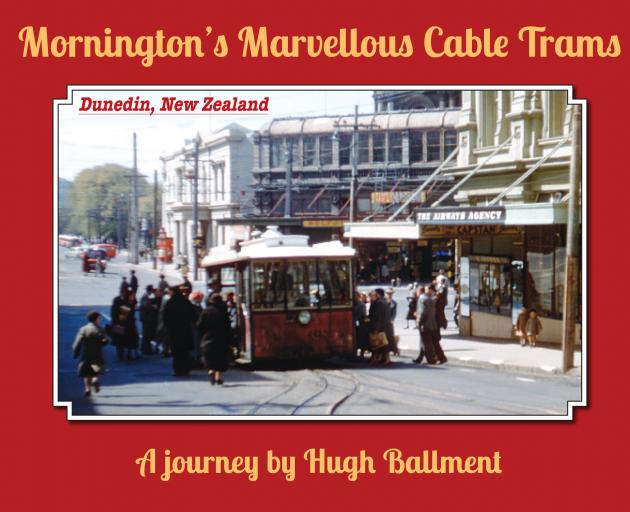 Mornington's Marvellous Cable Trams
by Hugh Ballment
Transit Australia Publishing
REVIEWED BY BILL CAMPBELL
Several books and articles have been written on the Mornington street cable car system that operated from 1883 to 1957.
Hugh Ballment's book Mornington's Marvellous Cable Trams, published last month, is one of the best, thanks to some very good photos of the Mornington cable cars in action and a description of travel on the cable cars.
The Mornington cable car system, with cable car lines up High St from the Exchange to Mornington, from Mornington to Maryhill and, in the early 20th century from Mornington to Elgin Rd, was the last cable car system to operate in Dunedin and the last street cable car system to operate outside San Francisco.
Hugh Ballment travelled on the Mornington and Maryhill cable cars, took photos and wrote a description of the cable lines on his 1954 visit to Dunedin.
The photos in Mornington's Marvellous Cable Trams show a busy cable car system that carried thousands of passengers to and from the Exchange each day.
Many of the photos, including early colour photos, show the fascination that many Mornington people and visitors had with the cable cars.
A trip up High St on the cable car and to Maryhill and back on the Maryhill tram is narrated by a boy visiting Dunedin with his mother and his sister.
His sister's trepidation at travelling on the Maryhill tram when it went ``over the dip'' from Mornington down the steep slope on the Maryhill cable line was shared by many visitors.
Photos supplied by fellow cable car enthusiast Gerald Ditchfield show the last day of Mornington cable car operation on March 2, 1957 and the removal of the Mornington cable car lines.
Some technical information is included, to give the reader an idea of how the cable cars operated, including the other Dunedin cable lines to Roslyn and Kaikorai.
The Mornington cable cars now have a future. New tram sheds have been built as a cable car museum on Mornington Park by the Dunedin Heritage Light Rail Trust.
The trust is seeking public support to rebuild the High St cable car line.
The book is recommended to anyone interested in cable cars and the role of cable cars in the public transport future of Dunedin.
Copies can be bought at the Mornington tram sheds at 162 Eglinton Rd, in Mornington.
- Bill Campbell lives in Palmerston and is the East Otago Review editor.