HOW TO ARGUE WITH A RACIST
Adam Rutherford
Hachette
REVIEWED BY TED FOX
How To Argue With A Racist is described by its author as "a weapon".
In the introduction to his recently published fourth book, science writer and broadcaster Adam Rutherford says he wrote the book to equip people with "the scientific tools necessary to tackle questions on genes, race and ancestry. It is a toolkit to help separate fact from myth."
"The aim of this book is to anatomise and lay out precisely what our DNA can and can't tell us about the concept of race," Rutherford says.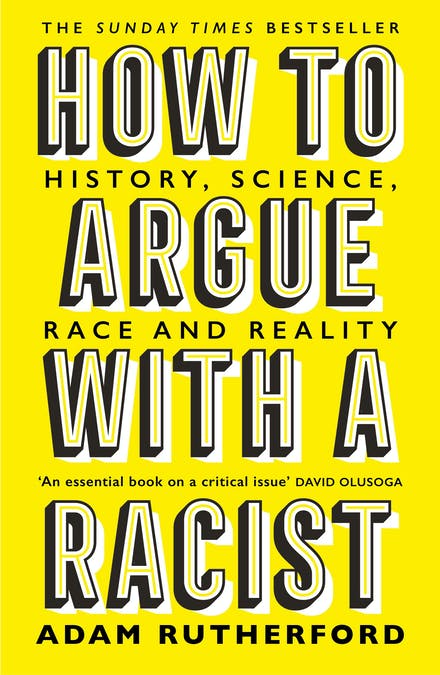 His subject has a dark past, rooted in colonialism, in white supremacy and in persecution. And his book is "a tool to be brandished when science is warped, misrepresented or abused to make a point, or to justify hatred".
Attempts to justify racism have always been rooted in science - or more specifically in misunderstood, misrepresented or just plain specious science, Rutherford says.
"The nuances of academic discussions are lost in the mire of angry, scientifically illiterate assertions of tribalism, identity politics and pure racism disguised as science."
How To Argue With A Racist challenges assumptions and presents a more difficult, albeit more accurate, argument, describing both the reality of human genetic variation and the fiction of racial purity.
First, a fact that betrays all of our recent origins from Africa, is that all humans share almost all the same DNA. Second, there is more genetic diversity on the continent of Africa than in the rest of the world put together. It is a myth that there is such a thing as racial purity or that someone is 100% white.
"The dominance of skin colour as a racial classifier is based on historical pseudo-science primarily invented during the years of European empire-building and colonial expansion,"  Rutherford says.
As an aside, one such colonial expansionist was Edward Colston, whose controversial statue in Bristol was recently tipped into the river by activists. Colston, a 17th Century slave-trader, made his riches enslaving some 84,000 Africans, of whom 19,000 died in the 'middle passage' across the Atlantic, according to The Conversation UK. The slavery on which Colston's fortune was built was obscured for the purposes of a certain narrative of Bristolian history.
If you are a British citizen, says Rutherford, you are entitled to a British passport, which legally, technically and actually makes you British. This is a non-negotiable fact. The presentation of arguments based on who are 'real Britons' or the 'indigenous people of Britain', is an a historical, non-scientific smokescreen to hide racism. When racists say ''Britain is for the British'', or when they talk about indigenous people, Rutherford does not know what they mean, or more specifically, when they mean. And he suspects they do not either.
"Race is real because we perceive it. Racism is real because we enact it. Neither race nor racism has foundation in science. It is our duty to contest the warping of scientific research, especially if it is being used to justify prejudice."
"If you are a racist. Then you are asking for a fight. But science is my ally, not yours, and your fight is not just with me, but with reality."
How To Argue With A Racist helps us understand we are all more closely related to one another than we think - which is a pretty strong argument against racism.
Sadly, the hard-liners who need to read this refutation of casual racism's rise, probably will not.
Ted Fox is an online marketing and social media consultant