Hamesh Wyat reviews recent New Zealand poetry collections.
TIGHTROPE
Selina Tusitala Marsh
Auckland University Press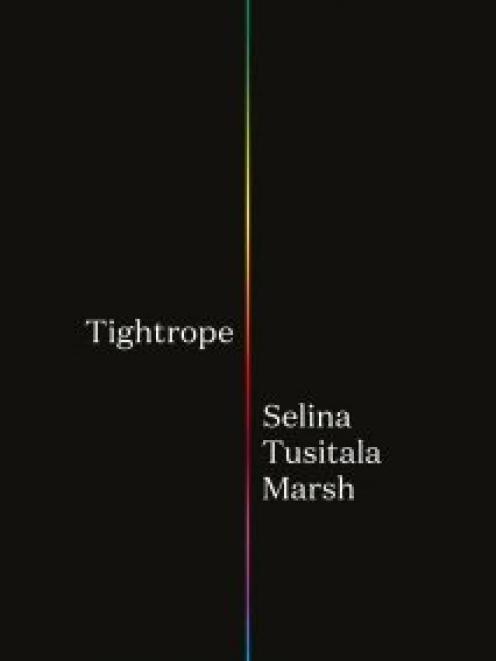 Selina Tusitala Marsh is a fierce warrior, filled with perceptive humour and energy, a poet and scholar of Samoan, Tuvaluan, Scottish and French descent who lives with her family on Waiheke Island.
Marsh is also a gutsy young woman. Her poems are feisty, restless, generous, collegial and unique. And Tightrope, her third collection, continues her fire and nerve as, over 50 poems, she moves from Auckland, through Avondale and Apia and on to London and New York. This work contains riddles, spells and songs along with quite a few redactive pieces. I love the sense of space, the elegance.
Marsh is so clear in what she says. She has a story to tell, not just to a Pasifika audience. She walks with the reader every step of the way. This is one poet who simply gets better and better.
In March last year Marsh performed a poem for the Queen at Westminster Abbey. Unity begins the second section of this book:
Let's talk about unity
here in London's Westminster Abbey
did you know there's a London in Kiritimati?
Republic of Kiribati, Pacific Sea.
We're connected by currents of humanity
alliances, allegiances, histories
for the salt in the sea, like the salt in our blood
like the dust of our bones, our final return to mud
means though 53 flags fly for our countries
they're stitched from the fabric of our unity
The Queen commented to Marsh later that the poem was "very good''.
Marsh's last two collections of poems contained CDs with musical backing and this time around she sets one poem, Pussy Cat, to a ukulele version of God Save the Queen. In Queens I have met Marsh comments:

Nine decades
of blue linen rule
the longest ever
we were both born
on April 21st
you in 126
me in 171
when we meet
kanohi ki te kanohi
I am exactly half your age
and for a second
think to mention it
when bowing
shaking your petite gloved hand
after you asked about the poem
a flock of frigates flying
on the Sacrarium Steps
FLOW: WHANGANUI RIVER POEMS
Airini Beautrais
Victoria University Press
In March this year, the Whanganui River was granted the status of legal personhood. This fourth book of poems, Flow: Whanganui River Poems, is by Airini Beautrais - and it is a masterpiece.
Six generations of Beautrais' family have lived near the Whanganui River, a body of water near which people settle and stories collect.
The river has a lot to say: large, small, geological, ecological and human.
We may know the history: Mother Aubert, extinct birds and James K. Baxter. It feels and sounds so precious.
Summer:
You must've stunk, musky, skunky hippie
walking up the road to Jerusalem.
Your bare feet pressed the dust,
like it would always be summer.
Heat shimmered over the verges,
ox-eyes shivered in an almost-breeze.
What magnet pulled you?
Love is not a recent thing.
Bees did waggle-dances,
wood beetles sang in the empty house.

The thousand curves in the old bus,
the walk through nauseous groves.
But I don't want to see
a blue duck, whines a child.
Youth stretched in the grass,
deep in Dickens.
A girl beside him,
her head strung with beads.
Like a bride who wears
her dowry in her hair.
So often life is too busy, too noisy. Flow is like a friend whispering in your ear as chaos rages. Beautrais is not known for superficialities. Things flow along gently, then all of a sudden you can feel the anguish and sometimes the sense of loss. The title poem is relentless. In concludes:
to the neap, to the deep, to the drag, to the fog,
to the stick, to the slick, to the sweep, to the twig,
to the roll, to the tug, to the roil, to the shell,
to the swell, to the ebb, to the well, to the sea.'
BAD THINGS
Louise Wallace
Victoria University Press
The 2015 Burns Fellow at the University of Otago, founder and editor of Starling, an online literary journal for New Zealand writers under 25, Louise Wallace is one busy young writer. Yet she has managed to complete her third poetry collection, Bad Things.
The olives, included in Manifesto Aotearoa: 101 Political Poems (edited by Philip Temple and Emma Neale and published by Otago University Press this year), appears in this new collection in tighter, more precise form.
Wallace grew up in Gisborne and now lives in Wellington. Bad Things concentrates on ways in which to survive.
Political and personal things happen, along with celebrity encounters, women and work. There is something brooding about this one.
The body began to balance itself:
It started to rain
and it was not clear
if this would last a short time
or a long time
so I got my husband
and colleagues
and the librarian
and the owner of the local chip shop
and that lady who failed me on eyesight
at the driver-licence testing station
into a boat
though it was extremely cramped
and they rowed
out to the open ocean
and sat quiet
and waited.
THE SKI FLIER
Maria McMillan
Victoria University Press
Maria McMillan's second full poetry collection, The Ski Flier has a real sense of power, encompassing mountains, cities, dragons, daughters, hopes and wishes.
McMillan, who has Scottish, English and Southland ancestry, grew up in Christchurch and lived in Dunedin for a while.
Intelligent and insightful and possessing a love of place and people, McMillan concentrates on movement and protest.
A small collection, less than 65 pages, this work begins with 11 11-line poems. I like how the poems' titles get longer as the book goes on.
In which I attain unimaginable greatness begins:
Today the world chucked itself open, gleeful jaws
swinging under the broody sun. There it was
a small blue ball, clouds like feathers, lands like
sleeping dragons. Cities like glorious cities.
Hamesh Wyatt lives in Bluff. He reads and writes poetry.