A roundup of recent general fiction.
THE LUCKY GALAH
Tracy Sorensen
Macmillan/Picador
Reviewed by Ted Fox 
The Lucky Galah is a fascinating novel centred around the 1960s Apollo moon landing and the remote West Australian town of Port Badminton.
It is told largely from the perspective of Lucky, a rescued pink galah.
It is 1964, and Evan Johnson drives across Australia with his wife Linda and daughter Johanna to work on a coastal tracking station ahead of the 1969 moon landing. They move into a new purpose-built house next to the Kelly family and Lucky.
Since the galahs tuned it, Lucky receives "data dumps'' emitted by the local satellite dish, allowing her to receive messages from all over town and gather people's thoughts.
The Lucky Galah is, to a certain degree, the story of Lucky's life. It is also the story of a town, the people who live there and it is a microcosm too of 60s outback Australia.
While Lucky thinks in fluent English, when she tries to talk she's only able to screech ineloquently - or use crude borrowed insults.
A literary critic, Lucky tears cheap paperbacks to shreds, devouring in the opening passages Donald Horne's The Lucky Country; a classic work of non-fiction.
Funny, a delight to read and, for those literate parrots out there, The Lucky Galah is an absolute cracker of a book.
Ted Fox is an online marketing and social media consultant
EVERY NOTE PLAYED
Lisa Genova
Simon & Schuster
Reviewed by Mike Crowl 
Lisa Genova specialises in books which focus, in fictional form, on major illnesses.
She's covered Huntington's disease, autism, and, most famously, Alzheimer's: in Still Alice, later adapted into a movie with Julianne Moore.
In this book she focuses on ALS (Amyotrophic lateral sclerosis), a branch of Motor Neurone disease.
It may help someone who has to care for a person afflicted by the illness, but I am not sure the sufferer would want to read about what will happen to him or her.
Richard is a world-class concert pianist. He is obsessed with his music and passionate about it; he is arrogant, cut off from people, and living alone.
Richard and his ex-wife, Karina - also a pianist - divorced some years before the story starts.
He is not a sympathetic character, and it is difficult to warm to him, even once his disease starts to take hold.
Karina has had her own musical career pushed to one side by her husband's, and it is hardly surprising that she does not have much time for him, even when she hears about his illness.
Nevertheless, when he is at one of his low points early in the plot, she decides that the only way he will survive the following months is if she takes him home with her, and cares for him.
And she does, after a fashion.
That is essentially the story.
It is downhill from page one for Richard. This is not a disease with any possible recovery.
Detailed information about the disease's course is mostly filtered throughout the book, though there is one section where Richard's thoughts are nothing but recycled medical data.
With no tension and little story this is not an exciting read, though plainly there are a mass of readers out there - if online reviews are anything to go by - who revel in novels with doomed main characters.
Mike Crowl is a Dunedin author, musician and composer.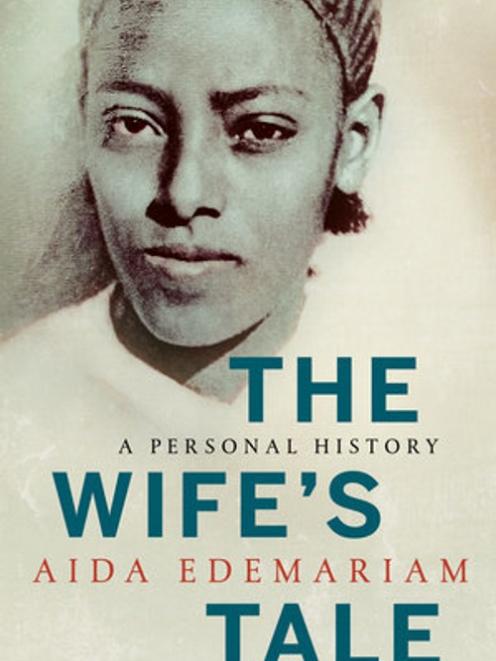 THE WIFE'S TALE
Aida Edemariam
HarperCollins
For anyone unfamiliar with the 20th-century history of Ethiopia, this is a wonderful and mind-broadening introduction.
The prime focus of the book is Yetemegnu, who we are first introduced to on the day she is married off, at eight, to a man two decades her senior. Yetemegnu's life spanned most of the last century, and she was regularly caught up in the various turmoils her country went through.
The author is one of her granddaughters, and she has spent many years recording the stories her grandmother told, as well as learning from other members of her family what it was like to live through those decades.
Ethiopia and its citizens often seem divorced from anything we know, but humans are humans wherever they live, and the emotional life of Yetemegnu pours through the book. Too emotional, perhaps, for some westerners. Her love is deep for her many children and grandchildren, though it is not always reciprocated in equal terms.
Her love is even stronger for her husband, in spite of the occasional beatings he gives her, or his long absences (he is a priest whose status grows as he ages), or even his treatment of her as his much-favoured child. For much of the first part of the book the reader feels there is little love between the two, but that is wrong.
Woven into Yetemegnu's story are the traditions and beliefs of the people. Christianity is their religion but it is an unfamiliar form of it. Mary is the main focus, and Jesus is seldom mentioned.
The book is full of the wonder of food: spices are lovingly listed, meals described in detail, along with the courtesies that should be observed at meal times, especially with guests. The constant need to prepare food informs the daily rhythms of their lives.
Then there is the wondrous Ethiopian natural landscape, which has a blazing and sometimes terrifying life of its own.
Edemariam often requires the reader to make unexpected leaps from one paragraph to the next, and there are a number of side paths taken that add to the flavour of the book, though not always to its immediate comprehensibility. It might also have been helpful to have a list of the most prominent people in the story.
Nevertheless, Edemariam's extensive research, and the ease with which she writes about a country that she personally knew only in the latter part of the 20th century, makes this a remarkable read.
Mike Crowl is a Dunedin author, musician and composer
 
LOOK AT ME
Mareike Krugel
Text Publishing
Reviewed by Doug Anderson
Nobody means to end up where they are in life, seems to be the underlying theme of this novel. Mareieke Krugel is a noted German writer with several awards under her belt and this is her first work to be translated into English.
The story is told through the eyes of Kat, a middle-aged mother and housewife. Her personal life is strictly centred around her largely absent husband and her demanding children. Her personal dreams of becoming a musician have been set aside long ago; she now barely copes with a daughter who has been diagnosed with ADHD and an older son who seems intent on cruising through life with minimal effort.
The story begins with Kat processing the realisation of a lump on her breast, just as her husband calls her to announce he will be not be coming home for the weekend. Kat's mother passed away from cancer and she is beginning to come to terms with the real possibility of death.
While she is genuinely devoted to her family, she is increasingly stressed out coping with her demanding children and bored with a personal life that is, for her at least, barren of any real achievements. She begins to wonder if she should embark on an affair with an old friend of hers, who has come to visit during the weekend and looks back on her life's defining moments.
While she is coping with her family and her health, she seems to have a ridiculous amount of bad luck; the clothes dryer has broken down spectacularly, the pet rats have escaped from their cages and somehow, her neighbour managed to sever his thumb and lose it in the front yard of their house.
Kat spends the novel on a bittersweet journey towards confessing about her various problems and dealing with her simmering panic over the lump. It's a dryly funny adventure and some of the humour does at some points come across to the reader oddly, owing to the differences in German and New Zealand culture and humour.
Kat and her family are deeply flawed but likeable characters; you want to cheer them on, even as they find themselves in yet another family crisis.
The book ends well, with an unexpected turn that is both cheering and embarrassing at the same time for Kat.  If you're wondering if the book sounds dry or off-putting, don't - this is a good read, suitable for long, dark evenings.
Doug Anderson is a Dunedin volunteer and writer