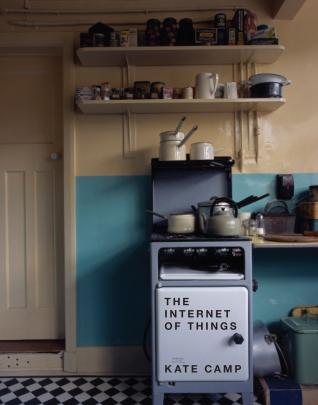 Poetry reviewer Hamish Wyatt takes a look at the latest offerings from some of New Zealand's best: Sue Wootton, Bill Manhire, Jeffrey Paparoa Holman and Kate Camp.
By HAMESH WYATT
THE YIELD
Sue Wootton
Otago University Press
Dunedin poet Sue Wootton's fifth volume, The Yield is a beautiful, wonderfully produced book.
Significantly, it contains a heap of award-winning poems ("Calling'', "Ice Diver'' and "Luthier''), yet for a book crammed full of dazzling ideas, a touch of madness and the odd slice of cheese, it retains a sense of space.
Wootton works best when she brings the human contact up close. Her sense of detail is top-class. Take "Graveyard poem'', which is more than a wander through a cemetery, or "Little shanty'', which has a rhythmic feel.
Wootton knows how to square up cliches, throw them over her shoulder and leaves the reader enlightened. She enjoys having fun with words like "smeuse'' and "behoovement''. In being clever she creates something dreamy, grand and totally her own.
The book is dedicated to Doug and especially "Central'':
Hoar frost on a high road.
Then we're through: Central.
Far sun. Close moon.
Cloud stitched tight
to the still lake's brim. We
lie down on the shingle shore,
apply silence, balm
our selves. A bird
beats over. At first sight
alone, such respect
has its companion
for solitude. At wide arc,
the other. A sure-winged
homing. Each, to the other, central.
The Yield has a sense of fun, lots of energy and more than a bit of restlessness. This book does, indeed, give and take.
[Wootton is the selecting editor for the Otago Daily Times weekend poem. She is also the co-editor of the blog Corpus: Conversations about Medicine and Life.]
SOME THINGS TO PLACE IN A COFFIN
Bill Manhire
Victoria University Press
Some Things to Place in a Coffin is Bill Manhire's first new collection of poems for seven years. This is an event. The title poem is an elegy for his close friend Ralph Hotere, who died in 2013.
Manhire delivers pared down pieces that are sharp and clear.
The most stunning inclusion is the sequence "Known Unto God''. New Zealand was known as the Silent Division during World War 1. Manhire captures this, as well as last thoughts, feelings and a deep sense of loss.  It concludes:
They called out while they could.
They called out while they could.
Then they were gone for good.
Great stuff heading towards Anzac Day.
BLOOD TIES: NEW AND SELECTED POEMS 1963-2016
Jeffrey Paparoa Holman
Canterbury University Press
Jeffrey Paparoa Holman's latest collection of poems is Blood Ties: New and selected poems 1936-2016.
The collection opens with his first published poem "Night'' (1963), dedicated to his English teacher, Peter Hooper.
Further into this collection Holman pens "Poem for John Pule: the last days of Peter Hooper'':
Back in the bush
and soon to die
there on your own:
`I admit it must seem a lonely death
but I came prepared. I had shared the feasts
of love and grief, there was no more left
and my bowl was full ...
The boy from Blackball may live now in Christchurch, but his heart resides in his poems.
For 70 years he has been living the dream. There are only 10 new poems here, but they do not get much more honest than this.
THE INTERNET OF THINGS
Kate Camp
Victoria University Press
Kate Camp's sixth book of poems, The Internet of Things begins in John Lennon's childhood kitchen and ends at the prow of a ship. These poems have a sense of loss and hope.
I love"Lego lost at sea'', based on a 1997 incident when five million pieces of Lego were lost from a ship off the English coast and people subsequently shared their finds on a community page on Facebook.
Tiny aqualungs washed up on the beach.
I am picturing you under the water
only the mask is afraid, only your giant eyes.
Bubbles go up past you like worlds.
The pressures you face down there are extraordinary,
It's the best way to take your mind off things . . .
Camp is consistent and masterful, always delightful.
- Hamesh Wyatt lives in Bluff. He reads and writes poetry.
Win a copy
The ODT has three copies of The Yield, by Sue Wootton, to give away courtesy of Otago University Press. For your chance to win a copy, email
playtime@odt.co.nz
with your name and postal address in the body of the email, and ''The Yield'' in the subject line, by 5pm on Tuesday, March 7.

LAST WEEK'S WINNERS
Winners of last week's giveaway,  Mulgan, by Noel Shepherd, courtesy of Steel Roberts Aotearoa, were: Graham Beach, of Mosgiel, Kari Wilson-Allan, of Dunedin, and Margo Otto, of Dunedin.