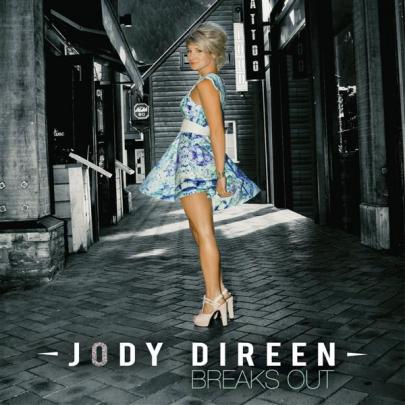 As Jody Direen celebrates the release of her second self-funded album, the Wanaka singer discusses country-pop, Nashville, ambition, reality and a willingness to roll up her sleeves with Shane Gilchrist.
What's in a title? Well, in the case of Jody Direen's latest album, a lot.
Breaks Out is a statement of intent from a young woman who has twice paid her own way to Nashville in the past year to write and record the album.
It's also a reflection of a change in approach from her 2012 debut album Here We Go, which featured more of a traditional take on country music, the genre Direen has loved since learning guitar as a 9-year-old.
More than three years in the making, Breaks Out is both more personal and professional, the Wanaka singer-songwriter says, adding it also has ''more of a pop-rock sound''.
She's not wrong there.
Several of the 14 songs on Breaks Out are bright, brash, country-tinged pop-rock not dissimilar to the output of Canadian Shania Twain, a superstar of a genre sometimes referred to as ''crossover''.
Direen's new tracks range from foot-stompers such as Adrenalin, Mine and Unbreakable, all of which follow a similar vein to her 2014 single (and aptly titled) Loud.
Yet they also retain country textures by way of banjo, pedal steel, fiddle and, of course, Direen's voice.
''It's still very much a country album, but I love pop music. My latest single, Together, is very pop, but my voice has a country tone to it. I'm a rural person as well, so that's always going to shine through.
''The album is very ... empowering is a word I like to use. I'm attracted to the extremes in life; I get bored very easily. I need to be constantly stimulated by new things and challenges.
''I think that's why I'm in the music industry, because it's full of challenges. And I think the titles of some of the songs reflect that: Adrenalin, Unbreakable ...''
Yet not all the material is destined for the dance floor.
Slower numbers such as Her Rain, If I Fall, Tattoo and Together offer more reflective moments.
''Her Rain is probably the one that moves me the most,'' Direen says.
''I wrote that as I came out of a four-year relationship and it reflects what I felt at the time.
''I wrote it while I was staying in Nashville. There was a baby grand piano and I remember sitting down and everything just fell out of my mouth. It was just the most amazing writing session I've had by myself.
''Even when I sang it live at my album launch at the weekend I nearly brought myself to tears, along with some of the audience members.
''I didn't actually write Together but I recorded it for a reason. When I was pitched the song, every word rings true to everything I've been through, so it does relate to me.''
That explanation raises a point about Nashville's songwriting industry.
Of the 14 songs on Breaks Out, four were written by other people, while others were the result of collaborations.
That approach was intentional, Direen says of her initial visit there in the middle of last year.
''I'm big on melodies but to be able to go to Nashville and work with co-writers who would turn a good song into a great song ... sometimes I just need a bit of help putting the lyrics in a clever enough way or to get the message across.
''I stayed almost four months. I lived there and did songwriting full-time as well as playing music. I was writing most days. I got in touch with a producer [Jay Tooke, who assembled no fewer than 20 musicians to help record the album] over there and did some demos before coming home.''
Direen returned to Nashville in February, staying three weeks to record her vocals.
Released last weekend at the Hawea Hotel, Breaks Out is a self-funded effort.
Direen takes pride in the fact she's an independent (i.e. unsigned to a major label) artist, one who's ''not afraid of hard work''.
Importantly, in these times of televised pop contests, she wants to prove ''you can have a sustainable business as an artist, even in a small country''.
That said, Direen has ambitions of international success.
''I just think I'm doing things in a different way. I'm not waiting around for a record deal. I'm hoping this album will give me the momentum to move forward and build my fan-base.
''My whole career is self-funded. Live gigs are a really good income stream for me, so for the past year I've been gigging as much as I can. It's about building my profile to a point where I can now get a decent fee.''
Still, it's a struggle, the 26-year-old concedes, adding she won't be buying a house any time soon.
In fact, she lives in a cottage on her parents' Wanaka property.
''I'm very thankful for that because my income can be erratic. Or I might not know when I have to spend $3000 on flights to get overseas. Also, I'm hardly ever in one place for too long so it doesn't make sense to rent somewhere.
''Every cent goes back into my career and I hope it'll get to a point where I'll have some savings. I haven't had a holiday for five years, although my job feels like a holiday.''
• In a 2007 Otago Daily Times interview, as an 18-year-old Direen prepared for her first experience of the Gold Guitar Awards in Gore, she discussed her ambitions.
These included heading to Lincoln University to do a bachelor of agriculture degree (tick) and saving her money in order to buy a ''big PA system'' to help further her musical career (tick).
The former Mount Aspiring College pupil, who can play guitar, drums and piano and entered the Rockquest secondary schools music competition every year she could, took a fancy to country music at a young age, her grandmother teaching her to play guitar at the age of nine.
Fast-forward: on its release last year, her single Loud peaked at No 17 in the New Zealand iTunes charts across all genres and was in the RIANZ Top 20 for two consecutive weeks.
Nominated for Country Music Channel's ''New Oz Artist of the Year'' award earlier this year, she also opened for country legend Kenny Rogers on his tour of New Zealand in February.
On its release last week, Breaks Out peaked at No 10 on the New Zealand iTunes album chart and topped the NZ iTunes country listings.
This article aside, some other media agencies are pricking their ears: last week, Direen performed You're The One on TV One's Good Morning show, followed that with a 15-minute slot on National Radio and has other engagements pending.
''I am starting to get the attention of some industry people in Australia [because of current negotiations, Direen couldn't disclose any parties]. It's a very slow process. I haven't released the album in Australia yet.
''I have a booking agent over there so my career seems to be naturally heading that way'' Direen says, before pointing out she's unlikely to be packing her bags for a permanent move.
''When I first started out I just thought a record deal would come along, but I've learned that is not the reality of the industry.
''And that's one of the reasons I haven't moved to Nashville.
''I could go there and be a small fish in a massive pond, or I could go there, learn a lot and come back here and work on my business.''
---
The album
• Jody Direen's Breaks Out is out now. Direen plans to tour New Zealand in spring.
---