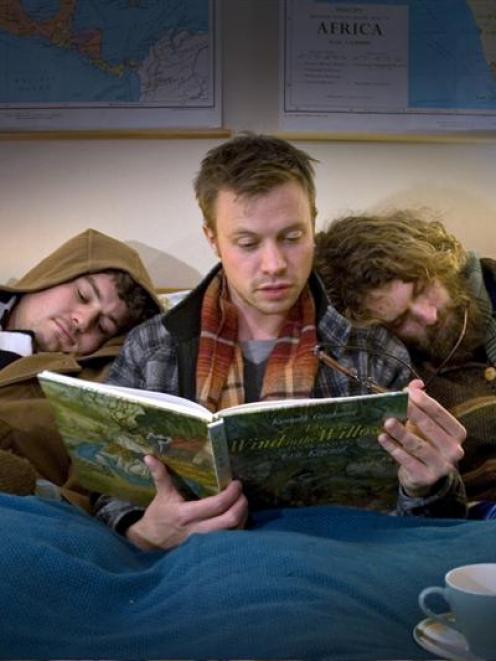 The second EP from Dunedin band Tono and the Finance Company finds songwriter Anthonie Tonnon in good voice, writes Shane Gilchrist.
Forget any American affectations.
Anthonie Tonnon, he of Dunedin band Tono and the Finance Company, is a young Kiwi bloke comfortable in his diphthongs.
That's not to suggest the Dunedin-raised songwriter and guitarist is about to launch into the exaggerated vowel sounds of, say, Lynn of Tawa.
He's simply happy singing in his own voice.
"You have to make a conscious effort to not sing in an American accent because you grow up hearing American music and your default accent is American," says the 23-year-old, who moved from Dunedin to Auckland at the start of the year in an effort to further his musical ambitions.
Tono and the Finance Company have just released their second EP, the six-track Fragile Thing, on which a combination of dry-as-chardonnay lyrical flourishes and taut, muscular interplay from a three-piece band might just prompt a few smiles from the various critics and fans who applauded their 2008 debut EP, Love And Economics.
Graeme Downes, founder of The Verlaines and himself no stranger to a slick turn of phrase, described Tonnon's lyricism on Love And Economics as "battery acid-grade irony".
Wait until he hears the new release, which boasts such titles as Politics Will Make You Miserable and Barry Smith of Hamilton, which begins with the lines: "Tonight Matthew/I will be Elvis/In his final stage of life... Tonight Matthew/ I will be Paul Holmes/Singing songs and reading poems/Because the stage is all mine ..."
A vocal delivery that is at times clipped, other times languid or soaring despite its pointed observations, suggests Tonnon might just be a fan of acclaimed British band The Smiths, in particular its singer, Morrissey.
He comes clean: "I was listening to a hell of a lot of The Smiths before this recording. I do think Morrissey has the greatest song titles".
Yet Fragile Thing is no rip-off.
Like its predecessor, the EP reveals a songwriter unafraid to back his craft and run with his instincts.
"I won't bring something to the band unless I think it has some really strong lyrics. I have to fight against perfectionism so we can actually get something made," Tonnon explains via phone from his Auckland flat earlier this week, a couple of hours before he flew to Christchurch to meet band-mates Chris (Bugs) Miller (bass) and Andy Straight (drums) and perform a couple of shows as part of a short national tour to promote the release.
"When we recorded the first EP, I wrote all of the songs and arranged them roughly and wrote all the backing vocals. I had the sound fairly well mapped out. We became a band after we recorded the EP. It was supposed to be a solo project."
Though the group's keyboard player left for Tauranga, he wasn't replaced, leaving a stripped-back line-up of guitar, bass and drums.
It hasn't been a bad thing, Tonnon says.
"I'm pretty minimalist on guitar when we play live so a very rhythmic sound started coming out in the way we arranged new songs. Bugs and Andy started taking on a much larger role when arranging songs. I no longer tell them what I want with a song ... they know what I want more than I do.
"The intention with my writing is to create space. By giving myself a really simple part, it means I can do a lot more with vocal lines that four chords don't allow you the space to do."
Tono and The Finance Company recorded Fragile Thing last September in a couple of two-day bursts of energy at Burns Hall, Dunedin, utilising the skills of engineer Tex Houston and inviting contributions from guitarist Logan Valentine and Dunedin's Haunted Love, who provided backing vocals.
"I liked recording at Burns Hall because it didn't feel sterile; it felt like a place with life," Tonnon explains.
"It is much more of a live effort than the first EP: guitar, bass and drums were done at the same time. I am really proud of that performance. I think it is really tight."
The EP cost him "a few thousand", a relatively small sum given what bands can rack up in studio and production fees.
Still, Tonnon required some help from friends to fund the project.
"You can either do it dirt cheap and do it yourself or pay a few grand. The difference in sound and the way people perceive it... I'm a great believer in taking risks.
"I get upset with some of my friends in Dunedin. I think they could get more attention if they just took a wee bit of a risk.
"I had to borrow some money to pay for the packaging, which is looking amazing. It cost a bit of money, but nothing you can't beg, borrow or steal your way into."
So what's next?
An album, of course.
On moving to Auckland, Tonnon found himself unemployed for a month.
That doesn't mean he wasn't busy.
He got to work writing songs, of which a good number are likely to appear on a full-length release.
"I have an album written now," he enthuses.
"The plan is to go back to Dunedin and record with the guys. I think, for the first time, I have songs that will go together on the one album."
And although he has since secured work as a tour guide in the Waitakere Ranges, writing for music magazine Real Groove as well as news-reading for radio network bFM, he is keen to avoid a full-time job.
"I get to spend a lot of time on my music. Time is a beautiful thing."