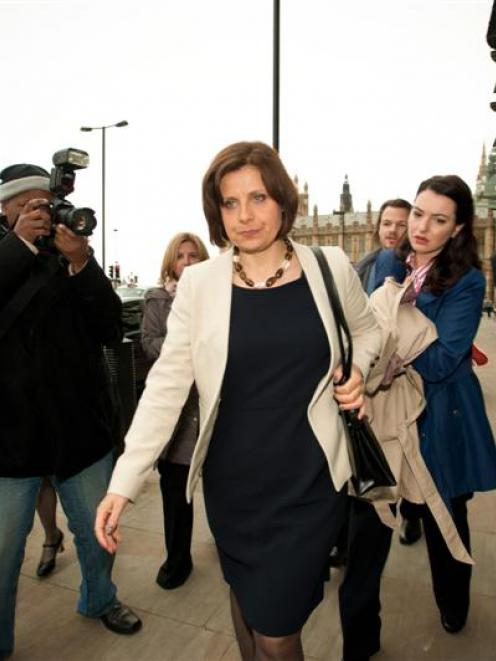 The award-winning show
The Thick of It
, a biting satire of the inner workings of modern British government, has been given a twist, the new season mirroring the changes seen in British politics in the three years since the last season aired.
This means the old faces of the feared director of communications Malcolm Tucker and the hapless MP Nicola Murray have been confined to the opposition, episodes alternating between following them and their party struggling to regain power and the stuttering efforts of a new coalition government.
For Rebecca Front, who plays Murray, this meant becoming the unlikely leader of the opposition - a role which her character struggles with every bit as much as being social affairs and citizenship secretary.
Front said she was "delighted just to be in the series".
"It's great [the show's creator] Armando Iannucci has chosen to do the whole political spectrum this time and that's unusual - we have never done that before."
"Despite this change, viewers could expect more of the same biting satire.
"I think it's quite similar to previous series in that there are lots of people who are given far too much power and are basically quite inept and they are all getting shouted out and falling over each other."
This, she had been told, was very much like politics in real life.
"I've met lots of politicians ... and what I have heard repeatedly is that it's very much like that in real life."
Rather than being disturbed by this, Front felt it was reassuring that politicians were human just like the rest of us.
"In an odd way, although nobody likes to think that politics is all run by inept people swearing at each other, I think it's quite reassuring to think that they do by and large seem to care about stuff."
This even came across in the portrayal of the vindictive and nasty Malcolm Tucker, she said.
"I mean weirdly Malcolm Tucker, for all that he is clearly the villain in the show, he really believes in something; he really genuinely wants his party to be in government because they can do some good."
The quality of the writing and her fellow cast members made playing Murray one of her favourite roles, she said.
"It is certainly one of the most fun, possibly the most fun, I would say. It's just been such a lovely part to play and working with incredibly nice people, I have loved every second of it," she said.
While the fast-paced nature of the comedy made the role difficult at times, she felt it fitted her style of acting. She also liked watching fast-paced and intelligent comedy.
"It is so uncompromisingly intelligent - for me that's what really marks it out. There is no concession made to whether an audience can keep up with it or not - it just is what it is."
• Season 4 of The Thick of It premieres Friday on UKTV at 9pm.