Dunedin was not on writer Victor Rodger's radar until he received the Robert Burns Fellowship. A year later he calls the city ''the big easy'', he tells Rebecca Fox.
Discovering the easy life has worked wonders for acclaimed writer Victor Rodger.
He has found a talent for writing prose, had time to delve into New Zealand fiction and has enjoyed bringing more Pacific Island literature south.
''It [the fellowship] came at a really good time for me. I've been writing, producing and plotting.''
Known for his work as a playwright - his first play, Sons, won four Chapman Tripp Theatre Awards, including best new play and best new writer, while Black Faggot has performed to sellout houses in Melbourne, Brisbane and Edinburgh and throughout New Zealand - Rodger wrote his first piece of prose fiction, Skip to the End, during the fellowship last year. It was published in Landfall.
''It's the beginning of something,'' Rodger says.
So it is fitting that at the end of his fellowship this month he is writing another piece of fiction.
''It started tumbling out of me before the Christmas break. It came out of nowhere,'' he says.
A revelation for him, he describes his fiction writing style, ''half-jokingly'', as channelling James Baldwin ''but it comes out Jackie Collins''.
His earlier attempts at writing a novel did not get much further than the first line.
''It was a very good line though,'' he says with characteristic humour.
The move towards fiction came after researching a piece on Pacific literature in New Zealand - Rodger is of Samoan and Pakeha descent - and the works of Albert Wendt, ''the godfather of Pacific literature''.
''It rammed home there are not many of us outside Albert. It gave me something to think about.''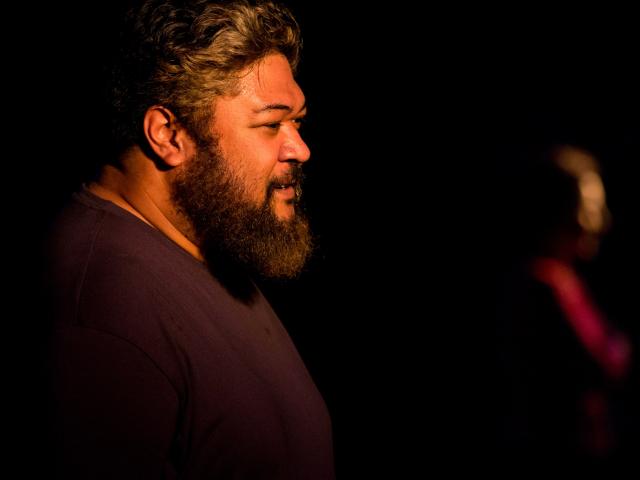 Rodger, who started out as a journalist and then graduated from Toi Whakaari: New Zealand Drama School in 1997, has also diverted into film writing, adapting Black Faggot, which won the Auckland Arts Festival best production award and Melbourne Fringe Festival Innovation Award in 2013, for film.
''In the play there is two of me playing a whole lot of characters, so writing a feature film is a challenge for me.''
It started to come more easily once he began to think ''visually'', he said.
His foray into fiction and film does not mean he has left his first love, theatre, behind.
''Theatre is where I feel the most at home. Theatre is my first language, fiction is my fourth. It's a whole different set of muscles.''
Rodger has also tried his hand at a cabaret, writing Christ (church) Almighty, which will be performed in Christchurch, his home town, this year.
The fellowship gave him the luxury of time to read and he made the most of the opportunity to get stuck into some New Zealand fiction.
''I've not always gravitated towards it.''
It gave him a chance to think about where he fitted into the New Zealand literary landscape.
''I want to produce stuff I want to see, that I'm interested in watching and developing and that speaks to me. You just have to do it.''
Earlier this year, PUZZY, a new work he helped write, opened in Auckland.
''Black Faggot was about the gay Samoan experience, then PUZZY is a lesbian remix.''
He is also producing a new version of his cousin Tusiata Avia's one-woman show, Wild Dogs Under My Skirt, with six actresses.
Settling down in Dowling St, he found the Dunedin lifestyle very easy compared with his Ponsonby Rd, Auckland existence, calling it ''the big easy''.
''It's easy in the best possible way. I loved not having to push against anything. I could happily move here again.''
Like most northerners, he packed plenty of thermals for his southern sojourn, only to discover he did not need them.
As part of his efforts to lift Pacific literature's profile in the South he began a series of play readings at the Dunedin Public Art Gallery.
''I wasn't sure how I'd be received here. So I very consciously committed to bringing Pacific characters to the forefront as our narrative doesn't get produced a lot down here.''
It also gave him the opportunity to bring down his ''mates'' from Auckland, such as Robbie Magasiva, to read the parts with local actors and even those who had never trodden the boards before.
He took three of those mates down to Invercargill to do a workshop for children not often exposed to Pacific literature or theatre.
''That was really exciting for me.''
One of the highlights of his year was a road trip to Wanaka where he met his parents and took part in Aspiring Conversations with Wendt.
''It was the first time I'd shared a stage with him. Without him I would not exist.''
Then they drove back to Dunedin through the autumn leaves, amazed at the landscape.
Rodger also presented Ranterstantrum Redux, a reworking of his 2002 play Ranterstantrum, a ''darkly comic exploration of contemporary race relations'' in New Zealand at the Dunedin Fringe Festival last year.
Rodger has left Dunedin to take up the Victoria University Writer in Residence post at the Institute of Modern Letters in Wellington, where he plans to keep working on the work of fiction that came to him at Christmas and get back to an earlier idea of adapting Jean-Paul Sartre's play No Exit, which was inspired by his first visit to Dunedin to look for an apartment.
While sad to leave Dunedin behind, he feels he has accomplished a lot. His Scottish grandmother would have been proud, despite being ''horrified'' by what he writes.
''She would have loved me being the Robbie Burns Fellow.''