ANZAC EVE - A SERVICE OF REFLECTION
Wednesday 24 April, 7pm, at St Paul's Cathedral in the Octagon.
DAWN SERVICE OF REMEMBRANCE - MEDALS TO BE WORN
The ANZAC DAY Dawn service parade will be held at the Cenotaph, Queens Gardens, Dunedin. Veteran March On commences at 6.15am. Dawn Service commences at 6.30am. Wreaths will be laid as part of the Service. Relatives may wear medals on the right side of the chest.
 
For those attending the Dawn Service by car, we request you turn you car alarm off during the service, please.
ANZAC DAY 2019 - Queen's Garden Layout
Information on wreath laying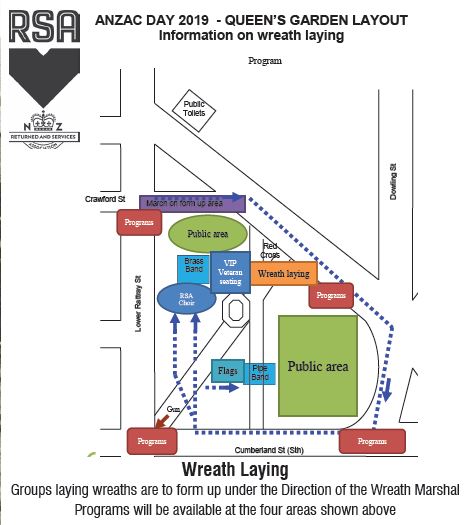 Toitu Otago Settlers Museum will be open after the Dawn Service for hot drinks.
DUNEDIN'S NORTHERN CEMETERY
Guided tour at the Northern Cemetery.
Memorials to Fallen Soldiers from the South Africa War, WW1 and WW2.
11.00am, Sextons Cottage Northern Cemetery, Lovelock Avenue
Trail brochures $3.00.
ANZAC DAY MEMORIAL RUN, JOG & WALK
Bayfield Park to Soldiers Monument – Meet at Guthrie Pavilion Bayfield at 1pm. Gold coin donation.
ANZAC REVUE CONCERT
Dunedin RSA Choir Revue Concert in Town Hall commencing 6.30pm.
A cordial Invitation is extended to the Public to attend the above Services.
DUNEDIN RAILWAY STATION
A service will take place at 9am before our 9.30am train departs and will be predominantly for staff and any visitors.

Back to main page: Lest We Forget - ANZAC Day 2019