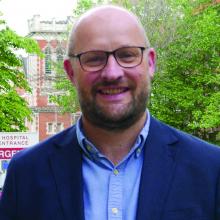 Southern DHB Consultant Neurologist, Dr David Gow (pictured) is in the running to win the prestigious 2020 Confederation of Postgraduate Medical Council (CPMEC) Clinical Educator of the Year Award.
The annual award recognises clinical educators across Australia and New Zealand who have made a major contribution to the education and training of junior doctors.
The Medical Council of New Zealand has already announced Dr Gow as the New Zealand winner, and his nomination will be considered alongside the Australian winners in a virtual awards ceremony on 24 November.
Check out these other Better Health South Stories:
Update from the Acting Chair
Books for Babies celebrated
Public Health officials urge safe handling of potting mix
New unit opens at Dunedin Hospital Emergency Department
Free catch-up on measles vaccination for 15- to 30-year-olds
Extra funding a great result for SDHB
Southerners with cold/flu symptoms urged to get tested