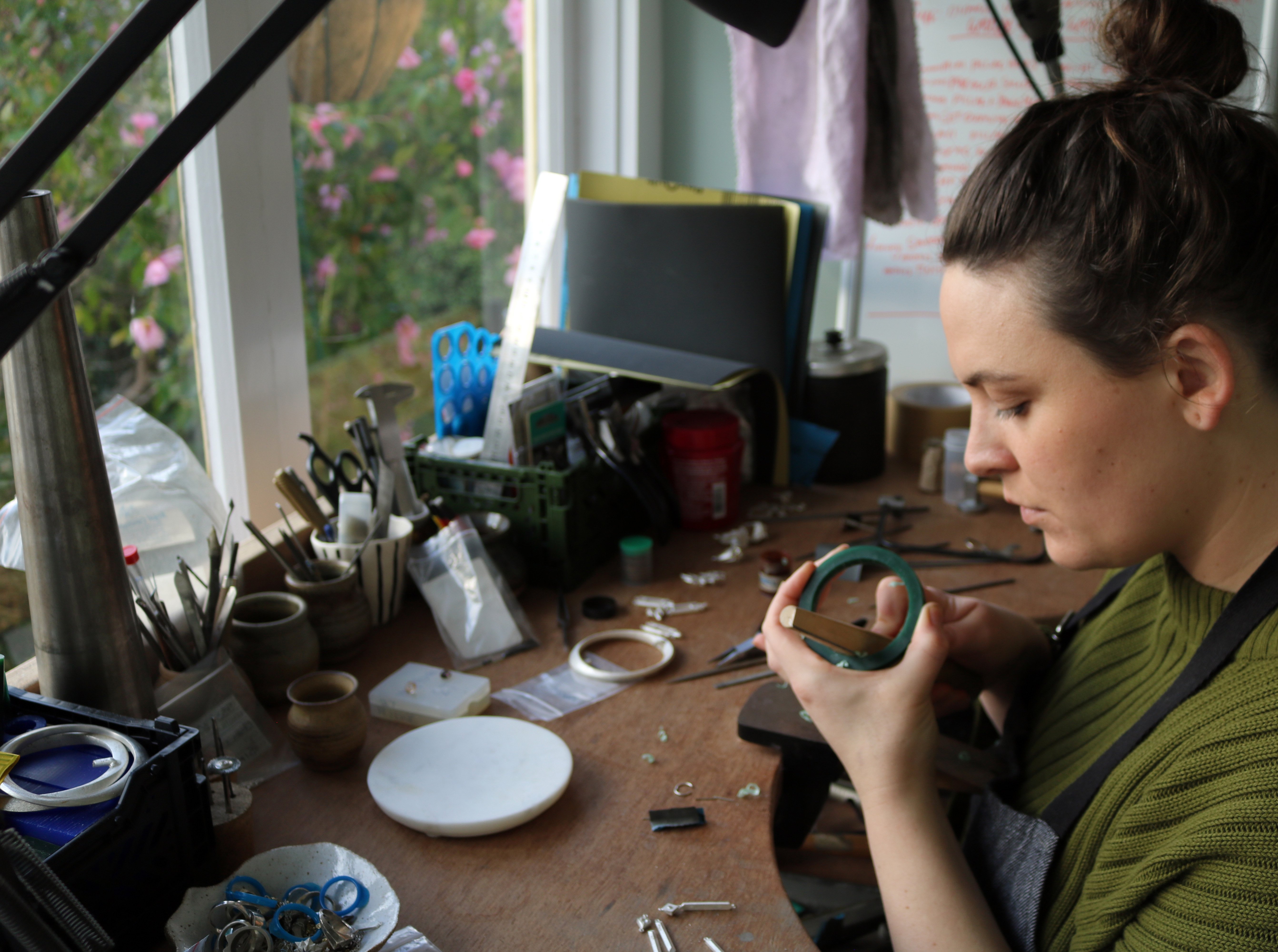 Dunedin-based jewellery designer Holly Howe creates architecturally inspired pieces to last a lifetime. She tells Katie Day about her journey.
Jewellery, a personal monument of memories.
These small crafted objects, adorning the body can hold the weight of a single precious memory or their subtle presence can bear witness to the many moments that unfold to form a lifetime. Dunedin-based jewellery designer Holly Howe takes joy in creating meaningful and lasting objects.
"With the jewellery that I am producing, I hope it comes across as an investment.''
Aware that people are spending money on something she has made, she wants it to last and for them to have enjoyment out of it.
''People are investing money in my future, so I want to give them something that is part of theirs.
''I think we all have pieces of jewellery, that might not even be the most amazing looking pieces of jewellery, but they hold such sentimental value. You know we collect these little treasures and that's the idea of what I want for my jewellery moving forward, to be part of somebody's story and to pass it down.
This ethos developed out of her upbringing in the coastal bay of Waitati, just beyond the Northern hills of Dunedin, where she spent her formative years.
Surrounded by nature and seaside beauty, early inspiration was drawn and the quiet of a small town gave ample space to cultivate her creative mind.
Her path led to Otago Polytechnic, where she carried out a Creative Studies course, whetting the appetite for a range of design and arts degrees on offer. Product Design was a natural fit and Howe graduated from Otago Polytechnic with a bachelor of design majoring in product in 2009.
A deep knowledge of design in hand, Howe crossed the bridge into art, taking up jewellery and metalsmithing studies at the Dunedin School of Art.
Through the tension of translating the language of design to the language of art, opportunity arose as Howe was asked to create a collection for fashion designer, artist and creative mind behind DADA, Marie Strauss.
"She had a runway show for iD fashion week and I designed and made a whole lot of badges for her and that was the lead into everything really. From there, I just kind of flowed and I've recently passed the 10th birthday of actually making jewellery."
A decade of dedication to design, making and business building has established the luxury namesake jewellery brand.
Holly Howe Jewellery is displayed in galleries throughout New Zealand and offered through the business's online store.
Adornment for the upper body is offered with elegance and edge, from ears, to fingertips in the form of earrings, necklaces, bangles and rings. Precious metals of sterling silver and 9ct gold are crafted to reflect architectural angles, holding rare gemstones such as black onyx or tourmalinated quartz. She customises with different metal and stone choices or by adding or removing elements.
Howe's hands have touched very aspect of the process.
"Purchasing jewellery or gifting jewellery is such a special thing, especially if you're buying from a smaller business, or a creator or artist. Love has gone into that and there is a lot of labour that has gone into making something. Especially for a one-man band, from design to completion to sending out, it has all been done by me ... Jewellery is special and it's memory-making and it's all of those things and when you are buying from a smaller person, it's so much more than just a sale."
Howe also accepts commission work to create pieces that are truly individual to the client.
"It can be a really special process, especially with the commission work. You get to hear their story, what they're interested in and what it's for and you're creating special memories for them, on top of whatever that special memory is, or the thing they're already celebrating."
Dunedin's scape of nature and architecture stands as a steady background for Howe's life and work, offering influence to her design aesthetic.
"I think that darker, edgier style of Dunedin, the architecture and all of those things combined has lead me to have a certain aesthetic.
That's what I like and it's what you'll see as a running theme throughout all of my work."
The depth of architecture's detail can be noted throughout Howe's jewellery and sparks innovation within her design process.
"I'm heavily influenced by design, architecture and object, the details within certain part of buildings, if you look close enough and long enough, you can get inspiration for anything really ... We've got the contrast too, of mega buildings in huge cities and countries around the world. So once you start delving into it, it's incredible, it's a really inspiring space to draw inspiration from."
Motherhood guides her business and generates further inspiration as she views the world through the eyes of a child.
''I think you can learn a lot from children, their brains are so open. They don't have these preconceived ideas of what things should look like or be, they are so heavily in the moment all the time that does get you to slow down a little bit."
Jewellery possesses multiple facets, being deeply meaningful and authentic to the wearer, while also providing a playful element of adornment to any outfit.
Wintertime provides a unique problem-solving opportunity of how to feature jewellery while staying wrapped up for warmth.
"Statement earrings are the perfect winter accessory, because you're so rugged up with coats and layers, yet you've got these big beautiful things that everyone can see and you'll still be warm which is lovely."