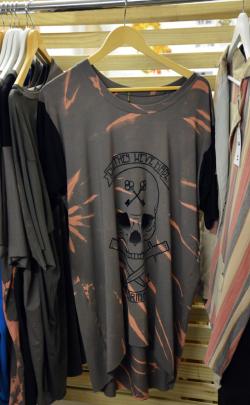 A mix-and-match approach to clothing construction and collaborations is working for Richie Boyens, Emily Cannan discovers.
Fashion designer Richie Boyens is chatting about his label Clothes I've Made at his Moray Pl studio when a friend arrives.
Following an exchange of " 'sup bros", it emerges that said friend wants a new top.
In the following five minutes they agree on the fabric, colour, design, length and style.
Measurements are taken and Boyens starts rolling out the fabric while an iron-on design is chosen. The long-sleeved custom-designed tee will be ready in a day or so. Just like that.
"From the beginning my main thing behind Clothes I've Made was individuality, and it's important I stick to that the whole way through," Boyens (24) explains.
"It's so rad seeing someone wearing your top knowing that there is only one in the world."
Individuality is the first thing that springs to mind when perusing the racks that hang from the basement roof of his ironically named studio Above Ground. The second would be the unspoken suggestion to just chill out in the unpretentious, loose-fitting hoodies and comfortable extra-long T-shirts.
Though the pants look like a tight fit, I'm told that they're pretty darn comfy too. Baggy yet tailored, each pair is uniquely finished as Boyens continues his experiments with fabric treatments and construction.
"I've always looked back at photos of us when we were kids.
"All the colours and patches on the knees were rad - [there's] something about a pair of pants you have owned for five or six years. You feel like you can't let them go. I want to try to re-create that feeling with my clothing, but brand-new."
With no professional training, no degree in fashion and no experience with garment construction or pattern-making, how did this young guy start his own clothing company?
Three years ago he was a barista.
Boyens, who has lived in Dunedin since he was 12, only started sewing in 2009, using his mum's old Bernina 801 sewing machine.
He still uses it today, even while incorporating tough leathers and denims.
"I break a lot of needles, but that's all good," he says, laughing.
After completing his first cardy-jacket, Boyens says he was "amping".
"Nothing's impossible with this machine. Once I made that first piece I just had to make another one, a better one."
Clothes I've Made produces a wide array of garments and accessories. Leather, cottons, denim, felt and cord are matched with experimental fabric treatments to create pants, vests, long-sleeve T-shirts, hoodies, jackets and more.
Unlikely combinations of plaid, striped, paint-speckled and tie-dyed patterns somehow make complete sense. Jewellery design is another area of exploration, and his simple wallets are practical but stylish.
"The thing that keeps me so interested is that with one-off pieces we can just go week by week with colour ... almost change with the weather. I've been really into dyeing our own fabrics, loving the range of patterns and colours you can make."
Clothes I've Made has been stocked in Dunedin retail store Void for more than a year but originally Boyens made his clothes for friends, and did not consider it as his future.
"Business is a scary thing that I'm really only now beginning to understand. At first I was making clothes for fun and my buddies were wearing them for support. But they just kept coming back for more and more.
"That's when I realised I wanted to give it a proper go.
"After thinking it through I figured I needed someone on board to help out with the hard stuff."
Boyens sought out friend Josh Jeffery (24), who is completing a master's in design at the University of Otago, to build a website and become his business partner. While the company's biggest asset is its individual hand-made pieces, it has also meant Boyens does all the practical work himself.
Boyens' recently opened Above Ground studio also involves Lou Clifton, of Lou's Shoes, Kate Martin, of Cupkakes Lingerie, and Divine Surprise Jewellery by Michael Duncan.
The large basement provides a common working space for Boyens and his collaborators.
Boyens says his biggest influences have come from friends who are artists, in particular Busto, aka Benn Edwards.
"He's been there since the beginning and is still ripping it.
"I would see a new drawing of his and get amped to make a jumper for it. It's not just another top to us. Each piece has its own story."
Recently, the addition of a heat-press has allowed Boyens to transfer iron-on prints of custom artwork on to pieces in his sideline brand, Clothes We've Made.
"Clothes We've Made was created for artists out there who wanna get their stuff on some clothing. It's all limited edition so as to not overdo the artist work."
Such collaborative approaches appear likely to continue.
"We've been growing organically, growing with the people around us. It's been very beneficial for all of us, helping each other out.
"I really appreciate all the help I've had. The people we have met and dealt with could not have been more inviting.
"In terms of fashion in Dunedin, it rules and it's changing all the time and I'm just doing it my own way."
---
More info

For more images go to www.clothesivemade.com