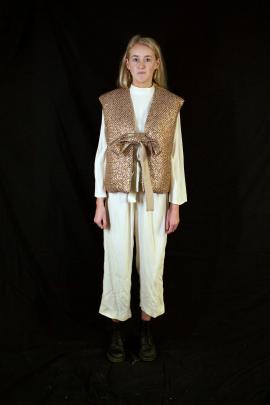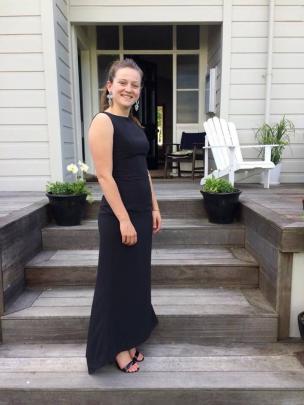 On the eve of the Hokonui Fashion Design Awards, Brittany Pooley talks to local fashion student Sophie Stevens as she prepares to hit the catwalk for the fourth time in four years.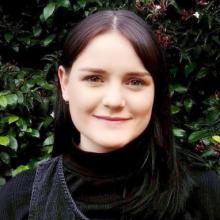 Discovering a talent for fashion design has helped young Masterton designer Sophie Stevens overcome the challenges of a learning disability.
The determined designer has been entering the Hokonui Fashion Design Awards in Gore since 2015.
The awards are a design competition and fashion show open to designers from across New Zealand. They are the country's longest standing fashion event of their type. With an open section and school section, the awards provide an opportunity to any designer hoping to endure the high stakes of the fashion industry.
This year's panel of judges includes Francis Hooper of WORLD, Massey University Fashion Co-ordinator and lecturer Sue Prescott, Auckland-based fashion stylist Luke Bettesworth and, most notably, Doris de Pont, fashion designer and director of the New Zealand Fashion Museum.
In its 30th year, the event will be held across two evenings on the 27th and 28th of July.
Inviting entries from both the experienced and emerging designers, Hokonui showcases a diverse range of national talent, some of whom compete every year like Stevens.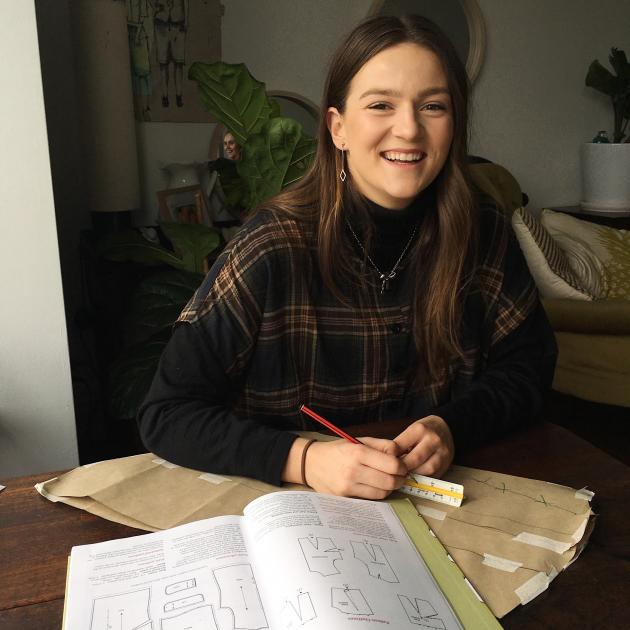 Stevens, who grew up in an artistic family, has always seen herself in fashion.
''From a young age I have known that designing was my passion - my first word was shoes.''
She first competed in the event as a high school student at St Matthew's Collegiate School in Masterton.
Being dyslexic, Stevens says she struggled academically in school. A pathway into fashion design allowed her to gain success in her schooling.
''I could achieve so much more through the gift that came naturally to me; creativity and design.
''Fashion design allows me to express my creativity in a process that is passionate to me; it's like art on the body. Seeing the final product, and knowing that I have designed and made it, is a really rewarding feeling.''
In 2015, she entered her first garment with the encouragement of her school textiles teacher Mrs Ruth Bucknell.
The piece was a pink wool jacket made out of remnants from her classroom scrap material bin. Stevens styled it with a pink satin princess skirt and grey turtleneck. The young designer was delighted with the submission, and still wears the jacket today.
In 2016, Stevens received her first Hokonui Fashion Design award with a men's suit design that received ''highly commended''. The denim outfit, along with a panelled denim dress also entered, were made from up-cycled, pre-worn, discarded denim from jeans.
''I really enjoy using pre-loved clothing and adapting it to fit into the fashion forecast of the season.
''I will always take the time to determine what I actually need within a project to make sure I am not contributing more than I need to [to] the waste of the fashion industry.''
Stevens' winning streak carried through to 2017, where she was placed as runner-up for a three-piece silk ensemble in the ''Nightlife'' category.
With a focus on more elegant, sophisticated fashion, Stevens started to notice an elevation in her design aesthetic. She went on to sell the outfit to her school principal at St Matthew's.
''I started to understand my designing much more than I had before.''
Her high school career in design led Stevens to move from her hometown in the Wairarapa to Dunedin, where she is in her first year of Fashion Design at Otago Polytechnic.
Stevens' strong family values and rural upbringing played a role in her recent move to the South Island.
''I was drawn to Dunedin because of its rural roots. I love that Dunedin doesn't feel like a city and it still has a rural, provincial vibe.
''My dad's side of the family was brought up down south and still live in various cities and towns.''
Stevens attends the Hokonui Fashion Design Awards in Gore every year with her grandmother and feels attending the show is beneficial for young designers.
''Going to the show is really helpful as it is the only way that you can experience the show, see how the lighting and sound effects all work together and what sort of standard the designs are that make the finals. It also gives inspiration for following years.''
Stevens gets to work on her designs for the Hokonui Design Awards as soon as the categories are announced, at the beginning of each year.
Her 2018 Hokonui submissions are set to impress the panel of industry judges.
Her first entry is a ball dress entered in the ''Nightlife'' open category. Made from a charcoal satin crepe, the dress is well-fitted to the body and has slightly flared bottom that extends into a train. Its deep 'v' back is balanced out with a straight high neck.
Stevens' second design will compete in the ''Street Wear'' open category. The natural-toned outfit aims to play with structure versus delicacy and features a rayon crepe, long-sleeved playsuit styled with a wool vest that has a weaned copper sequin overlay and chunky ties.
''I love seeing someone rather than myself in my garments and seeing other people's reaction to my designs; I just think the whole atmosphere is awesome.''
Entering the competition's open section for the first time, the young designer is excited and nervous for the judges' feedback.
''I am confident in my designs. Even if I do not get awarded anything it is an amazing challenge to hopefully build on in the years to come.
''I do think it is important for me to continue entering into the Hokonui Fashion Design Awards, as I believe the experience extends my learning potential in a commercial way.''
Whatever the results of this year's awards show, this young designer is looking forward to many more years of entering the Hokonui awards.
''I appreciate what the Hokonui Fashion Design Awards has done for me in terms of confirming my ability and passions..''