Our time in lockdown has vastly impacted the local fashion industry. Katie Day talks to some Dunedin designers about the transforming retail landscape.
The New Zealand fashion industry is aptly reflecting values of responsiveness, community and innovation in its reaction to the Covid-19 pandemic.
The country's time in lockdown has had a substantial effect on businesses of all scales and offerings, including the fashion retail sector. Every element of the fashion supply chain has been affected, from designers to manufacturers, suppliers, retailers, couriers and customers.
Transformation has taken place not only in the way we shop, but also the way businesses are responding and operating.
Local Dunedin designers and retailers Evie Forno, of Pavement, Shelley Harvey, of Belle Bird Boutique, and Margarita Robertson, of Plume and Nom'd have had to react quickly to the uncertainties created by the lockdown.
The three fashion shops are located in the hub of Dunedin's fashion retail zone, their stores positioned centrally on George St, and each has a first-hand view of the effect a global pandemic has had on local business.
The trio all own, operate and design for their respective businesses.
"On a business front, we were in an unknown, we didn't know what was going to happen," Forno says.
Harvey echoed those sentiments: "That's the thing about it, nobody knows."
Robertson, who opened Plume in 1978, said the lockdown was unlike anything she had ever experienced.
"It's worldwide and hard to predict economically what the future holds. I feel we are fortunate to live in a city like Dunedin where we have such a strong and loyal clientele and personal relationships mean a lot to those clients."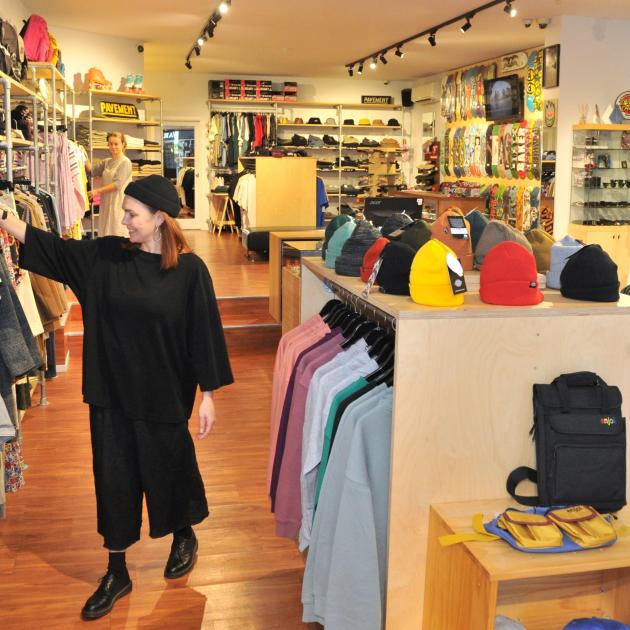 E-commerce has provided a portal for businesses to operate during lockdown. Pavement offered winter essentials that were shipped once a week and Belle Bird Boutique offered goods that would ship post lockdown.
Harvey: "Our online store was still open, but we were only shipping after lockdown, which was great, people really supported it, which was amazing considering they had no idea when they would be able to get their items. Every time an order did come through, I was like, 'That's amazing'," Harvey says.
An influx of community support was much-appreciated, enhancing their online retail experiences.
Forno: "What we loved, were the messages that were coming through with the orders, from all of the community and some from as far as the North Island. The messages that were coming were so supportive, it was really cool."
Plume, like many others, had no business during Alert Level 4, but its staff were able to access head office during Level 3, which allowed them to work on online orders, although they took two weeks to process.
One positive from the experience, says Robertson, is discovering how "important e-commerce is in our lives both from a personal and business perspective".
As New Zealand's fight against Covid-19 gained momentum and the lockdown restrictions eased, the doors of the brick and mortar stores opened.
Community support translated from online to in-store, Forno says. "People were hungry for human interaction as soon as the doors were open ... it was really hard not to hug everyone. Lots of virtual or air hugs going down."
However, many customers approached with caution, reacting to the outbreak in very different ways, Harvey says.
"We have some people standing at the door who don't want to come in, or they're like 'Are we allowed to touch things?'."
Post-lockdown, customers have had a diverse range of responses to the in-store retail experience.
"What a lot of the customers are needing at the moment is just a feeling of something to reinforce positivity in them ... they're going for things that are making them happy. Skateboards ... there's definitely a lot of emphasis on colour at the moment and just wearing something that really makes them feel awesome," Forno says.
Harvey agrees: "One hundred percent. People are wanting to treat themselves and have an actual physical look at something."
An intentional approach to purchasing as been observed by the retailers.
"I guess it's more considered purchases than spontaneous buying. People have definitely done more research online before they come in, but they want to see the actual thing before they buy it," Harvey says.
Lockdown has been a time for reflection, realignment and ideation, Forno says.
"Through the lockdown, we have become aware that things will change ... so it's given us an opportunity to kind of focus again on what we've wanted to do, which is more of our own stuff, so a lot more of our clothing and then working with different friends and artists to do collaborations."
At Pavement, Forno works with Otago Polytechnic fashion design graduate Maia Holder-Monk, who makes patterns and assists with the production of the in-house designs. Holder-Monk sews all in-house Pavement garments in her home studio.
Forno describes their designed garments as "your favourites. They're that item that you buy and if you were to lose them or if it were to get ruined, you'd be really upset if you couldn't get another one".
The individual yet versatile designs are made from natural fabrics, sourced through the Dunedin branch of The Fabric Store.
"I think a lot of people have realised how important it is to support your community and to keep things local. New Zealand made is something that we've been missing for a long time and it has been a little inaccessible for a lot of people, so maybe we try and bring that back."
At Belle Bird, Harvey has been pondering "the business in total and what we can do for ourselves to respond to that".
She says they are "realigning systems to make the business run a bit smoother".
The boutique stocks brands from across New Zealand and Australia, alongside producing two in-house labels, Danger Birds and South of Eden.
"It's a good position to be in, that we can just generate our own stock locally, which we've always done ... we can be really reactive ... fabric can arrive on a Monday and we can literally have the garments in the store on a Friday. I love that."
When considering their locally made garments, Harvey says: "I love saying to people those are made in Dunedin. People are really surprised by it when we tell them."
As many fashion retailers move forward, their paramount concern is the wellbeing of their communities.
Harvey: "Making sure everyone is okay. Everyone is just in such varied circumstances, right now. People are probably still yet to grapple with some issues that are going to be concerning them moving forward ... The main thing is that those connections that we have with customers are really good and that we are obviously supplying what people are looking for."
For Forno it was about looking after people.
"Making sure they've still got our support ... that shared conscious, collective kindness is epic."
Robertson feels that as a result of Covid-19 many brands and stores are reconsidering what is important.
"This is a consideration even with international brands we carry and the value of too many collections per year, and maybe being savvy and consolidating ... into two clearly defined seasons."
Time will illuminate what works best in the future, she says.
"Hopefully, we all appreciate the benefits of supporting local slow fashion."