His knives are used by cooks around the world, including some of New Zealand's top chefs. Peter Lorimer tells Rebecca Fox about his journey from working in IT in the city to knife-maker in rural Otago.
A rustic wooden sandwich board on the pavement on your way out of Omakau is the only indication that Peter Lorimer's workshop is nearby.
If the old yellow concertina doors are open, Lorimer, in a battered leather apron, will be found inside the narrow workshop at work on his latest steel or iron pieces.
Bearing more than a passing resemblance to a blacksmith's smithy, it houses Lorimer's tools of trade - industrial-sised hammers for beating steel, the small gas forge for heating iron, belt sanders and grinders to shape and sharpen, a kiln to harden and of course an anvil to hammer the iron into shape on.
The blacksmith likeness is not surprising; Lorimer was first introduced to working with metal by his landlord, a blacksmith.
He started out learning the trade from him by working with wrought iron.
''He helped me out, showed me lots of skills.''
But it was not until after he gave up his job in the IT industry in the 1990s and spent a year ''doing very little'' in Queenstown, that a suggestion from the blacksmith and an engineer friend that he make a chef's knife hinted at a new direction.
He took up the challenge, thinking he knew what a chef's knife looked like, so it could not be that hard.
''It was very awkward, clumsy. So I went and talked to chefs, looked at knifes.''
Lorimer likes that the kitchen knife is an everyday tool that everyone uses.
''It's a good thing to be done well. I like the idea that everyone uses one but doesn't think about it.''
Over time with practice, he developed his skills, making mostly steel French-style chef's knives, with handles in bone or wood with brass hilts.
''I made them for Christmas presents and was asked to replace old favourites.''
In the meantime, he and wife Stephanie (a teacher and jeweller) and their two children had been holidaying in Central Otago for years, and had begun to look for property there.
Through word of mouth they learnt of land at Ophir for sale. Soon they were proud owners of 8ha on a rise at Ophir.
It forced Lorimer to make a decision - go back to programming or make a go of the knife-making.
''I thought I'd give it a year to see if it worked - well, I'm still doing it. I've been fulltime here for 10 years.''
Back then there was no knife-making industry in New Zealand, so he found himself starting from scratch.
''Before I got organised with temperature-controlled kilns and things, I used to get a few coming back. There was the process of learning, making mistakes and figuring out how to get around them.''
In the early days he made swords for theatre productions and operas, spindle moulding blades and hunting knives.
''In the old days people used swords in the theatre - no rubber edges. Blunt but dangerous.''
These days there is not the demand nor money for swords like that. Instead Lorimer is diversifying into wrought iron work such as gates and rails, and is investigating making sterling silver cutlery and steel chef's frypans.
However, any new endeavour requires development time and equipment.
''It takes so long. You have to expect to get it wrong so you don't want to invest too much time in a prototype.''
But the newly arrived 100kg head hammer, on loan from his blacksmith friend, will make doing things like the frypan easier.
Just as he did when developing the knife, he has been talking to local chefs about their needs and wants when it comes to frypans.
''Chefs all have their own ideas - this handle transfers more heat than this one, the weight of this works but that one doesn't, none of these sizes are right for how I cook.''
Doing the wrought iron work takes him back to his early days.
''I've learnt blacksmithing and I really enjoy that side of it; making gates and working with hot iron is a real pleasure.''
He still enjoys making the knives, priding himself on making something that is fit for purpose and comfortable to use.
It takes roughly a day to make a chef's knife. Although because of the time it takes to heat up his kiln to harden the knives, he does them in batches of about five over a week.
''I really like that you start from nothing but end up with something practical, a tool that is good to look at, that you have created out of what looks like scrap.''
The knives are made out of either German or Austrian tool steel. The shape is laser-cut or he cuts it out himself.
Then he sits down to grind the profile and when he is close to the shape he wants, it goes into the kiln at 1050degC for 20 minutes.
Once it has hardened, it is cleaned up, the brass around the hilt is added and the bone or wood glued on. Then there is the final polishing and sharpening.
''No two knives are the same; those that are laser cut are similar but I make the handles by feel - what feels good in my hand while I'm making it.''
Lorimer also makes damascus steel knives where he folds layers of steel and iron repeatedly, a bit like making pastry.
This enables him to use steel and iron from different sources such as old railway springs, car parts and bits of wharves.
''I can introduce materials from places that mean something to people.''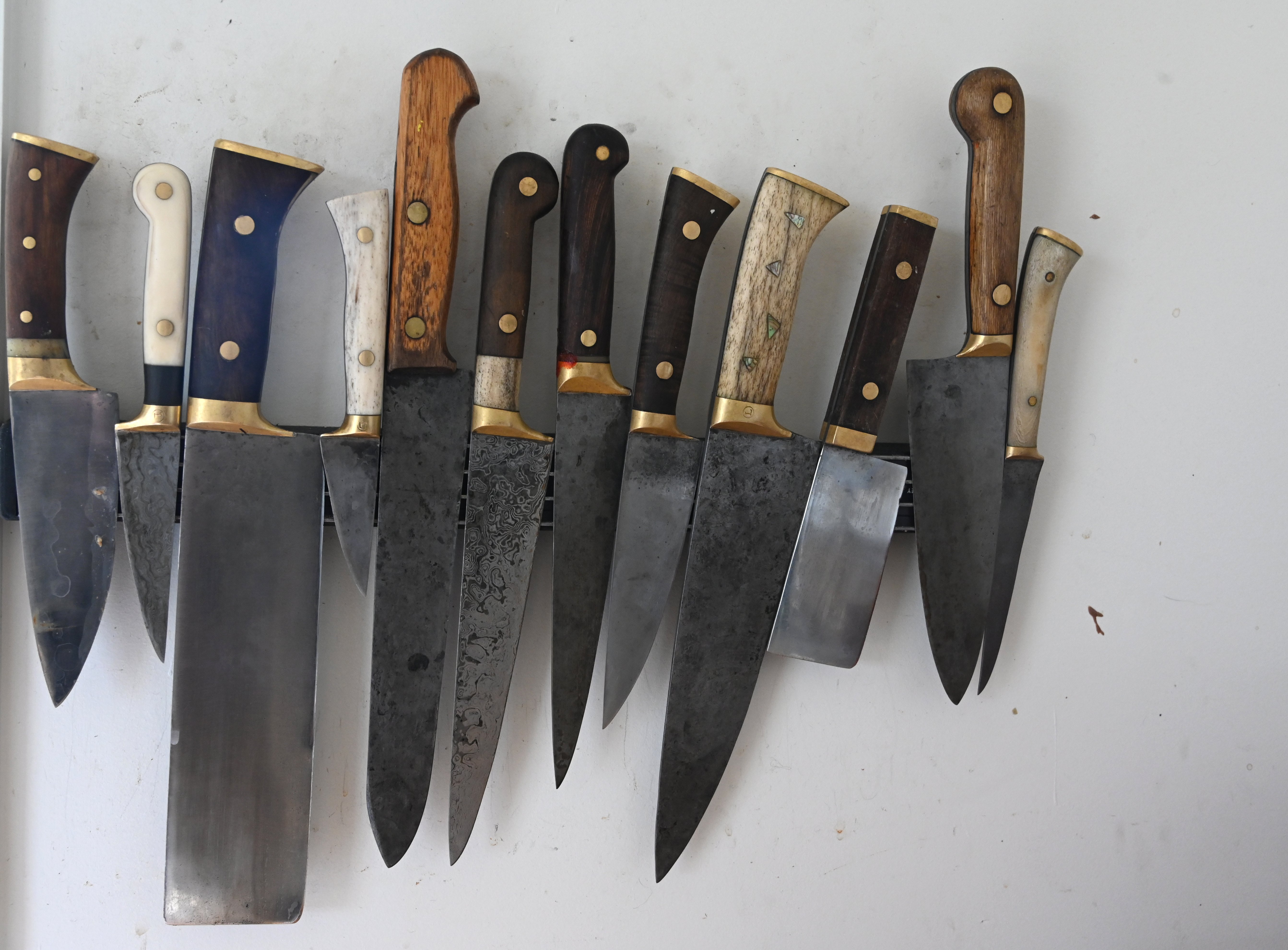 He folds it up to 200 times, manipulating it to make random patterns which can be seen on the blade of the knife.
''The difference probably is in price, as there is another day or two making the steel. I only make them occasionally for people who want something special.''
Lorimer warns of leaving the knives out for guests to use.
''Hopefully, the guests that stay don't put them in the dishwasher - it has happened. I've got knives back to put handles on. People hide them now.''
He has also collaborated with Stephanie on a range of rings made of the damascus steel and other metals.
His passion for the work was stretched after fulfilling an order for 100 steak knives for a Queenstown restaurant.
One of the stranger requests he has had is to make a boning knife with a handle from a no-longer needed titanium implant from a man's leg.
''So I sandwiched the titanium on one side with the bone on the other to make a boning knife.
''That is fairly unusual.''
The craftmanship that goes into the knives mean they become family heirlooms.
He says he has been lucky his knives have been picked up by some of the country's top chefs such as Jonny Schwass and Al Brown, with Peter Gordon even introducing British chef Jamie Oliver to them.
''It's nice to know people who are using them professionally enjoy using them so I know I've got something right.
''I still ask for feedback though, what they like and don't like.''
Stephanie can remember channel surfing one day and coming across Oliver using one of Lorimer's knifes on the show.
''They've been great ambassadors.''
It has not been without its ups and downs as he has had a family to support, so judging where he puts his time for the best outcome is important.
''I have to be a little careful about that sort of thing.''
But he continues to dream and plan the next projects. And if he gets his way, maybe spend some time in Europe with Stephanie when their son Max leaves home.