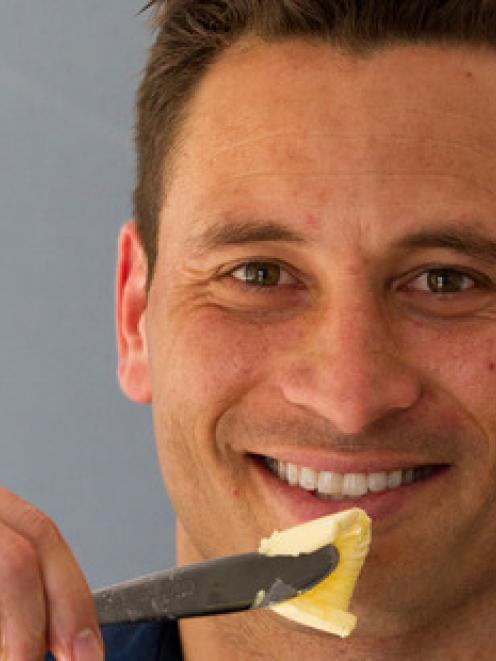 Kiwi tastebuds are turning back to our old love of butter, prompting new warnings about heart attacks and fuelling an academic row said to have "nearly come to blows".
Since the 1970s, we have been told to cut down on butter, full-cream milk, red-meat fat and other rich sources of saturated fats, for the sake of the arteries in our heart.
Saturated fats are associated with an increased level of so-called bad or low-density cholesterol, which in turn is widely considered an important risk factor for having diseased heart arteries which in the long run can cause a heart attack.
The message got through to many. In the 31 years from 1967 to 1998, New Zealanders' annual butter supply -- a marker of consumption -- collapsed from 21kg a head to 7kg. In the 2000s it rose again, to around 9kg, then in 2011 jumped again, to 11kg, according to the latest data from the UN's Food and Agriculture Organisation.
In 2011, New Zealanders were by far the world's biggest butter eaters. France -- where famous actor Gerard Depardieu once said as a chef in a movie, "The secret of life is butter" -- came second on 8kg.
"Butter is back," says boutique dairy company Lewis Road Creamery, citing Nielsen sales research and a controversial British-led paper dismissing fears of saturated fats.
"Butter has grown its volume share of the total butter and margarine category from 41.3 per cent to 45.1 per cent ... in the last three years."
This resurgence in popularity may be linked to the new-found uncertainty about the science of saturated fats, which had once seemed settled.
Grant Schofield, professor of public health and director the Human Potential Centre at Auckland University of Technology, is a cheerleader in the challenge to traditional thinking on saturated fats.
This has pitted him against the nutrition and epidemiology establishment at Auckland University, Otago University and the Ministry of Health.
Professor Rod Jackson, medical practitioner and epidemiologist at Auckland University, is deeply concerned that the Schofield camp, with its promotion of butter, cream and coconut oil, is setting the nation on a path to increased coronary artery disease, after more than 30 years of falling heart disease mortality.
Their academic shouting, reflecting an international disagreement, has played out in competing scientific articles and letters -- and public confusion. It culminated in the Nutrition Society inviting them both to speak at its Queenstown conference.
Professor Schofield wrote later of his relationship with Professor Jackson: "A few face-to-face interactions have pretty much come to blows, voices were raised and lots of accusations made."
Questioned by the Herald, Professor Schofield said, "He looked like he was going to hit me [in Queenstown]. He just completely lost it. I had no right to be talking about nutrition, he's got 30 years' experience blah, blah, blah.
"Since then, I would add, we have sat down in the same office with our research teams for five hours straight last time ... I don't think we are agreeing on anything, but certainly discussing some science."
Professor Jackson and a member of the Queenstown audience both say the "nearly came to blows" claim is an exaggeration.
But Professor Jackson says he told Professor Schofield after their Queenstown meeting that "I thought it was both irresponsible and dangerous to encourage the public to eat more saturated fat, given the weight of evidence about saturated fat and coronary heart disease".
The butter debate featured in Time magazine this year, under the heading: "Eat butter. Scientists labelled fat the enemy. Why they were wrong."
This is how the decades of low-fat advice unfolded. A diet high in saturated fat was identified as a risk factor for heart disease and stroke and the message became "eat less fat".
New Zealanders' intakes of dairy and meat fat declined; vegetable fats rose. Consumption of carbohydrates (including breads and pastas) increased, pushing up our total energy intake.
We got fatter. Our rate of adult obesity more than doubled in 20 years and is now 31 per cent, one of the highest in the developed world.
Obesity is a risk factor for diabetes and huge attention has gone on these twin epidemics and their costs. Meanwhile, coronary heart disease death rates were falling. Obesity is a risk factor for heart disease, but not as important as cholesterol and smoking.
In our attempts to reduce obesity, added sugar, sugary drinks and other refined carbohydrates have been targeted. Enter the low-carb, high-fat diet. Professor Schofield's group promotes this kind of eating -- plenty of fresh fruit and vegetables, "unprocessed" dairy foods, nuts, seeds, eggs, meat, fish and poultry; minimal sugar and processed foods.
Breakfast might be berries, nuts and, controversially, lashings of cream, coconut oil and butter.
Professor Schofield says the story people tell of him walking around his university office sculling from a bottle of cream is untrue. But for a university magazine article he did pose for a picture with a plate stacked with fatty-looking sausages, knife and fork at the ready. He agrees with Professor Jackson that this was a mistake and promised to "try harder" to get the real-food message out.
One of the international papers relied on by Professor Schofield and others is a study led by Dr Rajiv Chowdhury, of Cambridge University in Britain, published this year in the Annals of Internal Medicine.
It concluded: "Current evidence does not clearly support cardiovascular guidelines that encourage high consumption of polyunsaturated fatty acids and low consumption of total saturated fats."
The researchers later published a correction of some data, but said this did not affect their main conclusions.
Critics from the Harvard School of Public Health in the United States wrote in the same journal that there were other serious problems with the analysis, from which important studies had been omitted. " ... a more inclusive and correct view of available evidence would support the replacement of saturated fatty acids with polyunsaturated fatty acids."
The Health Ministry, too, recommends reducing saturated fats and replacing them with polyunsaturated fats, of which walnuts, safflower oil and salmon are rich sources.
Acting director of public health Dr Harriette Carr says the few recent studies that endorse diets high in saturated fats are insufficient to refute the wealth of counter-evidence.
The link between saturated fat consumption, blood cholesterol levels and heart disease is well established.
Professor Jackson says his argument with Professor Schofield is that he fails to make sufficient distinction between different dietary fats.
But Professor Schofield, in what he says is an "olive branch" to his detractors, has "no problems" with people eating olive oil -- high in monounsaturated fats and a component of the "Mediterranean diet" -- rather than coconut oil.
What matters most is that people most in need of high-fat, low-carb diets -- those with type 2 diabetes or its precursors -- have access to them.
So what should we eat?
?"Real food", not processed food, says Professor Schofield. "You can't just go in and get saturated fat. There's no such food."
?Professor Jackson reckons the Japanese and traditional Mediterranean diets offer insights. He says the balance of carbs and fats is probably unimportant as long as most fat is not saturated and most carb is the complex variety, not sugar and white flour-based refined carbs.
NZH ml