Janet Mitchell shows us how to make Christmas trifle.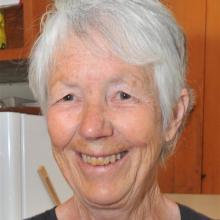 Janet Mitchell is a fifth-generation New Zealander who grew up on the West Coast.
Now retired, she was a lecturer in food science at the University of Otago for many years.
Her mother always made a trifle at Christmas.
In the town where she grew up, the local baker made big trays of trifle sponge and you'd go down and buy the size you needed, she said.
People all had their own versions of the recipe, but everyone used their best cut-glass bowl, which came out only at Christmas for the trifle.
As a child, she loved eating leftover trifle for breakfast the next day.
It was soggier and had more flavour, and she'd race her siblings to the fridge in the morning, she said.
Trifle is an old English dish and probably came to New Zealand with the early settlers.
It has become an essential Christmas dessert here, along with pavlova and plum pudding.
It is best made the day before and kept in the fridge overnight for the flavours to develop.
Top with whipped cream and decorate just before serving.
---
Christmas trifle
Serves 4-6
Ingredients
15cm square trifle sponge
raspberry jam
¼ cup sherry
¼ cup dry ginger ale
2 Tbsp custard powder
2 Tbsp sugar
2 cups milk
2 medium eggs, lightly beaten
For the cream topping
½ cup cream
1 Tbsp icing suga
To decorate
¼-½ tsp vanilla essence
hundreds and thousands and chopped walnuts
Method
Spread the cake liberally with raspberry jam and cut into 2cm cubes.
Put the cubes in a glass bowl.
Mix the ginger ale and sherry and pour over the cake to moisten but not to make it soggy. Leave the cake to infuse while you make the custard.
Mix the custard powder and sugar and add a little of the milk to make a smooth paste. Stir in the rest of the milk and the lightly beaten eggs. Pour into a saucepan and bring slowly to the boil, stirring all the time so it stays smooth. When it's thick and has just come to the boil, remove and cool slightly. Pour over the sponge pieces while still warm, allowing the custard to trickle down between the pieces. Shake the dish to help.
Put in the fridge to chill for at least a couple of hours or overnight.
When ready to serve, put the cream in a bowl with the icing sugar and vanilla. Whisk until thick. Spread over the custard and decorate to your liking. Janet's mother always used hundreds and thousands and pieces of walnut and served the trifle with fruit salad.
---
Tips
• Trifle sponge can be found in supermarkets, or you can use leftover cake.
• You could use any jam, but raspberry is traditional.
• Brandy can be used instead of sherry, or a mix of the two. If you want an alcohol-free trifle, use just ginger ale or fruit juice.
• Custard powder is cornflour with colouring so if you don't have custard powder, substitute cornflour, although the colour won't be as nice. You can also buy ready-made custard but it may not be as thick as home-made custard.
• Some people like to put a layer of jelly in before the custard.
• Some people like to put fruit or fruit salad in the trifle.
• Everyone decorates their trifle differently. Other toppings can include grated chocolate, glace cherries, strawberries or raspberries.
• You can make the trifle bigger or smaller depending on how many guests are coming.
---
• Thanks to Afife Harris and Centre City New World.
---