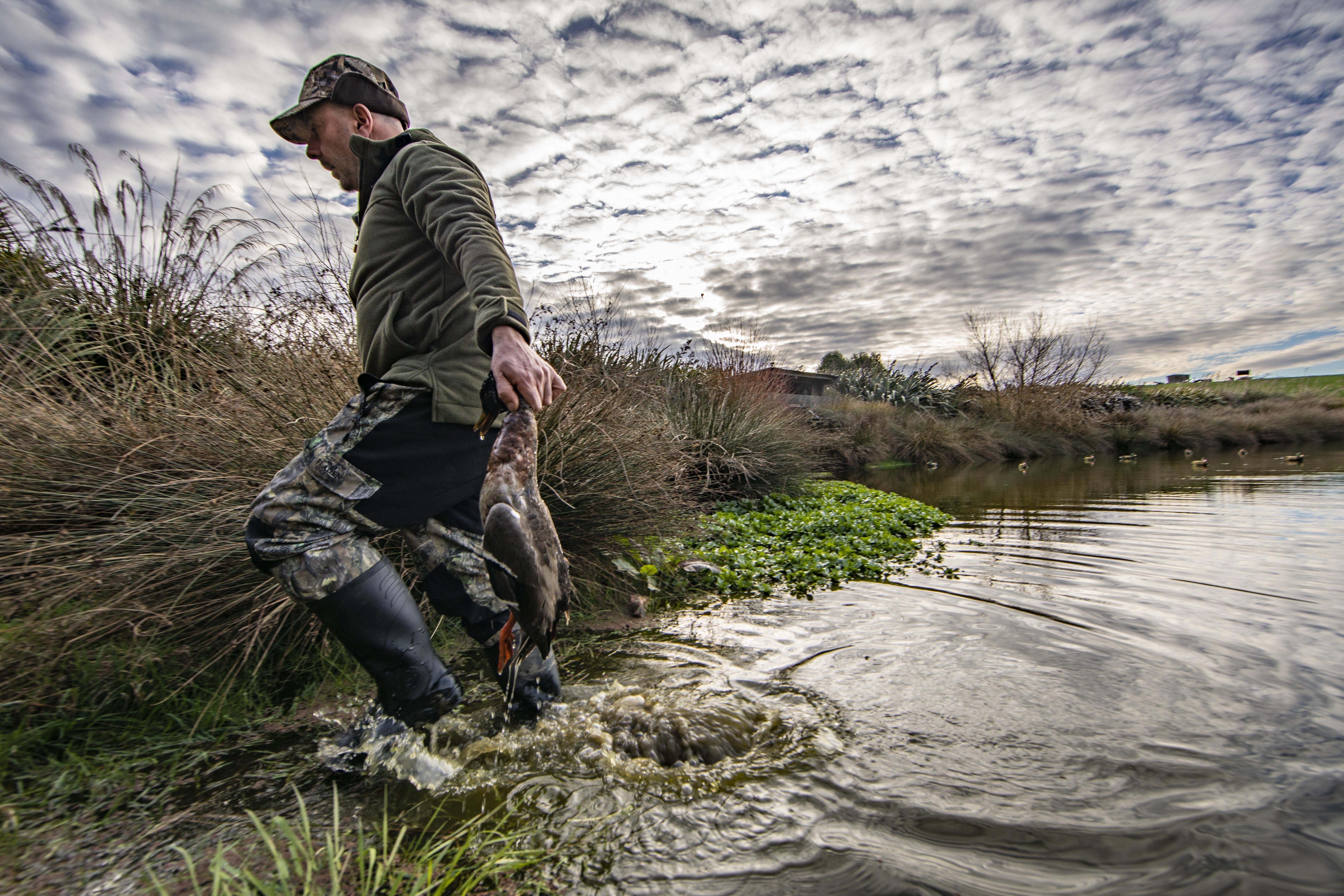 As the duck shooting season begins on Saturday, "Game Chef" Angelo Georgalli tells Rebecca Fox about the challenge of cooking the perfect duck.
Angelo Georgalli loves birds, so hunting them does not come easily.
So when it came to writing the recipes for his latest cookbook The Fish and Game Cookbook there was a lot of experimentation needed.
It is just one of the challenges Georgalli has faced since his last cookbook and television show Wild Kitchen were released in 2017.
"I can't lie, it has been a real struggle."
The biggest difficulty was having to sell the hunting and fishing lodge he had built up at Cardrona after Covid-19 and its associated restrictions decimated tourism.
"It was very much tourism-focused and based and it was hit quite badly."
He then decided to open a food truck in Wanaka offering charcoaled meats, Souvlaki in a specially designed charcoal grill.
"But Covid kept knocking on the door. I thought it would go away, little did I know it would be here this long. It affected that business too, so I moved the trailer off-site and decided to wait until it settled down."
It was during this down-time that Georgalli, driving up the South Island one day, diverted to a Fish & Game office and suggested writing a cook book for them.
The organisation loved the concept as it was something they had always thought would be good to do and the timing was right.
Georgalli had also worked with them as a volunteer ranger in the past so knew the organisation and its work.
"I met a lot of interesting people on riverbanks and lake sides. It's been nice to get involved with them again."
It was during this time the idea of a fish and game cookbook started to germinate. He often cooked for Fish & Game training courses, surprising fellow rangers with his skills.
It took a year to pull together the book as he had to work around the hunting and fishing seasons and then experiment with different species.
"Cooking a pukeko or a black swan, shoveler or mallard can sometimes be quite challenging."
He said the birds were quite diverse and their conditions depended on where they had been feeding, the environment and their health.
"I discovered the easiest way to cook a bird is to put it in an oven bag with the other ingredients and put it in the oven for two to three hours. That kept the moisture in. As we all know with wild meat, there is not much fat involved, so they tend to be quite dry. I think with these recipes I achieved some great results."
He pulled together ingredients from his Greek and Italian heritage as well as middle eastern flavours to give recipes interest.
"We mixed it up and made some interesting dishes."
His interest in his heritage — his father is from Cyprus — led his partner Sky Horton to buy him a DNA test for his birthday which he took about nine months ago.
He was "blown away" by the results which showed there was also DNA from Iran, North Africa and even Nigeria.
"Looking back in my cooking, I have adopted a lot of styles and flavours unknowingly from those countries which is quite amazing. Goes to show it is in the blood."
In the end, his recipe for a black swan meat loaf and the quail recipes are his favourites, but he admits he feels guilty shooting quail.
"They're adorable."
As an early teen in the United Kingdom, he used to study birds and went on to keep finches and canaries and breed them.
"So killing birds isn't the easiest, but I do like eating them as well."
Alongside the recipes, tips and tricks for cooking, Fish and Game have provided information on the species themselves and the work the organisation does.
"It's not all about hunting and fishing, it's about protecting the environment, so the next generation and following generations can carry on harvesting and foraging from the wild."
The book gave Georgalli something to focus on as he struggled with his mental health.
"A lot of men tend to hide it. They say she'll be right, have a glass of wine and a roast, but that is not the case you have to research and talk to the right people.
"I've struggled with mental health in the past. I had a divorce, I have three children, it's difficult. But I've definitely come out the other side."
He is aware there are a lot of people in worse situations than him, so he seeks to find the opportunities ahead.
"I'm a great believer in moving on. There is no point in holding on to the past as it's gone."
So he moved from Wanaka to Kingston where Horton, whom he met on a trip to Kaikoura, has joined him. But the pair are about to move to Dunedin so Horton can return to study geography and ecology at the University of Otago.
"I've moved houses probably 12 times in 10 years, it's unsettling. But I have no regrets."
Georgalli will be bringing his food truck with him in the hope of finding a permanent space for the 7.6m-long truck.
Once he finds a place to set up, he will decide what he'll produce in the truck as it can be set up for a variety of cuisines to meet the needs of his site.
He is also about to start filming a series of short TikTok videos showing how to cook "outdoorsy, wild food" and is looking at doing another television show, so he has no shortage of things to keep him busy in the coming months.
GEORGALLI'S TIPS AND TRICKS
 - For cooking outdoors, make yourself a chef's pouch. Much like a builder's apron, it holds the tools of your trade, such as herbs, spices, oils, knives and cutlery. Make sure you are prepared with plenty of water and make use of tinned ingredients and pre-packaged products to save valuable time. 
 - Keep your meat "safe". If you have a mai mai or space at home, use a meat safe if possible to hang your catch/birds. They are great at allowing air to circulate and prevent flies or predators from contaminating your meat.
If you want to keep them a bit longer, or if it is warmer than usual, hang your birds in a chilled environment below 4degC for a maximum of 10 days. This will help age the bird and tenderise the meat. Anything above this temperature can spoil your meat and promote the growth of bacteria. 
 - Give it a pat. Once plucked and cleaned, always pat your bird dry with a paper towel. You'll get a better result from your cooking.
 - Because of the lack of fat in waterfowl, very slow or very fast cooking is the way to ensure a tender dish. For melt-in-your-mouth goodness make sure you follow the recipe guide for heat and cooking times, otherwise you could end up with a tough or chewy bird.
 - To check if your roasting bird is done, use a thin sharp knife or a skewer and pierce the breast all the way to the breastplate. If it bleeds red, give it a bit longer. If it is clear, it is done. Light pink juices are fine, but if there is no juice, whip it out of the oven quick or you will end up with a dry bird!
 - With game birds, to get the most out of the flavour and to add a bit of fat to them for cooking, make a herb butter of your favourite herbs and spices, and rub into or under the skin before cooking.
PLUCK A DUCK  (or any other game bird)
Plucking a game bird might seem like an easy, if somewhat gruesome, task. But trust me, you can get this wrong.
Pluck as soon as you can and keep the bird dry if at all possible. The art of plucking a bird is to be firm but gentle at the same time. You don't want to rip the skin.
Use your thumb and forefinger, take a firm grip of the feathers, and pull up and away from the skin. Pluck against the grain. This is more likely to get the feathers at the root and can be easier to get a cleaner pluck.
A wee side note on a few of our rarer feathered friends: Plucking upland game, such as pheasants, quail, peafowl, chickens or turkeys, can be made easier by first giving them a dunk in hot water. The consensus seems to be that water at around 60-70degC works best. Fifteen seconds or so should do it. Next, give the bird a rattle about in the bucket. The larger body feathers will come out more easily. Once you have the majority of the feathers off, you'll often be left with pin feathers, the wee fluffy white under-feathers. The easiest way to get rid of these is to singe them off. You can use a propane blowtorch if you have one handy, or even a camping gas cooker will do the job. But if you're going super old-school, any kind of controlled flame should do the trick. Just be very careful with fire and have someone or something ready to put it out if it gets out of hand! Water, salt, an old towel – anything that will dampen fire.
Then you want to remove the outer, larger wings by cutting them off at the first joint. Use a sharp knife, gardening secateurs or a small axe to do this, and make sure you're careful. Lastly, remove the head and legs below the first joint in the same way. Give the bird a good rinse then dry it ready for gutting – if you haven't done this already.
BREAK IT DOWN
When it comes to any bird, I like to use as much of the meat as I possibly can. This method of breaking the bird down will work for ducks, swans, pheasants, turkeys – pretty much all larger game birds. 
Start with the legs. Press on the gap between the legs and breast and slice down that gap through the skin, cutting down until you reach the joint. As you slice, arc the knife under the thigh to get all the meat off the thigh. Snap the leg backwards to pop the socket and voila – you have a leg! 
Wings are next. Look for the dark line where the breast ends, this is where to make your cut in a parallel slice all the way to the wing joint. Slide your knife along the saber bone, the long curved bone along the back, to the joint. Remove the wing by cutting a little extra skin from the neck area.
Lastly, the breasts. If you take the breasts off in one piece, it wastes less skin, which in cooking, can protect the meat from drying out. Make a cut along the fatty pad on the side of the bird and slide your knife along the fat line to the tail, making sure you get all the meat along the breast plate. Once the back of the breast is free, run your knife along the bone at the neck end then along the wishbone up towards the keel bone. Think of it as freeing the meat rather than cutting or slicing it and work your knife carefully to get all the meat you can. Repeat on the other side, then gently cut away the attachments along the top of the keel. The tenders will still be attached at this point, and you can remove these if you want to sear or pan-fry the breast. You can still use these and the rest of the carcass to make amazing stocks and soups!
BREASTING A DUCK
To breast a duck, cut a slice across the base of the sternum of your freshly plucked bird, hold the feet and tail firmly, insert your fingers into the cut and grab hold of the base of the sternum, then pull up. You'll need to put a bit of energy into this! The aim is to take the sternum and the breast meat on either side all at once. When you've got the sternum and breast meat free, use a knife to cut it away from the ribs by cutting down the inside of the sternum towards the back bone. Then separate from the neck and head and tidy up and wash for cooking or freezing.
The BOOK
The Fish & Game Cookbook by Angelo Georgalli, RRP $59.99, https://beatnikpublishing.com
Food photography by Sally Greer, other photos by Richard Cosgrove for Fish & Game New Zealand.
Spiced lime curry with paradise shelduck
Originating in China, the persimmon is a delicately-flavoured orange fruit with velvety flesh much like an apricot. The sweetness balances the zesty spices of the curry perfectly. However, if persimmons are out of season or you can't get hold of them, mangoes make for a nice alternative.
BIRD
250g paradise duck breasts (2 breasts)
Salt and pepper
Pinch of ground coriander seeds
Pinch of ground ginger
Pinch of ground Chinese five spice
Zest and juice of 1 lime
½ Tbsp duck fat
¼ tsp sweet soy sauce
CURRY SAUCE
Knob of butter
3 persimmons, cubed, skin on
½ cup orange juice
½ cup white wine
1 clove garlic, chopped
¼ red chilli, deseeded and sliced
3 pinches of saffron
160ml coconut milk
3 pinches of turmeric
3 pinches of smoked paprika
TO SERVE
Wild rice, cooked
1 Tbsp fresh coriander leaves
Method
Preheat the oven to 200degC.
In a bowl, season the duck breasts with salt and pepper and add the coriander, ginger and Chinese five spice. Squeeze the lime juice and zest over the duck. Allow the duck breasts to marinate in the lime juice for 10 minutes.
In a hot frying pan, add the duck fat and place the breasts skin-side down. Add the soy sauce and brown on both sides until the skin has turned crispy. Place into the oven for 15 minutes.
In a hot saucepan, place a knob of butter and add the persimmons.
Allow to cook until softened. Turn the heat down to a simmer. Add the orange juice, white wine, garlic, red chilli, saffron, coconut milk, turmeric and smoked paprika. Stir occasionally and cook for 12-15 minutes or until thickened.
Once the duck breasts are cooked, let them rest for 5 minutes and then slice.
Serve with the curry sauce, wild rice and a sprinkle of coriander leaves on top.
Crispy mallard pancakes
Finger licking goodness! These crispy duck pancakes are a little bit of bite-sized heaven! For best results I recommend using a bamboo steamer. You can find these at any Asian supermarket and they are really handy to have on hand in the kitchen!

DUCK
2 mallard legs
2 mallard breasts
450g duck fat
½ tsp sesame seed oil
1 Tbsp sweet soy sauce (GF optional)
PANCAKES
1 egg
1 cup flour (GF optional)
1 cup milk
2 pinches salt
25g butter
TO SERVE
1 Tbsp cranberry and prune BBQ sauce
1 spring onion, sliced
¼ cucumber, sliced
1 tsp tamari roasted sunflower seeds
Method
In a bamboo (or conventional) steamer, place the duck legs on to the bottom shelf and the breasts on the top shelf. Steam the duck for 1 hour. Don't forget to top up the water as it evaporates.
Into a deep hot frying pan, add your duck fat. Once the fat has reached frying temperature (180degC), carefully place the duck legs and breasts into the frying pan using tongs. Deep fry for 10 minutes. Carefully remove the duck from the hot fat, placing it into a bowl. Lightly drizzle sesame seed oil and sweet soy sauce over the duck. Once cooled, shred the meat off the legs and breasts using two forks, being mindful to avoid sharp leg bones.
To make the pancakes, whisk egg, flour and milk together for 5-10 minutes to get as much air into the mixture as possible. If needed, add extra milk one tablespoon at a time until a silky, runny consistency is achieved. Add salt to finish the batter. In a warm frying pan, melt a knob of butter and add 3 Tbsp of the pancake batter to make 1 pancake. Use the back of the spoon to form a pancake shape. Cook for 3 minutes on both sides.
To assemble the pancake: spread BBQ sauce over the base, place spring onions, cucumber and sunflower seeds in the centre. Place the deep fried duck on top with a drizzle more BBQ sauce.
Fold pancake and place into mouth.
CRANBERRY & PRUNE BBQ SAUCE
1½ cups soft brown sugar
½ cup red wine vinegar
¼ cup dried cranberries
½ cup water
½ cup diced prunes
1½ Tbsp Worcestershire sauce
3 Tbsp wholegrain mustard
¼ tsp cayenne pepper
1 tsp smoked paprika
½ tsp salt
½ tsp pepper
Method
In a saucepan on a medium heat, add the brown sugar, red wine vinegar, cranberries, water and prunes. Bring to the boil and simmer for 15 minutes, stirring occasionally.
Add Worcestershire sauce, wholegrain mustard, cayenne pepper, smoked paprika, salt and pepper, and stir briskly for a further 5 minutes. Once thickened, take it off the heat and let cool.
Serve or refrigerate in bottle jars for up to 2 weeks.
Honey soy roast shoveler with blackberry and plum sauce and pan-seared pears
Healthy, light, delicious and easy, this is a no-fuss meal that everyone will enjoy! The sweet flavours will make it a family fave!
DUCK
1 whole shoveler
1 large oven bag
25g butter
2 cloves garlic, crushed
1 Tbsp sweet soy sauce
1 Tbsp runny honey
PEAR
1 red pear, halved
1 tsp butter
SAUCE
Blackberry and plum Sauce
TO SERVE
2 handfuls of mesclun salad
½ handful of mint leaves, sliced
½ Tbsp avocado oil
1 Tbsp balsamic vinegar
Salt & pepper
Method
Preheat oven to 160degC.
In an oven bag, add the shoveler, butter, crushed garlic, sweet soy sauce and runny honey. Pierce and tie the bag and carefully shake to coat the bird. Place in the oven for 2 hours 30 minutes.
In a hot frying pan, add the butter and place the pear flesh-side down and fry for 1-2 minutes or until golden brown. Set aside.
Warm up your blackberry and plum sauce using a hot pan or microwave.
Serve with tossed mesclun salad and mint leaves. Drizzle avocado oil and balsamic vinegar over the salad with added salt and pepper to taste.
A beautiful light dish of shoveler and pear with a side salad.
BLACKBERRY AND PLUM SAUCE

Sweeter than raspberries but with its own heady tang, the humble blackberry adds a richness to these delectable autumn flavours.

1 cup blackberries
10 plums, halved
3 Tbsp caster sugar
1 Tbsp fig balsamic vinegar
3 tsp port
2 tsp Cointreau
¼ tsp vanilla past
Method
Place all the ingredients into a saucepan on a medium/high heat for about 1-2 minutes and ensure all ingredients are mixed in.
Lower the heat and simmer for 15 minutes, stirring regularly.
Take off the heat and let it cool.
Put the mixture in a blender and blitz until smooth.
Enjoy heated through as a nice addition to any waterfowl dish.