Bathed in sweet chilli sauce and the juice of limes and perfumed with fresh herbs and spices, these little morsels of chicken quickly bake to succulent perfection in a hot oven, writes Joan Bishop.
As the days lengthen we are seeking lighter, brighter fare - a little different from the cosy comfort food of winter.
This is light, fresh and full of flavour. I could happily eat it any day of the year, but it feels particularly appropriate to eat right now.
I find tenderloins are particularly easy, but you can use boneless, skinless chicken thighs, each cut into three pieces.
This is spectacularly simple. I say that about almost every one of my recipes. I love to cook but life is busy, time is short and I want fabulous food without spending too much time and effort.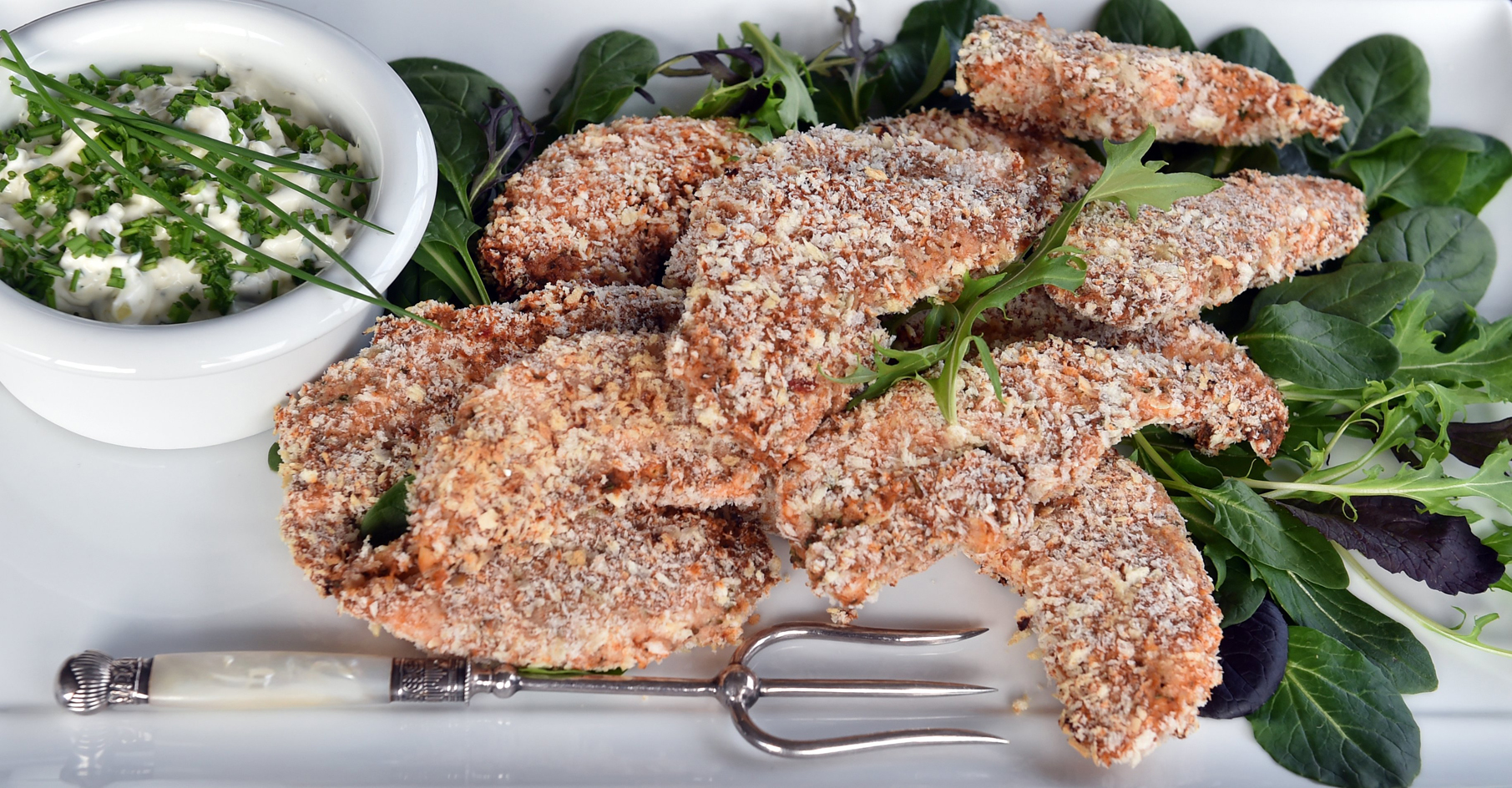 Herb-baked chicken
SERVES 4-5
800g chicken tenderloins
3 Tbsp Thai sweet chilli sauce
3 Tbsp smooth peanut butter
3 Tbsp lime juice
2 Tbsp tomato paste
1 tsp minced ginger
1 tsp ground cumin
1/2 tsp each ground cinnamon and ground nutmeg
1/4 tsp mild chilli powder
3 Tbsp finely chopped parsley
2 Tbsp finely chopped rosemary
1 and 1/2 cups panko breadcrumbs, for coating
Green mayonnaise
1/2 cup store-bought mayonnaise (I use Best Foods "light")
1/2 cup sour cream
1 Tbsp lemon juice
2 Tbsp finely chopped chives or spring onions
2 Tbsp each finely chopped parsley and mint leaves
2 Tbsp each finely chopped gherkins and capers
Method
Pat the tenderloins dry with paper towels, place in a large bowl and set aside.
Combine the sweet chilli sauce, peanut butter, lime juice and tomato paste in a small microwave-proof container or in a small saucepan and heat gently to warm and soften these ingredients. Stir until smooth.
Add the ginger, cumin, cinnamon, nutmeg, chilli powder, parsley and rosemary and stir well. Tip this mixture over the chicken in the bowl.
Turn the chicken over several times so that the marinade coats all surfaces.
Cover and refrigerate for an hour or up to 24 hours if convenient, stirring occasionally. About 30 minutes before cooking begins take the chicken out of the fridge.
Position an oven shelf just above the centre of the oven. Heat the oven to 220degC bake.
Line an oven tray with non-stick baking paper.
Tip about half of the breadcrumbs on to a large flat plate. Using two forks, lift the chicken pieces one at a time on to the plate with the breadcrumbs. Toss the chicken pieces so crumbs coat the chicken well.
Place the chicken pieces on the lined oven tray, making sure none are touching. Continue until all the chicken tenderloins are breadcrumbed.
If planning to serve later in the day, cover and place the oven tray in the fridge until required.
Bake in the preheated oven for seven to eight minutes. Using tongs, turn each tenderloin over and cook for seven minutes more until crisp and lightly golden. Slide on to a warm platter. If planning to serve at room temperature, scatter salad leaves on a serving platter and pile the chicken pieces on top.
Serve with green mayonnaise and asparagus or a salad.
Green mayonnaise
Combine all the ingredients and mix well. Tip into an attractive bowl to serve.
Serve hot or at room temperature.