Pumpkin, with its smooth and velvety texture, is so good when used in sweets, but it is often overlooked.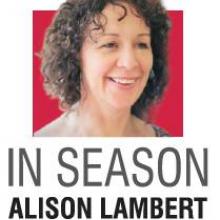 Serves 10
500g pumpkin, peeled, de-seeded
2 cups pecans or walnuts
1 cup oats
5 Tbsp butter, melted
2 Tbsp sugar plus 2 Tbsp sugar for
candied pecans
½ tsp salt
⅓ cup brown sugar
½ cup cream
¼ cup milk
3 eggs
½ tsp ground cinnamon
½ tsp ground ginger
pinch cloves
To serve
whipped cream
Method
Begin by making the pumpkin puree. Cut the peeled pumpkin into evenly-sized cubes and and steam over boiling water until the pumpkin is very soft (about 15 minutes). Puree in a food processor until smooth and velvety. Remove and set aside.
Heat the oven to 180degC.
Place the pecans on a baking tray and toast for 8 minutes. Add the oats and continue toasting for a further 5 minutes. Cool slightly. Remove quarter of a cup and set aside.
Add the pecans and oats to a food processor and processor until coarse. Add the melted butter and processor until combined.
Lightly grease a 20cm pie dish with a little butter. Press the pecan mixture into the pie dish so that it goes up the sides as well. Bake for 20 minutes or until lightly golden.
To make the filling
Puree the pumpkin with the brown sugar, cream, milk, egg, salt and spices until smooth. Pour into the base and bake until set (35-40 minutes). Remove and allow to cool.
To candy the pecans and oats
Add them to a dry heavy pan along with 2 Tbsp sugar over a moderate heat. Stir and you will see the sugar starting to melt and caramelise. Continue stirring until the sugar becomes golden brown. Remove and cool on a lightly greased tray.
Cool the pie in the fridge for a couple of hours before serving.
Sprinkle with the candied nuts and serve with whipped cream.