This is my pared back, very simple to make, fabulously tasty, creamy chicken curry, and everyone loves it.
I try to ensure that I always have the basic ingredients on hand for this favourite of mine; coconut milk, curry paste, plus chicken tenderloins in the freezer.
Sometimes I have made it without the red capsicum simply because I did not have one.
There are a number of great curry pastes available these days. Indian, Thai and Indonesian.
They are all significantly different from one another because of the subtle combinations of spices and aromatics used.
I like to serve this chicken curry warmly spiced rather than chilli hot. Choose your curry paste accordingly. Start with one tablespoon of the paste if you are unsure of its heat, adding more as desired.
For this dish I use Pataks curry paste - Korma, a mild one. It comes in conveniently sized sachets (80g) as well as 290g jars.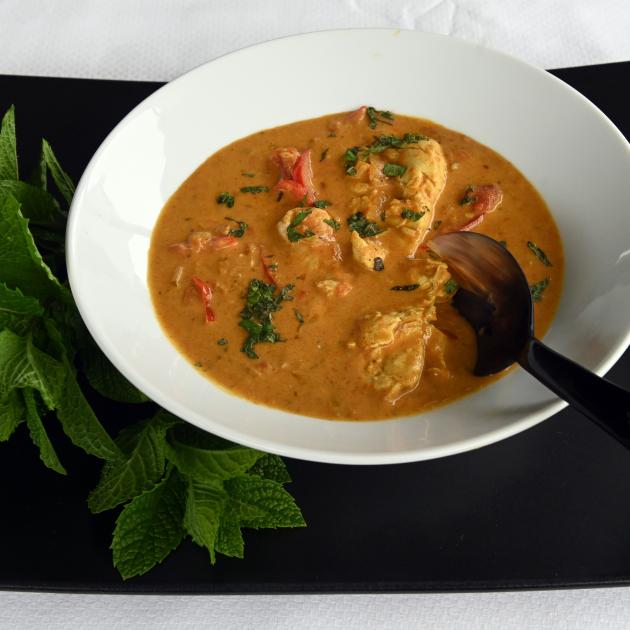 Golden chicken curry
Serves 5-6
800g chicken tenderloins
1½ Tbsp olive oil
1 large onion, finely chopped
1 large red capsicum, deseeded, finely sliced
1 Tbsp sesame oil
1 Tbsp crushed garlic
1 Tbsp crushed ginger
3-4 Tbsp mild curry paste
2 Tbsp fish sauce
1½ tsp ground cumin
1 400g can tomatoes chopped in puree
1 400g can coconut milk
3-4 Tbsp lemon juice
To garnish
mint leaves, chopped
Method
Trim the tenderloins and cut any large ones in half lengthways. Pat dry with paper towels. Set aside.
Heat the oil in a large frypan and cook the onion over low-medium heat until softened but not browned, 5-6 minutes. Add sliced red capsicum and sesame oil and saute for 4-5 minutes more.
In a medium sized bowl combine the garlic, ginger, curry paste, fish sauce, cumin and tomatoes and mix until smooth. Stir in the coconut milk. Add to the frypan with the onions and red capsicum and simmer, stirring for about 5 minutes to allow the flavours to develop. Add the chicken pieces and cook gently for 10-12 minutes, checking it is cooked through before serving. Stir in the lemon juice and sprinkle with mint.
Serve with rice and vegetables or potatoes and a salad.
Tips: If there are leftovers; toast and split pita breads, spread with mayonnaise and stuff with chicken curry. Quick and scrumptious.
Jars of curry paste are available from most supermarkets and Asian food stores.