A foolproof recipe - an oven-baked sandwich layered with prosciutto, cheese and basil pesto.
The frothy beaten eggs poured over and around holds everything together.  This lightly spiced airy souffle-style mixture is the perfect foil for these very tasty sandwiches.
There is something quite magical about the coming together of ham, cheese, eggs and basil that is always tantalising and I love the fact that the sandwiches can be assembled in advance then left to sit, covered in the fridge overnight.
Next day, the beaten eggs are drizzled over and the dish is popped into a hot oven until puffed and golden.
A treat for a weekend lunch or brunch and delicious served as a light evening meal, serve with a seasonal salad.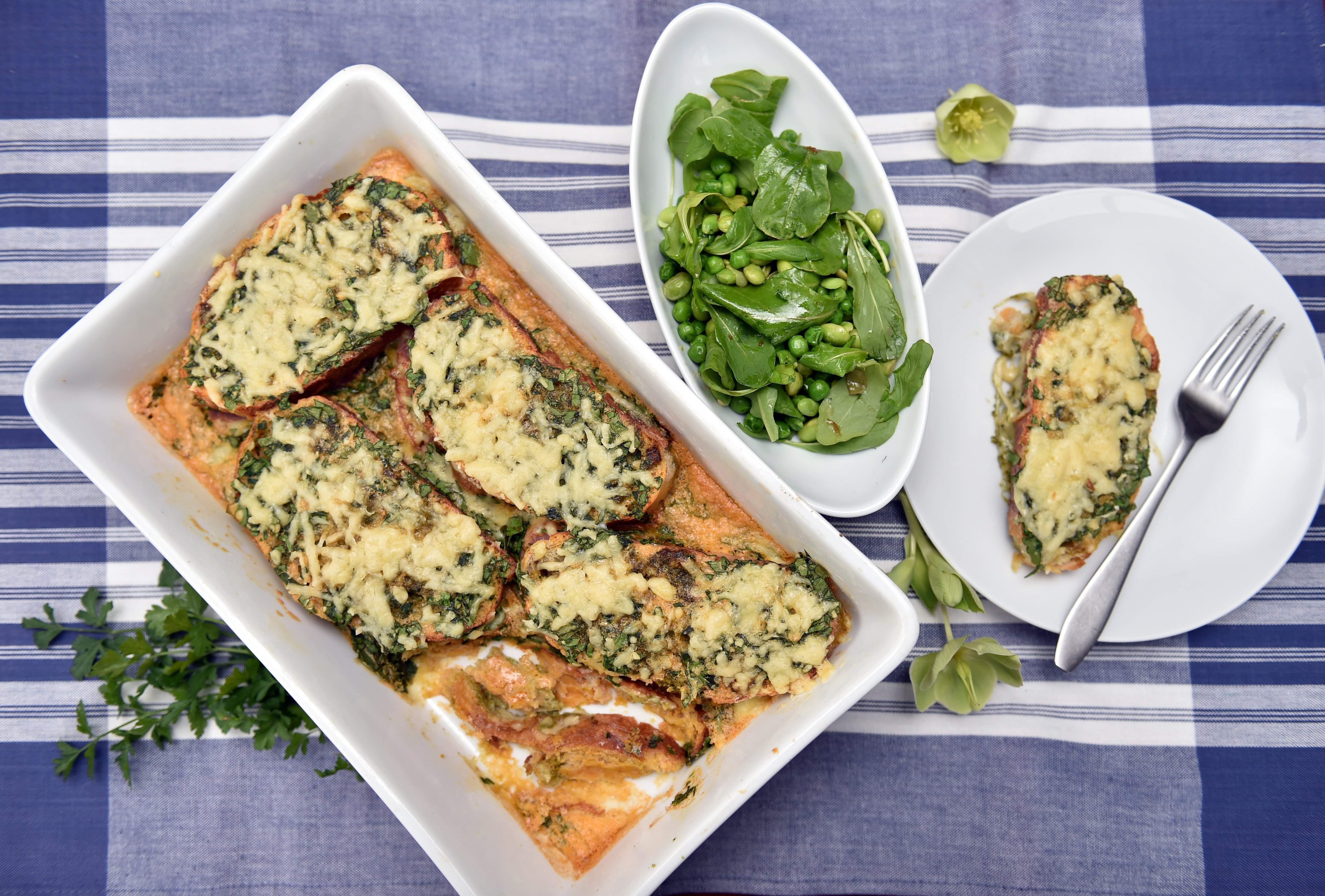 Posh baked sandwich 
Serves 4-5 for lunch
10 slices ciabatta bread, cut 1cm thick
½ cup basil pesto
100g gruyere or tasty cheese, thinly sliced
70g prosciutto, thinly sliced
40g baby spinach leaves, stalks removed
(about 2 big handfuls)
6 large eggs, size 7
⅛ tsp cayenne pepper
¾ tsp smoked paprika
2½ Tbsp cornflour
50g grated parmesan cheese
Method
Lightly oil the base and the sides of an oven proof casserole dish. You need a little space around each sandwich for the eggy mixture to puff up so don't pack the sandwiches tightly together. I used a dish 30cm x 18cm x 6 cm.
To make the sandwiches
Heat the oven to 200degC.
Spread each slice of bread with the basil pesto (keeping aside a tablespoon or so to lightly spread on the top of each sandwich).
Lay the cheese on half the bread slices, top with prosciutto and then close with the remaining bread slices pesto side down. Press each sandwich gently together.
Arrange the sandwiches in the casserole dish a little apart and then spread the top of each with the remaining basil pesto.
If convenient, the sandwiches can be refrigerated for several hours before continuing with the recipe.
Finely chop the spinach leaves. Whisk the eggs together using an electric beater until thick and fluffy. Gently fold in the cayenne pepper, smoked paprika, cornflour and the chopped spinach leaves.
Pour this over and around the sandwiches and sprinkle the grated parmesan cheese on top of each sandwich.
Place the casserole dish in the oven and bake for 20-25 minutes until puffed and golden.
Remove from the oven and allow to sit for 5-10 minutes before serving.