The best thing about writing this blog is that I have to think up something new to make every week to write about. This means that I have had to force myself to escape the usual routine meals (mostly corn fritters to be honest) and make it seem as though the flat has a vast variety of cuisines on which to dine.
You used to be able to buy this pre-packaged Moroccan spice rub from the supermarket but it seems to have disappeared in the few years that I haven't made this dinner. There is a substitute Moroccan seasoning but I was feeling a bit too cheap to buy it. The food scientist in me looked up the ingredients list and broke it down. Turns out, all those ethnic-style seasonings are just everyday cupboard-found spices put in a jar with a bit of anti-caking agent thrown in.
If you are willing to make the spice investment (seriously, it is like $10 for all of them) then this dinner is really cheap to make in the long run, plus it tastes amazing. If you find yourself really loving this dish, get a clean jar then fill it with the same ratio of all the spices so the next time you make it, all you need to do is sprinkle over a few tablespoons of this mix, saving you time.
I was inspired to bring this recipe out after watching a travel food show on Morocco. I love watching food shows. I ended up staying up until 2am watching all the episodes online. The history and influence of Moroccan cuisine is really interesting, go and google it sometime or pick up a book.
Now, this recipe is made in less than an hour on a stove top and is nowhere near traditional at all. It includes a few spices typical of Moroccan cooking but it definitely wasn't left to stew in a tagine under a traditional bathhouse for a few hours.
I made this up as I went along, adding a bit more spice here and there. If you are nervous using spices then stick to the recipe but if you know what you like then add more of whatever, you can't mess it up. The ingredient list looks daunting but is really just chicken, tinned things, spices, onions and dates. It is really simple.
You can bulk up this recipe by adding a tin of drained chickpeas and another tin of chopped tomatoes. I have also added chopped dates to the recipe. The dates soak in the liquid and their sweetness seeps out into the rest of the sauce and makes it absolutely delicious. The dates soften and almost dissolve. I have also added a few black olives in order to balance the sweet dates with their salty taste.
As with most heavily spiced dishes, this is even better the day after, once all the spices have properly infused the dish. If you really want to experience the effect that time has on this, make it up the night before you need it then reheat it the next day. It also freezes really well.

Moroccan chicken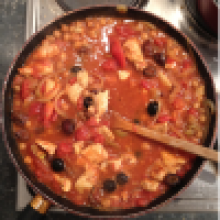 Serves 4 
Ingredients
2 large chicken breasts, sliced into bite-sized pieces
2 large onions, sliced into thin rings
3 cloves garlic, diced
2 Tbsp cooking oil
1 tsp ground cumin
1 tsp black pepper
1 tsp salt
1 tsp ground ginger
1 tsp cinnamon
1 tsp ground coriander
½ tsp cayenne pepper
½ tsp mixed spice
½ tsp cumin seeds (optional)
½ tsp ground turmeric
1 tin chopped tomatoes
1 tin whole tomatoes
1 Tbsp tomato paste
1 cup water
1 cup chopped dried dates
⅓ cup black olives (optional)
1 tin chickpeas drained (optional) 
Method
Pour the cooking oil into a large, deep frying pan on a medium heat. Soften the onions and garlic until translucent. Add the diced chicken and brown slightly, making sure you don't cook all the way through. Add the drained chickpeas. Add the spices and coat the chicken and chickpeas in them. Leave to cook for another few minutes to help infuse the spices. Once the whole house is filled with the smell of cumin, add the chopped tomatoes. Get a sharp knife, place it in the tin of whole tomatoes and cut the tomatoes into large chunks. You could just use a second tin of chopped tomatoes but I like the large chunky pieces. Add those tomatoes too. Pour in the cup of water, the tomato paste, the chopped dates and the olives. Leave to simmer for about 40 minutes until a thick sauce has formed and the dates look like they have almost disintegrated into the sauce.
Serve atop rice with a dollop of unsweetened yoghurt and a sprinkling of fresh coriander.
Enjoy!
TTFN,
Sophie