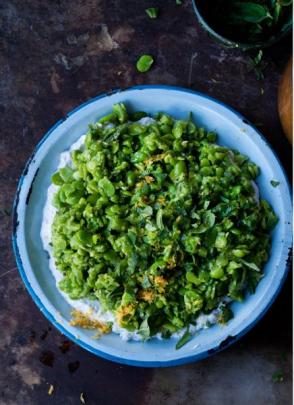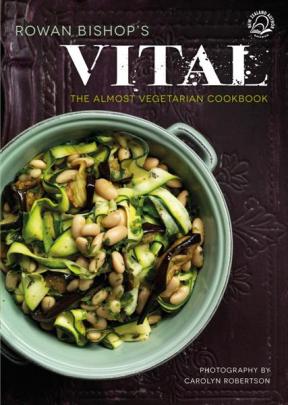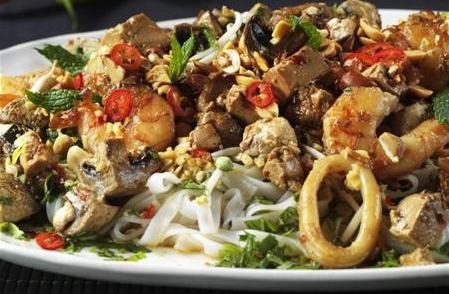 A vegetable renaissance is happening. Charmian Smith reports on a trend that's been growing steadily and looks at five new cookbooks that offer enticing plant-based recipes.
Vegetables are moving from the side of the plate to the centre, offering a greater variety, flexibility, colour and flavour to our meals.
It's good for our health and for the environment and, most importantly it's delicious.
A Modern Way to Eat (Fourth Estate) by Anna Jones is one of my new favourite cookbooks. Its exciting plant-based recipes are vibrant, delicious and inspiring.
Another new favourite is Hugh Fearnley-Whittingstall's River Cottage Light and Easy: Healthy recipes for every day (Bloomsbury).
His earlier books, Veg Everyday and Three good things have been my go-to books in the kitchen when wondering what to cook for dinner.
The style of eating in these and other books focuses on vegetables and grains in innovative, flavoursome and often simple ways.
It is a growing trend embraced by both vegetarians and non-vegetarians as we become more health and environmentally conscious.
Or as acclaimed British chef Yotam Ottolenghi puts it in his new cookbook, Plenty More (Ebury), ''a vegi-renaissance is happening''.
When he was first asked to write a vegetarian column for the Guardian newspaper eight years ago, he says he was paralysed by fear because, like many cooks and chefs even today, he thought meat and fish were the undisputed heroes in the kitchen and got the star treatment while vegetables had supporting roles - if any.
However, he discovered ''a world of ingredients and techniques, of dishes and skills that ceaselessly informed and fed me''.
He started to ''discover a whole range of cuisines, dishes and ingredients that make vegetables shine as brightly as any star,'' he writes in the introduction to Plenty More.
In this trend - sometimes called flexitarian or vegevore - meat and fish, if used at all, are considered as just another ingredient along with vegetables, fruits, grains and pulses, rather than the main ingredient around which the dish is built. It's a light, healthy way of eating, and even non-vegetarians enjoy it.
You can often see it in regular cookbooks in the light plates or lunch sections, in the food of some cafes and occasionally in a few innovative restaurants, but there are also an increasing number of cookbooks devoted to this modern style of cooking and eating, such as the three above.
New Zealand foodwriter, Rowan Bishop's new book Vital: The almost vegetarian cookbook (Bateman) also embodies this trend.
''I just really enjoy lots of variety and texture and flavour and I can achieve that by using meat as another ingredient on the plate rather than the focus on the plate,'' the former Dunedin caterer said in a phone interview from her home in Hamilton.
''I prefer to eat vegetarian, but I also enjoy fish and seafood though I don't eat it all that often.
"I wanted it to be a bit more flexible than a straight vegetarian book but I didn't want to discount vegetarian readers either.
"About 50% of the recipes contain modest amounts of meat, mainly fish or seafood, or stock, but that is optional in most cases,'' she said.
''It appeals to me because you can make up a curry sauce and freeze it and you can decide on the night whether you want to put seafood in or fish, or tofu or paneer or whatever.''
She started eating like this 30 years ago when she had a young family, a big mortgage and a vegetable garden, she says.
In the past - and still today sometimes in restaurants - vegetarian food can be stodgy or cheese-heavy, but this flavoursome way of eating is often inspired by vegetables themselves or by ethnic cuisines.
Vital has recipes for nibbles and hearty soups, and for desserts and baking, but most are for mains, including things like kushari - a baked rice, lentil and eggplant dish, chickpea cakes, things to use in wraps and rolls or to stuff into vegetables, pasta dishes, flans and pies, and, of course, numerous salads.
They are flavoursome and easily achievable by the home cook.
• Young British cook Anna Jones in A Modern Way To Eat takes into account not only flavour, though there's lots of it in her recipes, but also texture and appearance.
Scattered throughout the enticing recipes are how-to pages which help readers to create their own dishes.
Her mix-and-match page on how to make a great salad starts with choosing salad leaves, adding another interesting ingredient such as avocado or roasted leeks, texture (seeds or croutons), herbs, something to make it more hearty like drained beans or cheese if you want, and then options for dressing ingredients.
There are similar informative pages on how to create pestos or roast root vegetables and other topics.
I loved her pages on vegetable underdogs, ideas for common vegetables such as turnips, silverbeet, cauliflower, radishes and swedes that many people overlook but which are readily available, cheap in season and can be delicious.
Her recipes range from healthy breakfasts to soups, broths and stews, a plethora of salads, easy lunch and light dishes, hearty mains and food for a crowd, to desserts and cakes. I can see myself using these recipes regularly.
• The food in Ottolenghi's London restaurants and delis is known to be bold, exciting and sometimes challenging, and so are some of the recipes in Plenty More - peas with sorrel and mustard, or quinoa and wild garlic cakes with Salbitxada sauce (red peppers, tomatoes, garlic, almonds and chillies).
However, there are plenty of simpler ones such as kale and cheese pikelets with chilli-spiked sour cream, or a delicious aubergine pahi (a Sri Lankan curry).
The book is divided into chapters by method of cooking - tossed, steamed, blanched, simmered, braised, grilled, roasted, fried, mashed, baked, desserts, and with eggs.
It's an exciting book to explore, and may need an occasional search to find the odd unusual ingredient like barberries or black glutinous rice.
Having made delicious use of his last book, Jerusalem, I look forward to exploring this one.
It offers exciting ideas that would suit restaurant food as well.
• In River Cottage Light and Easy Fearnley-Whittingstall echoes Ottolenghi's feeling that focusing on vegetables instead of meat or fish releases a torrent of creativity.
There are some meat and fish recipes but also many vegan ones, and he eschews wheat and dairy in this book.
Not that he has personally given up wheat and dairy, but he recognises that, like sugar, they are everywhere, key elements of the quick fix, championed by big business, and we don't need as much as most of us consume.
Many people feel better eating less of these and again, it has released his creativity exploring alternatives like nut milks and other grains and flours, he says.
Many of his recipes take less than 20 minutes to make, many are lunchbox friendly and there is even a section on treats like wheat and dairy-free chocolate brownies or St Clement's polenta cake with blueberries.
With its exciting flavours such as Chinese style bashed cucumber, courgette and fennel salad with peanut dressing, gingered fish with sesame root salad, seedy bars with chilli and rosemary, poppy seed oatcakes and an enticing variety of smoothies, this book has definitely found a permanent place on my kitchen bench.
• In India vegetarians have abounded since ancient times and Madhur Jaffrey's latest book Curry Easy Vegetarian (Ebury Press) features entirely vegetarian recipes - combining the modern Western trend towards plant-based eating and traditional Indian home cooking.
This is the food people cook at home and in modest local restaurants, full of exotic flavours, often simple and unexpected to our New Zealand palates.
You're unlikely to find it in Indian restaurants here.
From simply grilled wild mushrooms dusted with chilli and lime juice to Punjabi beetroot with ginger, from stir-fried aubergines cooked in a Tamil Nadu style to red lentils with cumin and shallots, there's a wealth of flavoursome exploration here.
---
Vietnamese noodle salad
Serves 4 (Not suitable for freezing)
This salad is packed with Vietnamese/Thai flavours to produce that wonderful sweet/sour/salty balance and range of textures. 
Ingredients
600-700g firm tofu or 350 g firm tofu plus
350g peeled raw prawn tails and/or squid rings sliced into 1cm rings or pieces
3 tbsp kecap manis *
3 tbsp sweet chilli sauce
1 tbsp soy sauce
250g firm button mushrooms
2 tbsp oil
1½ tsp salt
5 tbsp lime juice
¼ cup fish sauce
1 long red or green chilli, deseeded and finely chopped
¼ cup water
3 tbsp grated palm sugar
1 clove garlic, crushed
2 tsp fresh finely minced ginger
1½ tbsp sesame oil
350g rice noodles (about 1cm wide is ideal)
½ cup each finely chopped coriander and mint leaves
1 cup mung bean sprouts
½-¾ cup freshly roasted, peanuts,** chopped
Method
Press tofu between paper towels to remove excess liquid, then slice into 2cm x 2cm dice. Combine the kecap manis, sweet chilli sauce and soy sauces. Transfer the tofu to a 20cm x 30cm baking dish and pour over the marinade. Gently turn the diced tofu so it is evenly coated and stand for 30-60 minutes or up to 3 hours, turning occasionally. The seafood, if using, does not need marinating.
Preheat the oven to 190degC. Trim the mushrooms and slice in half if large. Toss in the oil and salt, then very gently mix them into the marinated tofu and bake for 10 minutes. Carefully fold in the prawns and bake for another 7 minutes. Gently mix in the squid and bake for a further 3 minutes, or until squid is just cooked through (don't overcook).
Combine the lime juice, fish sauce, chilli, water, grated palm sugar, garlic, ginger and sesame oil. Set aside.
Meanwhile, cook the noodles in lots of salted water; about 8-10 minutes for al dente. When the noodles are cooked, drain, rinse with cool water, then drain again. Place the warm noodles on a large serving platter and disperse the herbs evenly over the top, followed by the mung bean sprouts. Spread the mushroom/tofu/seafood mixture over the noodles, and spoon most or all of the sauce over the top. Garnish with the peanuts and serve.
* Kecap manis is a thick, sweet Indonesian soy sauce available at most Asian food stores.
** Roasted peanuts - place 1 cups unblanched peanuts in a single layer in an oven tray and toss with 2 Tbsp olive or peanut oil and 1 tsp salt. Roast at 180degC for 25 minutes, tossing once or twice.
• Recipe from Rowan Bishop's Vital: The almost vegetarian cookbook
---
Smoky walnut and cumin muhammara
Makes a good jarful, enough for a crowd to dip into
This is a riot of flavours: musky sweetness from the peppers, earthy spice from the cumin and buttery depth from the walnuts. And it's so versatile. I keep a jar of it in the fridge for spicing up pretty much any meal.
Pomegranate molasses is traditionally used here to add a sweet piquant roundness. If you can't get your hands on it you can substitute a tablespoon of balsamic vinegar and a tablespoon of date syrup, dark honey or agave syrup.
Ingredients
75g shelled walnuts
1 tsp cumin seeds
1 200g jar of roasted red peppers, or 3 freshly roasted red peppers, peeled, deseeded and chopped
2 slices of good brown bread, whizzed to breadcrumbs
2 tablespoons good-quality tomato puree
2 tablespoons pomegranate molasses (for alternative, see note above)
1 tsp Turkish chilli flakes or a pinch of normal chilli flakes
juice of ½ a lemon
sea salt and freshly ground black pepper
4 Tbsp extra virgin olive oil
Method
Preheat your oven to 220degC/fan 200degC/gas 7.
Put the nuts and cumin seeds on to a baking tray and roast for 6 minutes, until the nuts are just starting to turn golden and the cumin smells wonderful and has released its oils. Tip into a food processor and add the red peppers. Blitz to a paste, then add the breadcrumbs, tomato puree, pomegranate molasses, chilli flakes, lemon juice and a good pinch of salt and pepper. Blitz again until smooth.
With the mixer on, slowly pour in the oil and blitz until really smooth. Taste, season if needed, and blitz again. Keep tasting and balancing the flavours - you may need a bit more lemon juice, or more molasses and seasoning. Get it how you like it. This will keep well in the fridge for at least a week.
Ways to use your muhammara: For breakfast, spread on toast and topped with a poached egg.
As a marinade for tofu or vegetables for barbecuing.
Let down with a little oil as a dressing for roasted root veg, beetroots Piled on the side of a plate of lentils or beans, with a little yoghurt and some herbs.
• Recipe from A Modern Way To Eat, by Anna Jones
---
Broad bean spread with roasted garlic ricotta
Serves 4-6 as a starter
Don't be put off by the need to start with skinned beans: buy them already skinned or else it's a fun and therapeutic task to delegate to helpers - little or big. Serve with toasted sourdough as a starter. 
Ingredients
1 head of garlic (10 cloves), cloves separated, skin on
125ml olive oil
240g ricotta
3 tbsp soured cream
2 lemons, rind shaved in long strips from one; 2 tsp finely grated zest from the other
600g broad beans (400g if starting with skinned beans)
1½ tbsp lemon juice
15g mint leaves, chopped, plus 1 tbsp shredded mint leaves to garnish
salt and black pepper
Method
Preheat the oven to 220degC/200degC Fan/Gas Mark 7.
Mix the garlic cloves with 1 teaspoon of the olive oil, place on a baking tray and cook for 15 minutes, until soft. Remove from the oven and when cool enough to handle, squash each garlic clove out of its skin using the back of a fork. Discard the skin and place the flesh in a small bowl, along with the ricotta, soured cream, c teaspoon of salt and some black pepper: use a whisk to mix everything together well and set aside.
Place the remaining olive oil in a small saucepan with the shaved lemon skin. Place on a medium heat, bring to a gentle simmer, then remove from the heat to cool and infuse.
Bring a large pan of water to the boil. Add the broad beans, blanch for 1 minute, drain and then remove them from their skins. Crush the beans with a fork, add all but 1 tablespoon of the lemon-infused oil (removing the skin first), lemon juice, chopped mint, d teaspoon of salt and some black pepper and mix together.
Spread the ricotta mix in a thin layer on to the base of each individual plate or one larger platter. Spoon the broad bean mixture on top, lightly spreading it out to cover most of the ricotta. Sprinkle over the shredded mint and grated lemon zest and finish with a drizzle of the lemon-infused oil.
• Recipe from Plenty More by Yotam Ottolenghi
---
Recipes
Recipes have been reproduced with permission.
• Vital: The almost vegetarian cookbook, by Rowan Bishop, Bateman, RRP $29.99
• A Modern Way To Eat, by Anna Jones, Fourth Estate, RRP $60.
• Plenty More, by Yotam Ottolenghi, Ebury Press, RRP $70. Photography by Jonathan Lovekin
---