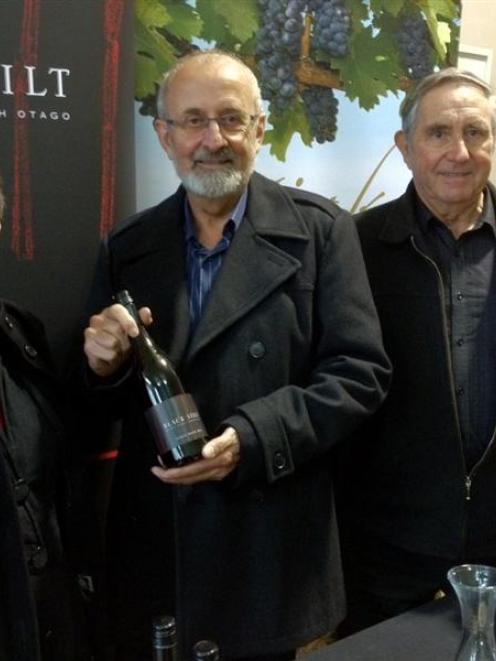 Tasting several wines from a region together gives a good overview of its strengths and characteristics, so it was with much interest I braved the rugby crowds to go to a tasting of Waitaki wines at Castle MacAdam's Taste Merchants on Saturday morning.
It confirmed my opinion that aromatic varieties are the star of this North Otago region. All the pinot gris I tasted on Saturday were stunning, fragrant, mouth-filling, textural and well balanced. Gewurztraminer, although it is rarer, tends to be floral, textural, and elegant. It may be the cooler climate and limestone soils of the Waitaki, but these two varieties in this region stand out with their lovely balance, whereas from vineyards further north they are often big, blowsy and overblown.
The region is growing fast and besides the longer established producers such as Pasquale, Ostler, Forrest and Valli, there were three small producers, two of them showing their wines for the first time, Ken Wickham of Otiake Estate, and John and Nola Harvey of Black Stilt.
Wickham is a timber merchant in Whangarei, persuaded by Antonio Pasquale to plant a vineyard. He now has three in the area, and is releasing his first wines from his Malcolm Creek vineyard in Otiake Rd: an intense, limey, zesty riesling 2010; a fragrant, lively, food-friendly, textural and elegant gewurztraminer; a rich, full-bodied pinot gris; and a couple of young pinot noirs.
The Harveys are from Auckland, although Nola grew up in Otago. Their vineyard, planted with pinot gris and pinot noir, is one of the highest in the valley and hence one of the coolest and windiest.
However, their 2011 pint gris was delicious, fragrant, creamy, textural and long - and well priced at about $20.
Peter Wurtz of Lone Hill, another small producer, had a pinot gris redolent with fresh pears and zingy, delicate riesling. info@lonehill.co.nzOstler's Lakeside vineyard, above the shores of Lake Waitaki and warmer than those further down the valley, continues to impress with a rich, fragrant riesling, and a full-bodied pinot gris, almost unctuous, but intense, textural and beautifully balanced, perhaps the best of the pinot gris I tasted that day. Unlike the other vineyards in the valley which are over limestone, the Lakeside vineyard is alluvial greywacke with huge boulders that made it a demon to plant, according to proprietor Jim Jerram.
Pasquale, probably the biggest producer in the region was showing a mouth-filling, slightly nutty, textural pinot gris 2010 and a charmingly fragrant, concentrated beautifully balanced gewurztraminer, perhaps the best of the variety on show.
Ostler also makes some stunning dessert wines, including Plump, a botrytised pinot gris - see today's wine column for more information.