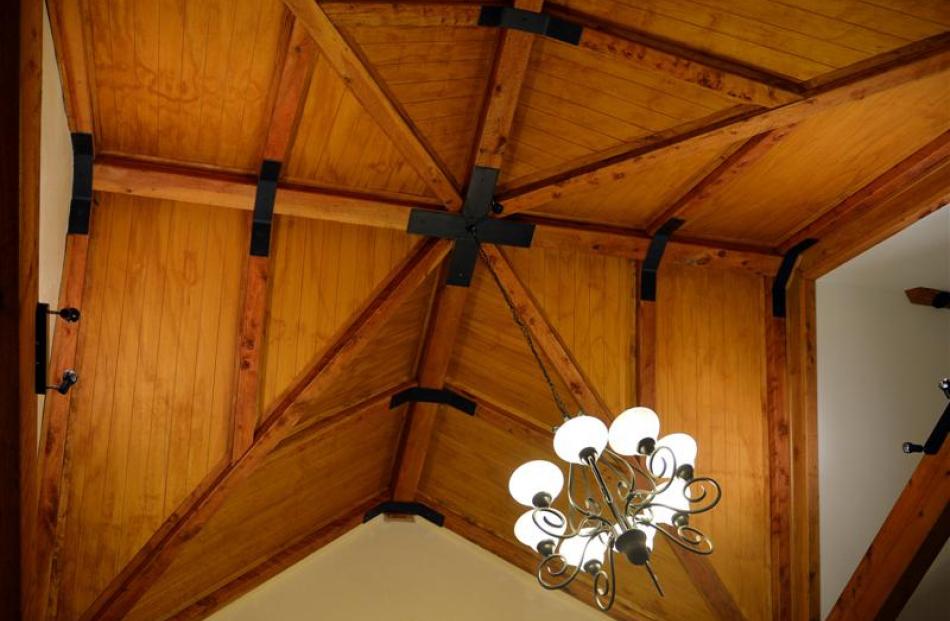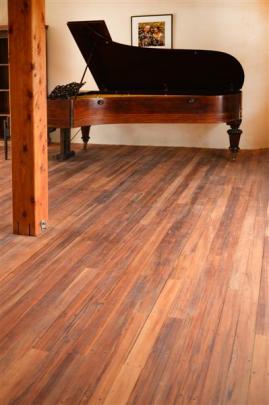 Travelling the world, having a family and building his own house were always on Warren Cullen's bucket list. As Kim Dungey reports, he's now ticked off all three.
Friends and workmates didn't believe that Warren Cullen could build his own straw bale house. But the Dunedin man didn't listen.
Two years after he stopped work as a subdivision foreman and picked up a hammer, the 315sq m home with its curved walls, soaring ceilings and exposed timber beams is all but complete.
''Don't let people tell you what you can't do,'' he says.
''Just go and do what you want to.''
The substantial build, using timber from one of the first trees planted on Otago Peninsula, was not without its challenges.
Curious cows twice tried to eat the new house before being banned from the building site.
Tarpaulins flapping in the wind damaged the freshly applied lime render, which had to be re-trowelled and sponged to make it smooth again.
And soon after the family moved in, when they were rushing to get the driveway finished, Cullen accidentally cut through the main power cable.
Partner Eileen Dawber says Kevin McLeod, host of the Grand Designs television series, would have had a field day but the end result is testament to Cullen's willingness to give things a go: ''I would never have dreamed of taking on any of this.''
Forty-year-old Cullen worked alongside a builder for the first five months of the project but completed the rest with polytechnic building students looking for work experience.
He and Dawber had been living in England for more than a dozen years when she visited the 6.8ha Highcliff Rd site on a trip back to her home town of Dunedin and they decided to buy it at auction.
However, Cullen didn't see the land with its native bush and meandering stream until late 2009, when they returned to Dunedin with their year-old daughter Pania.
Three years later, after using computer software to try to draft the house and approaching architectural designer Richard Wilden, he decided the planning process had gone on long enough and asked builder Neil Smith and son Rennie to start.
The first job was to build a five-bay timber barn, that included a guest bedroom with ensuite and provided storage for the 450 bales of wheat straw needed for the house.
The next was to lay the home's floating insulated slab, a type of foundation which was said to reduce heat loss and to have performed well in the Christchurch earthquake.
With the framing up and a week-long straw bale construction course under his belt, Cullen began designing a timber cantilever system to compress the bales to a uniform size, and fitting them within the walls.
They were then covered with a mixture of mud, straw and sand which was applied by hand and worked in to prevent it falling off when it dried. This was followed by two coats of lime plaster and one of lime whitewash.
Inside, the lime was applied directly to the mud but outside, it went on top of building wrap and plastic mesh. A cavity with drainage strip separates the outside wall from the straw and eliminates the risk of external water penetration.
An experienced digger driver, Cullen used his 20-tonne digger to make a mud pond, mix the mud, straw and sand together and suspend it in each room at just the right height so workers did not have to bend over.
But rendering the walls inside and out was more demanding: ''The hardest thing was getting the lime on the trowel,'' he says.
''It looks easy until you try it for the first time.''
The 500mm-thick straw bale walls provide excellent thermal mass but also take up a lot of floor space so a few internal walls are plasterboard (finished with lime render for continuity).
Old carpet was fixed around door and window frames and pulled tightly to help create curves.
In the master bedroom, a small shelf and a light shade were moulded out of the mud and in one of the living areas, the bottom part of a bookcase is a hidden door that opens into a spare bedroom.
''It's just for kids,'' Cullen explains.
''And for me, because I'm a big kid.''
While the secret door was something Cullen had always wanted, it was the conservatory that was top of Dawber's wish list.
The large tiled space with its peaked roof and passive solar design is at the front of the house and leads into the open-plan kitchen, dining and living areas.
Beyond these are three bedrooms, two bathrooms and a living room designed to accommodate an antique grand piano.
French doors in the conservatory allow heat transfer to other living areas but can be closed off at night.
External doors and windows are double glazed and argon-filled with a low-emissivity coating that reduces radiant heat loss through the glass.
• Dawber, who acted as the project's ''accountant and secretary'', would eventually like to have a yoga studio on site.
The 47-year-old says while the home's rustic style makes it unsuitable for someone who likes a perfect, minimalist finish and its sheer size means it could not be described as eco-friendly, it is a natural home.
The timber for some of the beams in the house and for the cladding on the barn came from a 120-year-old macrocarpa tree at Glenfalloch that was one of the oldest on Otago Peninsula before being felled by strong winds.
Other reclaimed materials include an arched window from a Balclutha church, bricks from old chimneys and rimu floorboards from a school demolished after the Christchurch earthquake. Doors, handles, tiles, shower screens and furniture were found in second-hand shops.
Cullen, who has no building trade qualifications, used shoring boards to make the dining table and offcuts from the floorboards to build shelves, window seats, kitchen cupboards and bathroom joinery.
''I'd google floors or kitchen cupboards on You Tube, go buy the tools, then build it. The kitchen cabinets cost me $1200 and the dearest bit was the runners.''
While materials were cheap, the project was labour-intensive and that meant he was on site for 18 months in total.
''Because I was so passionate about it, I was up early in the morning and working 'til late at night,'' he says.
''I just loved it. But I got slower towards the end.''
Both he and Dawber are grateful for the help they had from students, interested volunteers and their builder.
Both are also proof that taking out a mortgage and employing a builder for the duration is not the only way to have a new home.
Travelling the world and working as a labourer for bricklayers, painters and tilers has given Cullen a different perspective.
The key, he says, is to gain experience in several different trades, without necessarily being the master of any of them.
''Be a labourer on a building site, learn the basics and watch what everyone does. And then [there's] YouTube obviously. I love that thing.''