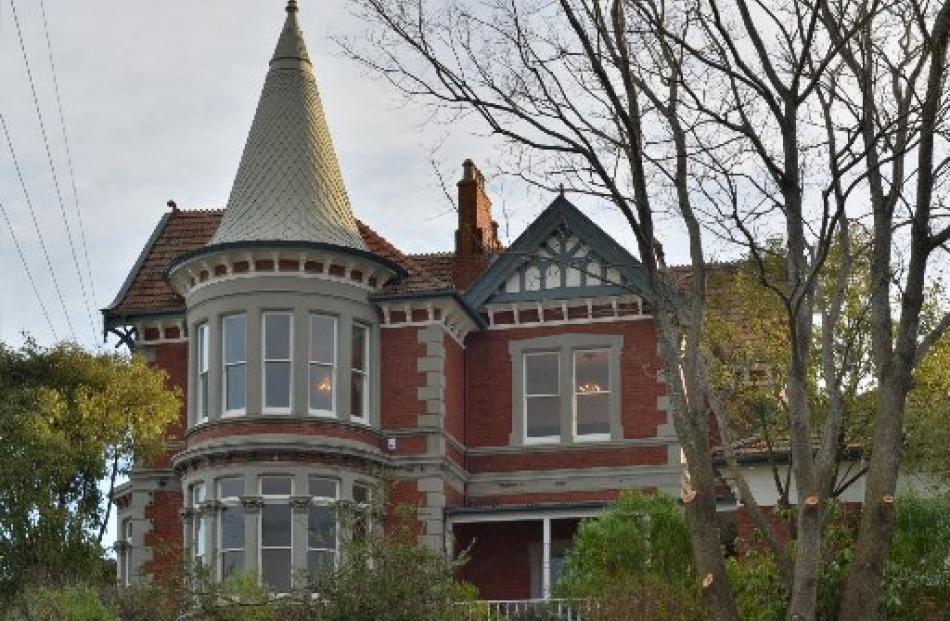 New owners have brought a French flavour to a Mornington landmark. Kim Dungey reports.
When Paul and Nicola Ferro moved to Dunedin last year, it was not only their four children and a container and a-half of furniture that came with them.
They also brought some French flair to ''Venard'', one of the city's most recognisable homes.
The couple were travelling to New Zealand from France, when a friend told them Mornington's ''manor house'' was on the market, Mr Ferro says.
Initially, he discounted the property but the moment he walked in, he knew they would buy it.
''It's where I could imagine us as a family. There's space to grow into. And I grew up in London so I was used to brick houses ... ''
''Venard'' was built in 1898 for William Alexander Moore, the Australasian manager for steamship owners and shipping agents Turnbull, Martin and Co, who were involved in shipping frozen meat to London.
It was in the house, as guests of the Moores, that Capt Robert Falcon Scott spent his last night in New Zealand with his wife, Kathleen, before sailing in November 1910 for the Antarctic.
Moore's wife, May - the daughter of the expedition's Christchurch shipping agent - gave a ''grand dinner'' for the Scotts, their officers and scientists before Terra Nova sailed from Port Chalmers.
The trip ended in disaster when Scott and four others died on their way back from the South Pole.
Named after William Moore's home in Glasgow, the double-brick mansion at the corner of Jubilee St and Hawthorn Ave was designed by J. L. Salmond.
Sold by the Moores in 1926, it was owned by a series of Dunedin businessmen before being used for functions, converted into bedsits and eventually restored as a family home.
Today, the 450sq m of floor space includes a television room, a play room and an office on the ground floor, with four bedrooms, a dressing room and a bathroom above.
Under the house's tower are the first-floor master bedroom and the ground-floor drawing room with its sweeping bay windows.
The enormous entrance hall has its own open fireplace - one of seven in the house - and an elegant staircase that widens at the bottom under three ornate archways.
But surprising though it might have seemed to the original owners, it is the former servants' quarters at the back of the house that is the hub of the home.
Once a dark, dingy space without any windows, it is now an open-plan kitchen/living area with bifold doors opening to the garden.
Throughout the house are pieces that Mrs Ferro collected before leaving France - the couple spent about 10 years living in the countryside west of Paris, where they restored a stone farmhouse built in the 1740s.
Knowing it would be difficult to find similar furnishings here, she moved them halfway across the world to create an interior that could be described as French provincial-meets-industrial.
Elegant chandeliers mix with oversized sofas, carved mirrors and large iron lamps. There are also old pieces of furniture she has sanded back and painted.
Originally from East Taieri, Mrs Ferro completed a bachelor of physical education and a bachelor of commerce at the University of Otago before going to London on a six-month OE that stretched to 16 years.
It was there she met her husband, whose family is from Goa, India, but who grew up near Wimbledon.
A research chemist turned chartered accountant, Mr Ferro also worked in the software industry, which is what took the couple to France.
Not everyone shared their enthusiasm for the Mornington property: one local asking why they would buy a home that was ''old and cold'', he recalls.
''One of the challenges with houses like this is to heat them, so we've gone with central heating that we were used to in Europe and it's wonderfully cosy.''
Since moving in last November, they have also painted interior walls and laid carpet in some areas, though the varnished kauri floorboards are still underneath in perfect condition.
They also plan to fit double glazing into the original sashes, paint the red walls of the entrance hall a more neutral colour and possibly convert their dressing room to a bathroom.
But the couple say they are lucky a lot of restoration work has been done over the years and they only need to add finishing touches.
The plans for the house show that stone balustrades on the balconies have been replaced by timber but most of the other original features are still intact.
And although the couple had imagined such a grand house would once have been on a much larger section, it was only the land fronting Hawthorn Ave which has been subdivided.
Stories from previous owners of ghostly encounters upstairs, including a mysterious woman playing a piano on the landing, have also come to nothing, Mr Ferro says.
''I've been in the turret to investigate and I can guarantee there's nothing there except Pink Batts.''
Mrs Ferro says while the children, aged 4 to 9, refer to the house as their castle, they equally enjoy going to the family's 50sq m crib at Long Beach at weekends.
''Sometimes we have to pinch ourselves,'' Mr Ferro adds.
''We live in a beautiful city, in a beautiful house. The kids go to a wonderful school. It's almost like we've found everything.''