The kitchen may be the heart of the home but the price of a new one shouldn't give you palpitations. Kim Dungey looks at affordable modular options.
Want a new kitchen without breaking your budget? Now, the do-it-yourselfer can head to the local hardware store for a flat-pack kitchen and put it together themselves.
Modular kitchens are available from several outlets and Tammy Rizzi, a kitchen consultant at Mitre 10 Mega, says people like not only the price but the convenience of the units being in stock and the satisfaction of assembling them themselves.
"It's the option we do most of lately.
"The range is basic but you can do quite a lot with it."
There are advantages to one-off kitchens.
Not only are they tailormade to suit your needs and space, the designer will often make a site visit and should be able to take care of the whole job from start to finish.
But not everyone can, or cares to, spend upwards of $20,000.
Maybe their mortgage might not stretch to a top-of-the range kitchen.
Or perhaps they'd like to upgrade their investment property without blowing all their profits.
Units and benchtops in Mitre 10 Mega's Basix range are of set sizes and the colour palette is limited to seven choices for cabinets and four for bench tops.
However, customers can have tops cut and joined, or units cut and re-edged to fit into different-sized areas.
The units come with instructions and pre-drilled holes and take about half an hour each to assemble.
The average price of a kitchen from the range is about $6000, excluding appliances.
In contrast, the store's Nouveau range costs about 30% more but customers can choose from a variety of door styles and have pretty much any colour they want.
The units are ready in three to four weeks and delivered assembled.
So how do you turn the kitchen of your dreams into reality?
Regardless of where you end up buying from, collecting brochures and magazine cuttings that you like will help you work out your favourite kitchen style.
Think about what you do and don't like about your present kitchen to help you decide on priorities.
Do you want a designated eating area such as a table or an island unit? Do you like the kitchen to be open to the living area or separate?
Will you use it for doing laundry or homework? Do you prefer some items on display or everything behind closed doors?
The next step is to measure your kitchen area, marking the position of doors, windows and power points.
Make an appointment to see a kitchen designer and tell him or her the budget you are working with, as this will determine the materials used.
The designer will also need to know how much storage you require and what type of appliances you want to fit in - whether you want to include a dishwasher, whether you want a wall oven, an under-bench oven or a free-standing stove, and if the fridge is to be a large double-door one or a standard size.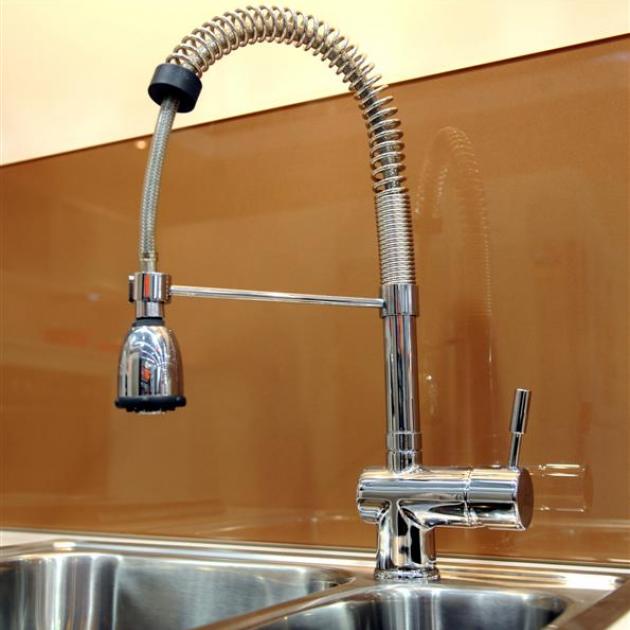 Ideally, the sink, cook top and fridge should not be too far apart, with "landing" space either side of the cooktop and sink for putting down pots and dishes.
In most cases, customers can use cut-out kitchen units and move them around on a grid to try different layouts, before seeing a computer-generated 3-D plan of how the finished kitchen will look, Miss Rizzi says.
"As soon as you see it in 3-D, you can visualise it easier. And you should be able to change it as many times as you want until you get what you like."
People always ask the average cost of a kitchen but it depends on the type and number of units they want, she adds.
For example, drawers are more expensive than cupboards but also more popular because they offer better access, particularly for those who are elderly or have back problems.
Most people say they want a practical good-looking kitchen "but I always say `add in everything you ever dreamed of having' and once you see the price, you can take the extra little things out'."
Those "extras" could include soft-close drawers that don't slam shut, pull-out pantries that offer easy access, spice racks set into drawers, pull-out shelves for those "blind" corners that are otherwise dead space, and glass or aluminium-framed door fronts.
Handles cost anything from $5 to $50 each, while taps can cost $80 for a basic model or $800 for one with a pull-out spray spout that is useful for rinsing.
Some people who buy flatpack units upgrade to granite, engineered stone or stainless-steel benchtops, which are more scratch- and heat-resistant than laminate, Miss Rizzi adds.
"You're saving on the units and can spend extra money on a top."
However, a granite benchtop on its own can cost $8000 to $10,000.
There are other costs too.
A typical alteration will involve new appliances, plumbing and electrical work, lighting, flooring, and splashbacks or tiling.
Building consent might also be needed - if in doubt, ask your builder or council.
When it comes to the look of a kitchen, most people have resale value in the back of their minds.
Neutral-coloured cabinets and black benchtops are popular but some customers choose to have certain drawer fronts in a different colour than others, or end panels in one colour and cabinet doors in another.
Others just want to update their existing kitchen units by replacing the handles, the doors or the benchtop, Miss Rizzi says.
"If the carcasses are fine and you put new door fronts on, it's going to look like a brand-new kitchen."