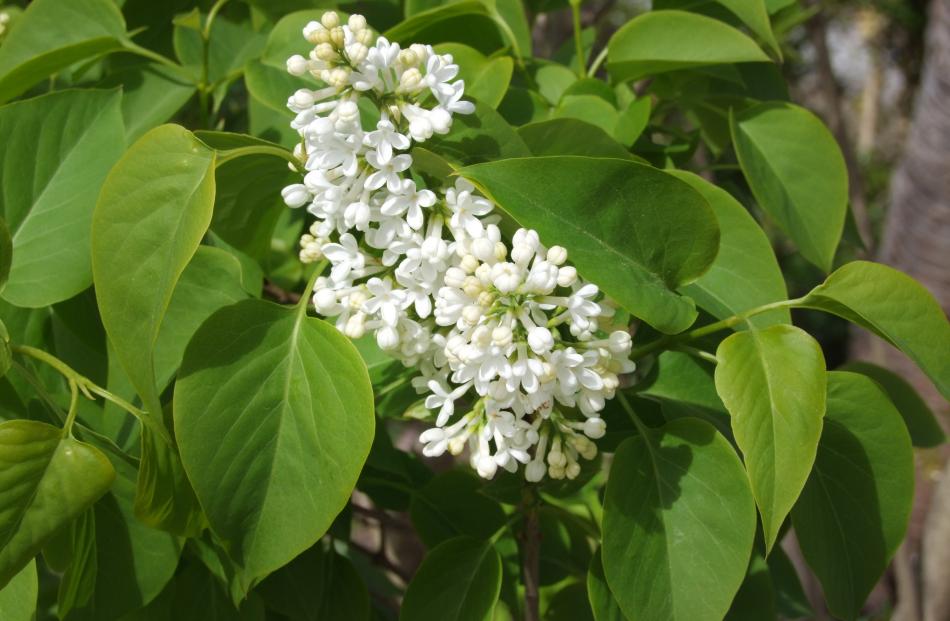 A tough shrub with scented flowers in spring, lilac has much to recommend it, says Gillian Vine.
I love old garden catalogues, which provide a fascinating picture of what used to be grown. It's sometimes frustrating: a plant I rather fancy may have long since vanished from nursery lists, sometimes superseded by a supposedly better version, at other times the victim of changing fashions.
The number of available cultivars has also tended to shrink and lilac (Syringa) is a prime example. For instance, a 1961 Duncan & Davies catalogue listed 23 cultivars and four species, all costing cost 8s 6d (85c each). Compare that with the half-dozen nurseries are likely to offer now — and at $40-$50 each.
With a couple of exceptions, the lilacs available now were on that list of 56 years ago. Surprisingly absent were two introduced decades earlier. Sensation, which has single purple blooms edged with white, was missing, as was Primrose, the "yellow" lilac, whose creamy buds open to highly scented, almost white flowers.
Apart from a couple of whites, most lilacs run the gamut from palest lavender to deep purple and this, as well as the intense perfume of its flowers in spring, have ensured their popularity.
The common lilac (Syringa vulgaris), a native of eastern Europe, is the parent of most cultivars. The main exception is single white Syringa x persica Alba, whose parent, the Persian lilac (S. persica), was introduced to Europe almost 400 years ago and is still the most commonly grown species, its appeal being its pale pink flowers.
Early European settlers brought lilacs to New Zealand. One was George Matthews, who arrived in Otago in March 1850 on  Lady Nugent, bringing with him numerous trees and shrubs, including lilacs. Other pioneering horticulturists followed his example. Their range was probably limited, as they arrived here before the most famous lilac breeder, Frenchman Victor Lemoine (1823-1911) got into his stride. Lemoine did not  begin hybridising lilacs until 1870, then went on to produce more than 200 cultivars at his nursery at Nancy, in northern France. Still popular are Katherine Havemeyer, General Pershing, Souvenir de Louis Spaeth and Madame Lemoine.
American Walter Bosworth (W.B.) Clarke, (1876-1953) might be described as taking over where Lemoine left off, breeding lilacs at his Californian nursery from 1931. His rosy mauve Clarke's Giant (1948) was the first patented lilac and today it, and his double mauve Alice Eastwood (1942) and lilac-pink Ester Staley (1948), are still popular.
Although late frosts can kill the flower buds, lilacs are very hardy. To ensure the colour is exactly what you want, buy plants in flower and plant them in full sun or part shade in fertile soil with a pH of about 7 to 7.5. Some growers recommend that the graft (the place where rootstock and scion join) go beneath the soil to encourage the cultivar to grow its own roots, as some rootstock has been found to be less long-lived than the lilac itself. Lilacs do tend to sucker and varieties grafted on to privet rootstock will sucker, so removing them from as far below the soil surface as possible is important. If lilacs are grown in a shrubbery, keep the soil clear around the base of the plant to make suckers easier to see and remove while small. Lilacs work well as standards in pots, too.
They are can be affected by some pests and diseases, especially in spring, when temperature fluctuations and moist air invite powdery mildew attacks.
Prune immediately after flowering to improve the shape of the bush and to promote the new growth on which next spring's flowers form, then mulch with well-rotted manure, mixed with lime at the rate of 100g per bush. Do not put off pruning, as lilacs have a short late spring-early summer growing period, so if pruning is delayed, a good display next season is unlikely. Leaving pruning for a year won't hurt, although unpruned lilacs can become straggly.
Native 'lilac'
Several unrelated shrubs are dubbed lilacs because of their flower colour. The New Zealand lilacs (Heliohebe hulkeana and H. raoulii), are pretty flowering shrubs with glossy foliage and pale lavender flowers. Both prefer well-drained soils and sunny sites. H. hulkeana will grow to 1m and a happy specimen will be covered with flowers in late spring. Less common is H. raoulii, which grows about 20cm tall and flowers a little earlier. Unlike true lilacs, they are quite easy to grow from cuttings.