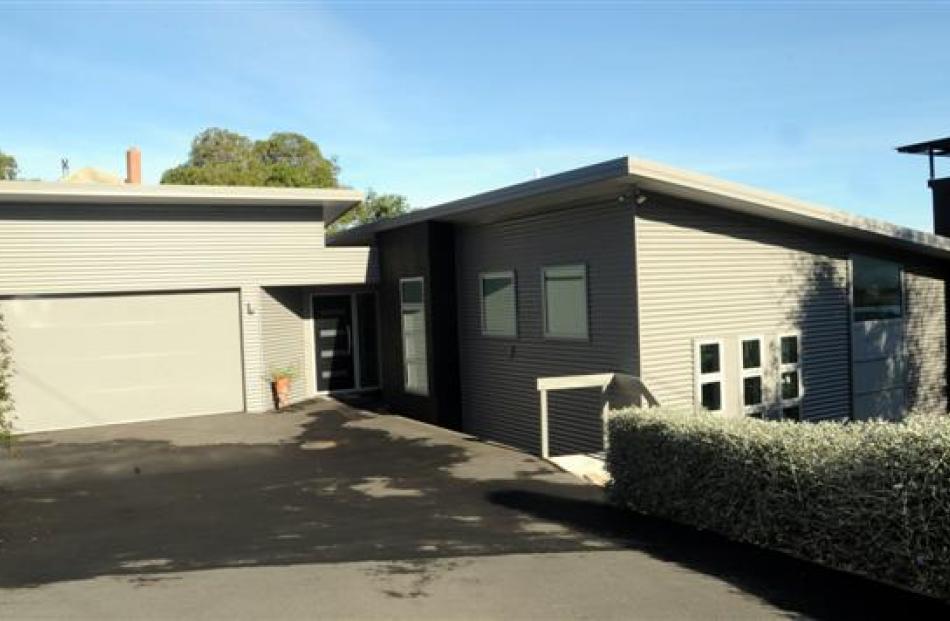 Most people renovate or move when their house no longer meet their needs, but some find other solutions. Kim Dungey talks to a couple who liked the views from their section so much, they decided to demolish their home and rebuild.
After years of working towards their goals, a Dunedin couple finally have their dream home with stunning harbour views.
Scott and Lauren Bremner first visited the Waverley site 11 years ago to look at a modest two-storey home complete with concrete basement.
The house was "fine" but it was the outlook that excited them, Mr Bremner recalls. "You walked in, looked out the window and went, 'Wow'. We weren't thinking of building a new house at that time but the view had me sold."
For eight years the couple and their three teenage sons lived in the 100sq m home and weighed up their options.
Moving would mean leaving a great location. Renovating would mean making compromises.
One idea they did not want to abandon was having polished concrete floors that would give the home a contemporary feel. The existing house had timber floors and this influenced their decision to start again.
Friend Peter Notman had already drawn up plans to extend the existing house and these became the basis for the build.
While Mr Bremner stayed out of the design process - joking that opting out protected him from being blamed for anything - his wife was keen to "push things out" as much as possible.
"Because the original house had been so compact, I took out every [proposed] wall I could," she says. "I wanted space."
Once the main part of the existing house had been shifted to another site, walls at ground level were rebuilt within the perimeter of the original basement.
The new 300sq m home has four bedrooms, two offices and three bathrooms, including one en suite. Open-plan living areas face the water.
Mr Notman, a quantity surveyor who acted as project manager, says the deck was cantilevered out and the rest of the structure supported by a steel frame that runs the width of the house. The city council allowed the garage to be built on road reserve.
While the original house had only a "tiny" balcony, the new deck - partially glazed overhead - is a large space accessed from the living areas and the main bedroom. These rooms wrap around the outdoor area, sheltering it from any wind.
Mrs Bremner says external walls were clad in corrugated iron not only because it is cost-effective and low-maintenance, but because she loves the look: "I'm happy to live in a tin shed".
Outside, a subdued colour ensures the house blends in with the surroundings but inside it is a different story. Initially, the interior was spray-painted a pale donkey-grey (Resene Westar). Then she added feature walls in other shades, including a dramatic violet (Resene Kingfisher Daisy) in the living area and an energetic orange (Resene Bring It On) in the kitchen.
She and her husband have a kitchen design and construction business, she says, explaining the latter choice. "We do hundreds of kitchens a year and I got sick of looking at the same colours so I wanted to pick something different."
The cabinets are prefinished Melteca board, edged in stainless steel for durability.
Throughout the house Mrs Bremner's artwork also injects colour and personality. A former signwriter and display artist, she joined an art class about two years ago and paints mainly in acrylics in a purpose-built studio at the bottom of the garden.
After living in rental properties and buying and selling progressively better houses, she and her husband feel lucky to live where they do, she says.
"We're just humble people who, 28 years later, feel fortunate to live in an amazing house with an amazing view ... We love it here."