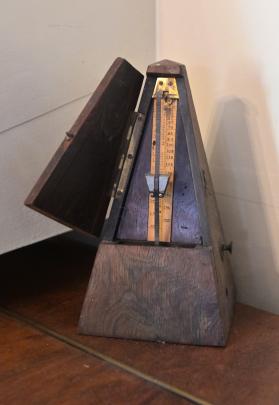 This house, which is more than 150 years old, was once earmarked for demolition. Kim Dungey reports. 
Modern transportable homes have nothing on this house - possibly one of Dunedin's oldest - which was moved board by board to its present location in the 1950s.
Dr George Emery was leaving the public library, now the Carnegie Centre, when he spotted the pretty house near the top of View St and decided to investigate further.
What he found was a property that had been built about the late 1850s but that had fallen into disrepair and been threatened with demolition by the city council.
Dr Emery was determined to save this slice of early Dunedin history. However, later buildings hemmed the house in on three sides and the only access was a narrow flight of steps, meaning moving it intact was impossible.
Instead, each piece was carefully shifted down the steps and transported to his front garden in Mornington, then he and his family spent more than a decade rebuilding and restoring the property.
Luckily, they had photographed each section beforehand because events did not unfold as they expected.
"Each Baltic pine weatherboard was stamped with a number, which was recorded in a log book, and then stacked on the Haywood St site," Dr Emery wrote.
"Unfortunately, over winter when the foundation was being constructed, rain soaked the soft timber. The impressed numbers swelled to the surface and were no longer legible."
The GP, who later lectured at Otago Medical School and worked overseas for the World Health Organisation, was ahead of his time in his determination to save the building. In the 1950s, when few people cared about old houses, many thought he was mad to take on such a project and the building became known as "Emery's Folly".
Sixty years after his bold rescue mission, the Carpenter Gothic-style house was discovered by Amanda Lennon, who was returning to New Zealand after putting her PhD studies on hold to deal with a deceased aunt's estate in Scotland.
Finding herself priced out of the Auckland real estate market, she decided to move to Dunedin, where she had often visited friends. Her mother bought the house for her.
"I was just going to get a normal villa," she says. "Then I saw this. It was mind-blowing."
Miss Lennon was attracted by the home's size - at 190sq m, it is bigger than it looks from the outside - as well as the 1738sq m bush-clad section and the "beautiful" frontage, fireplaces and stairs.
"When I walked in and saw the staircase, I thought it was amazing."
Instead of being tucked away at the end of a narrow hall, the restored staircase is a feature of the living area. This is because Dr Emery planned to use the house as a museum and, wanting large, open spaces, did not reinstate some of the partition walls. These included the divisions between the upstairs bedrooms and the wall separating the front passage from the main living room.
A second living room is on the other side of the stairs, with the kitchen, bathroom and former dining room (now used as a bedroom) behind. The small bathroom was added by Dr Emery when he decided to work overseas and rent the house rather than turn it into a museum - until then, the house had never had one.
Upstairs are two large bedrooms and two smaller areas, one of which was probably a nursery and the other, a maid's room.
One of the home's most unusual features is the diagonally placed weatherboards, which emphasise the steep angle of the gables. Other original details include fretwork bargeboards, barley twist clay chimney pots and hammerbeam brackets supporting the veranda entrance. Some of Miss Lennon's friends have described the entrance as "almost church-like".
As well as insulating the slate roof, she installed additional spouting, trimmed some trees to let in more light and added a concrete wall to safely divide the front lawn from the path below that leads to the basement.
Like Dr Emery, she also filled the house with objects collected on her travels, as well as items she inherited and bought at auction. China displayed in glass-fronted cupboards is among "masses of old things" she never uses but likes looking at, she says, laughing.
Her love of things from earlier times extends to her choice of transport. A black 1971 Citroen is parked in the drive; she also owns a 1969 DS20 semi-automatic Citroen that her family drove through Turkey, Iran Afghanistan and India when she was a child.
A former marketing manager at Bristol's historic Old Vic Theatre, Miss Lennon studied terrorism and worked at NZ Defence headquarters as a graduate research analyst before starting her PhD in American military theory. Having recently sold the house, she now hopes to resume her studies.
Living there for the past three years has been "amazing" but she has been working on the house rather than on her degree, she says.
"I want to move into something smaller and simpler so I can totally concentrate on my PhD."
Photo sheds new light on age of house 
Photographic evidence has shed new light on the age of this house, which was originally located in the city centre and later moved to Mornington.
The home is widely thought to have been built in about 1858. However, on his Built in Dunedin blog, archivist David Murray says while an earlier cottage may well have been incorporated into the structure, it seems the house in its final form was under construction in mid 1862. A photo from that time shows an incomplete veranda and chimney, window openings without joinery or glazing and the general appearance of a building site.
The section the house stood on was bordered by View St, Tennyson St and Moray Pl and bought in 1856 by Grace Sinclair. She was one of three women who had been issued with a right to buy land a few years earlier.
Its occupants included Thomas Culling, who was later mayor of St Kilda; provincial surgeon Dr Edward Hulme; Dunedin Hospital medical superintendent Dr Isaiah de Zouche; and leading art dealer Ambrose Chiaroni.
New Zealand's first divorce case based on adultery (Messenger versus Messenger) reportedly had its beginnings in the master bedroom.
The house, which has a category 2 registration from Heritage New Zealand, is thought to be an early prefab sent out from Britain. Much of the timber is Baltic pine. The floor joists and studs are Australian hardwood, which was probably loaded on the way to New Zealand.
During Dr George Emery's ownership, the front lawn boasted a flagpole rescued from Carisbrook, the demolished home of provincial superintendent James Macandrew, a giant clam shell and two historic ship's cannons.
Historic information in these stories came from Lois Galer's Houses and Homes, published by Allied Press in 1981 and George Emery's "A House on the Move", published in New Zealand Historic Places in 1994.