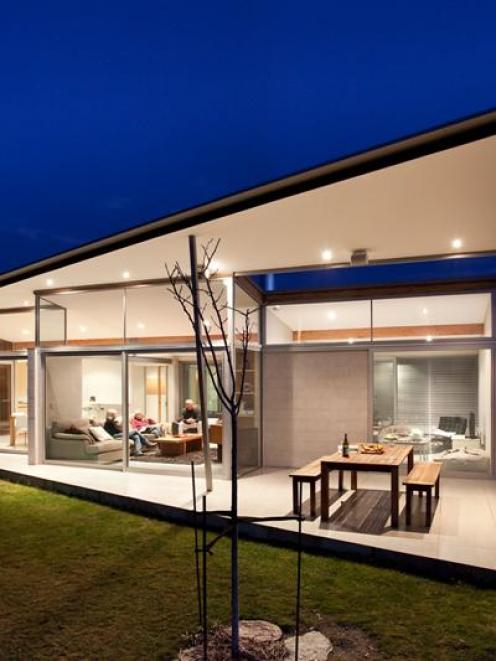 Making the most of the river view was the main requirement for a Dunedin woman when she built a holiday home at Albert Town.
The house is on an elevated, north-facing site directly above the Clutha River and the owner wanted to be able to see the water from the living area, even when seated.
She also wanted the home to have an intimate, cosy feel and to open, wherever possible, on to outside spaces.
The solution arrived at by McCoy and Wixon architects was to create two separate wings perpendicular to each other and linked by the entrance lobby. One wing, consisting of the open-plan living spaces, faces north. The other, comprising bedrooms and service areas, looks east.
Rugged, natural materials in a grey colour palette were chosen to blend with the landscape. The exterior materials were restricted to vertical board and batten in western red cedar, and bagged concrete block masonry - the fine plaster finish over the concrete allowing the lines of the blocks to show through.
Large expanses of glass make the most of the views to the north and all windows are double-glazed.
The ceramic floor tiles in the living areas continue out on to the terrace. The floor acts as a thermal mass, absorbing heat during the day and slowly releasing it in the evening.
A large roof overhang to the north cuts down the summer sun but lets the low winter sun in.
A separate garage/carport and bagged masonry landscaping walls help create a sheltered courtyard and a consistent feel to the property.
A winner in the 2010 Southern Architecture Awards, the property was described by judges as a "delicate house camped on the banks of the Clutha". There was integrity to the limited material palette and the living space and outdoor areas were skilfully manipulated along the river edge in an "open gesture of freedom and lightness".

THE SPECS
• Floor area: 224sq m.
• Bedrooms: Three.
• Bathrooms: Two.
• Exterior materials: Cedar board and batten with oil finish, bagged concrete block, Colorsteel long-run roof.
• Interior materials: Ceramic floor tiles.
• Heating: Gas fire and underfloor heating.
• Architects: McCoy and Wixon, Dunedin.
• Builder: Breen Construction, Wanaka.