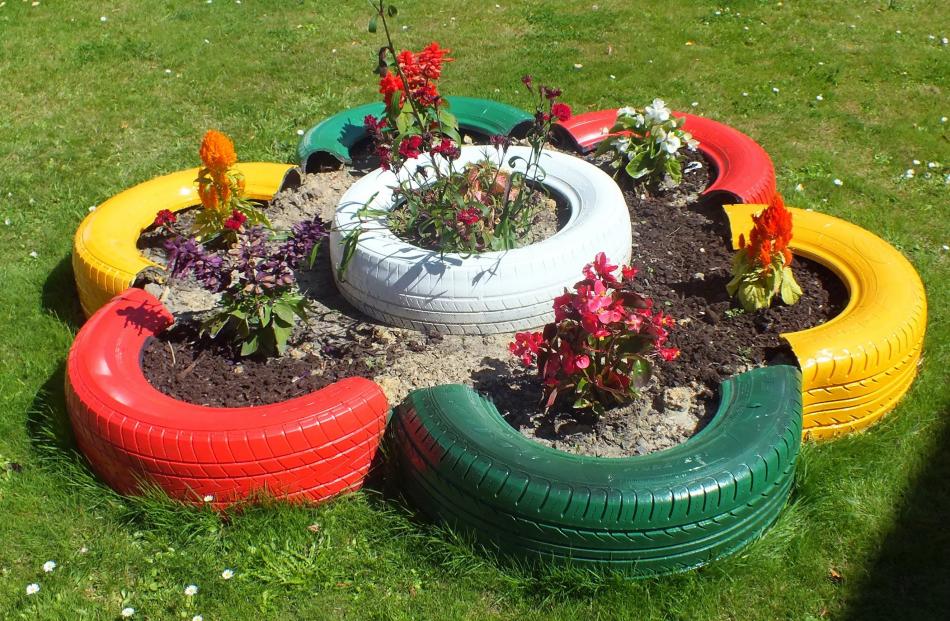 A suburban garden has been given a lift by a budget-conscious Dunedin couple. Gillian Vine reports.
Adding new beds and sculptures can be an expensive undertaking but by using old tyres, Mukhtiar Singh and his wife, Ninderpal Kaur, managed it without spending a fortune.
Their North East Valley property, where they have lived for 10 years, had a small native area, roses on a back fence and a large area of lawn. About three years ago, they started looking at ways of enhancing the garden and planted azaleas and small rhododendrons along the front fence and on the western boundary.
But Mr Singh wanted to do something about the remainder of the section, which was ''grass and nothing else''.
''We got some ideas from the internet and decided to give it a go,'' he said.
The suggestions included ways of reusing old tyres and, supported by his wife and their daughter Avneet (Avi), he was keen to tackle several projects.
There was an initial snag, though. ''We didn't know where to collect old tyres, so we started hunting,'' he said.
Then Ms Kaur noted that there was an automotive business near her workplace and, when approached, the firm was happy to give the couple tyres that otherwise would have been dumped.
''The hardest part came next, cutting the tyres,'' Mr Singh said.
''We did not have proper gear for cutting, so we tried all sorts of things,'' his wife said.
A handsaw and kitchen knives were used, with limited success, but eventually they succeeded in cutting tyres in half.
''The problem was we did not know about tyres having steel cores,'' Mr Singh said.
''Now we know exactly what's inside the tyre and I work around the steel core.''
Once cut, the tyres were painted - ''We enjoy bright colours,'' he said - and needed special paint.
''It was quite expensive,'' Ms Kaur said, estimating that each tyre cost $13 to paint.
The other expense was buying potting mix and plants for the new beds but it was worth it, she said.
At that point, many gardeners would have sat back and admired their work but not Mr Singh.
''We wanted to do something in the centre part of the lawn,'' he said.
Avi's trampoline was moved to make way for the next effort, a swan sculpted from a tyre with strong, flexible wire under the neck to hold the shape. It was then painted white.
''It took three days and was difficult to do but we got what we wanted first time,'' Ms Kaur said.
''The second one was easy because we knew what to do.''
For this one, he decided to go for black, in a slightly more sophisticated design and was pleased with the result.
The couple has been surprised by the reaction of people who come by their Pentland St property.
''When we started, we never knew that it would be admired. Many people compliment us on it,'' Mr Singh said.
Asked if he would make more swans, he said: ''Two are enough.''
That does not mean he will be abandoning his creative approach to gardening, saying ''It is important to have a goal to do something new and keep at it. We have many other ideas using plastic pipes.
''So watch this space.''