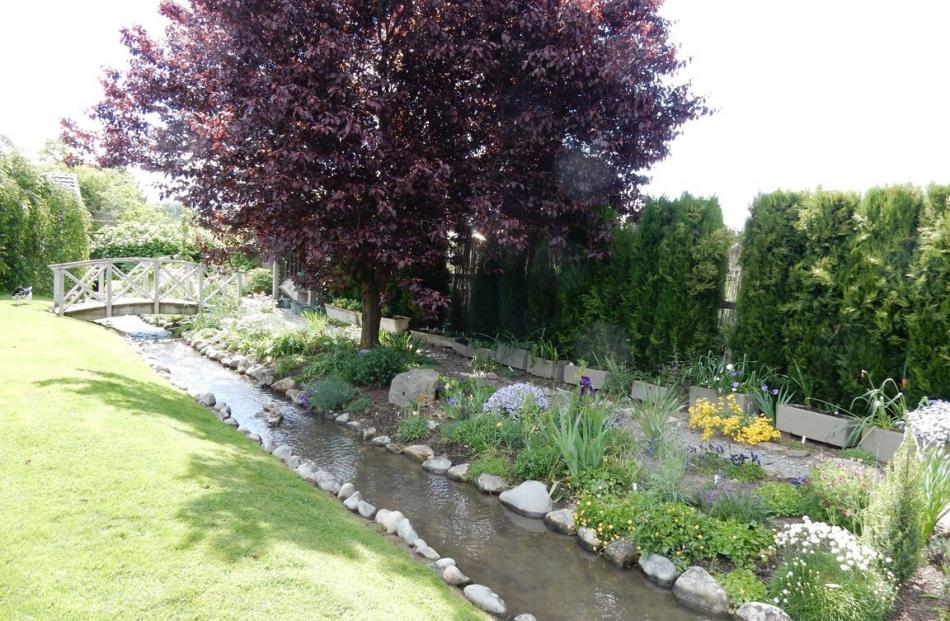 Ruth Grundy lifts the lid on the treasure chest of an Omarama garden.
Noeline and John Gillies' garden is filled with treasures. Half barrels filled to overflowing with trilliums greet you at the gate and those renowned sun-bakers, bearded irises, lift their whiskery faces to the sky and paint the backdrop lavender and lemon.
But none of that quite prepares you for what lies beyond.
It was 1984 when the couple first began travelling from southern parts to holiday in Omarama, to relax in a more conducive climate and away from the stresses of busy teaching careers, John in science and Noeline in art. These careers were to take them into administrative posts before a  change in direction saw them move north to Rangiora and set up home and garden and a private art school. There, Noeline taught up to 60 classes a week, about 10 students in each class, in pottery, painting, and drawing.  In his understated way, John describes his role as "janitor". His job was to sweep floors and wash brushes, he says.
They also ran professional development courses for teachers. It was all "great fun", Noeline says. Then, "between the earthquakes", they moved permanently from Rangiora to Omarama, in the Waitaki district, and a new home and garden a world apart from their rambling Canterbury property. With them came more than 600 potted plants, their alpine garden collection.
Their "half-acre" at Rangiora with expansive lawns brimmed with hundreds of roses, camellias and rhododendrons, matched by the accompanying workload.  At pruning time, John estimated he took at least three trailer-loads of clippings away as green waste.
Their Omarama "retirement" garden, named Rakiura, shares some features of their former residence — formal plantings of roses bounded by box hedges, rhododendrons weighed low with heavy blooms, a rambling clematis, specimen trees and somewhat smaller but still spacious lawns, plenty of room for a rambunctious little terrier like their Meg to stretch her legs and enjoy a game of fetch.
The view from the sunny terrace looks out across the small offshoot of the Omarama Stream which flows through the property and an arching bridge leads to a wooden gate and beyond. It is on this far bank the lid of the treasure chest is lifted.  Alpine gems — gentians in sapphire blue and diamond white, primulas and fritillarias in ruby red and emerald green, amethyst anemones —  glitter and glow as they spill from troughs and down the bank.
They revel in perfect conditions, sharp, gravelly soil, freezing winters and baking summers. Noeline says they have delighted in the challenge of finding what will thrive in the conditions and have been wonderfully surprised by the results. They have always been collectors and members of the New Zealand Alpine Garden Society for almost 50 years, so it is no surprise to see so many rare and unusual alpines.
There are  significant differences between gardening here and their previous gardens.
"Gardening is a challenge here; you've got to work at a garden here," Noeline says.
See it
The Gillies' garden is one of nine properties on the Omarama High Country Garden tour, on Saturday, October 28. The tour, to help raise money for a community sports facility, is from 10am to 4pm, and an auction will be held at Omarama Station at 3.30pm.  The postponement date is Sunday, October 29.  Tickets are $40 (non-refundable); entry for children (under-14) is free.
For tickets, phone Jemma Gloag 021275-3662, Georgie Robertson 027486-1525 or Ross Gold 027443-4149.