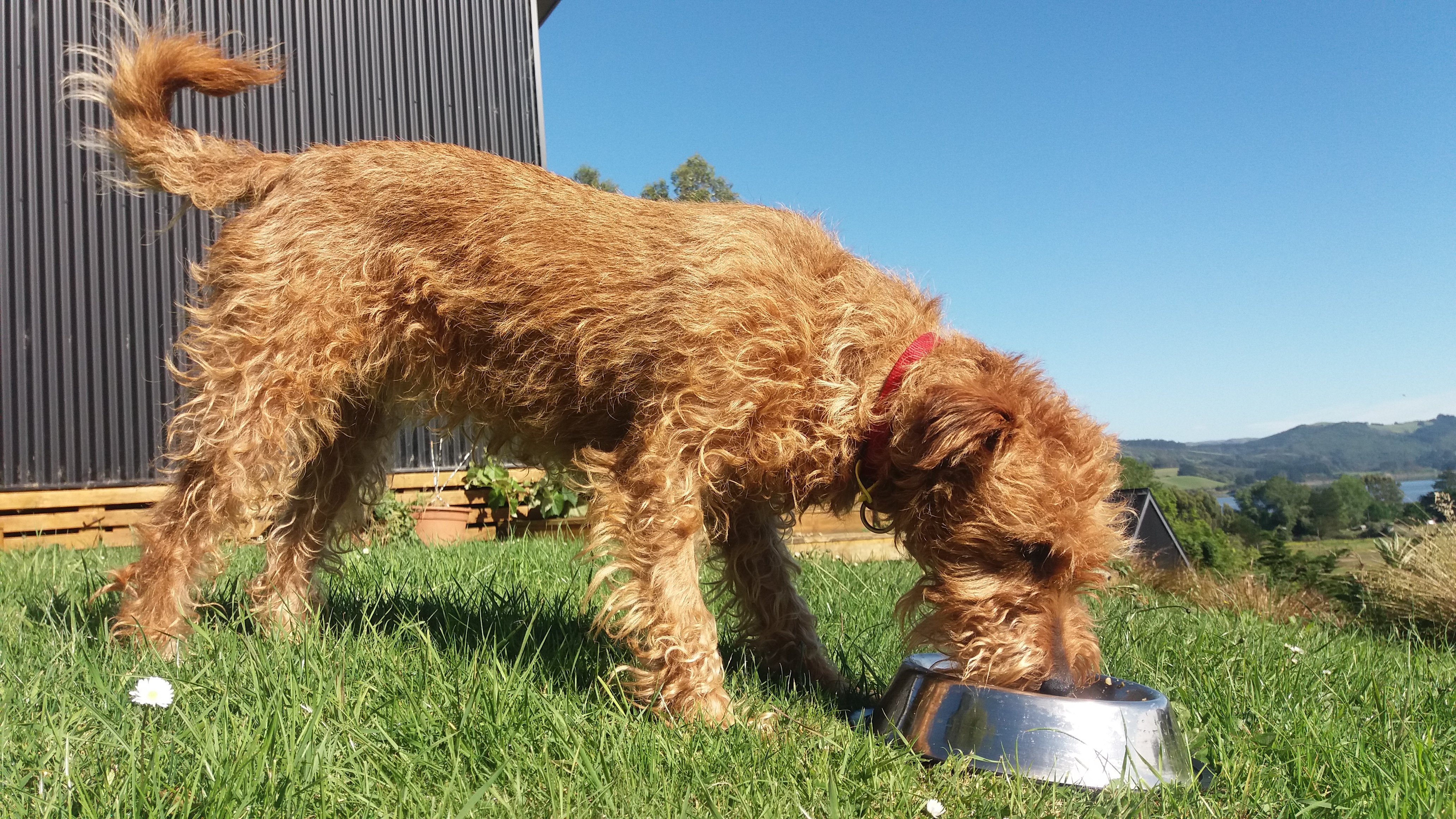 A dog's life should include a proper dog's breakfast, and other meals too, writes Hilary Rowley.
What's for dinner today? Dry biscuits. What's for dinner tomorrow? Dry biscuits. What's for dinner for the rest of my life? Dry biscuits.
Spare a thought for dogs for which this is the reality. Not only is it boring, over-processed, and comes with a big carbon footprint, but biscuits and kibble are not at all what dogs need. A wild dog/wolf eats animals which it kills, and the partially digested stomach contents of that kill.
When I noticed that our newly arrived, second-hand, 4-year-old Irish terrier had rectal cancer, after her operation I vowed to never feed her processed food again and decided to research a good, healthy, home-made food option for her.
To replicate the wild food of a dog their diet should consist of raw, predominantly muscle meat with an addition of organ meat, fat, sinew and bones. Add to this some cooked vegetables, especially greens. It is quite a low carbohydrate diet which dogs naturally eat so don't be tempted to pad things out with grains as commercial dog food producers do.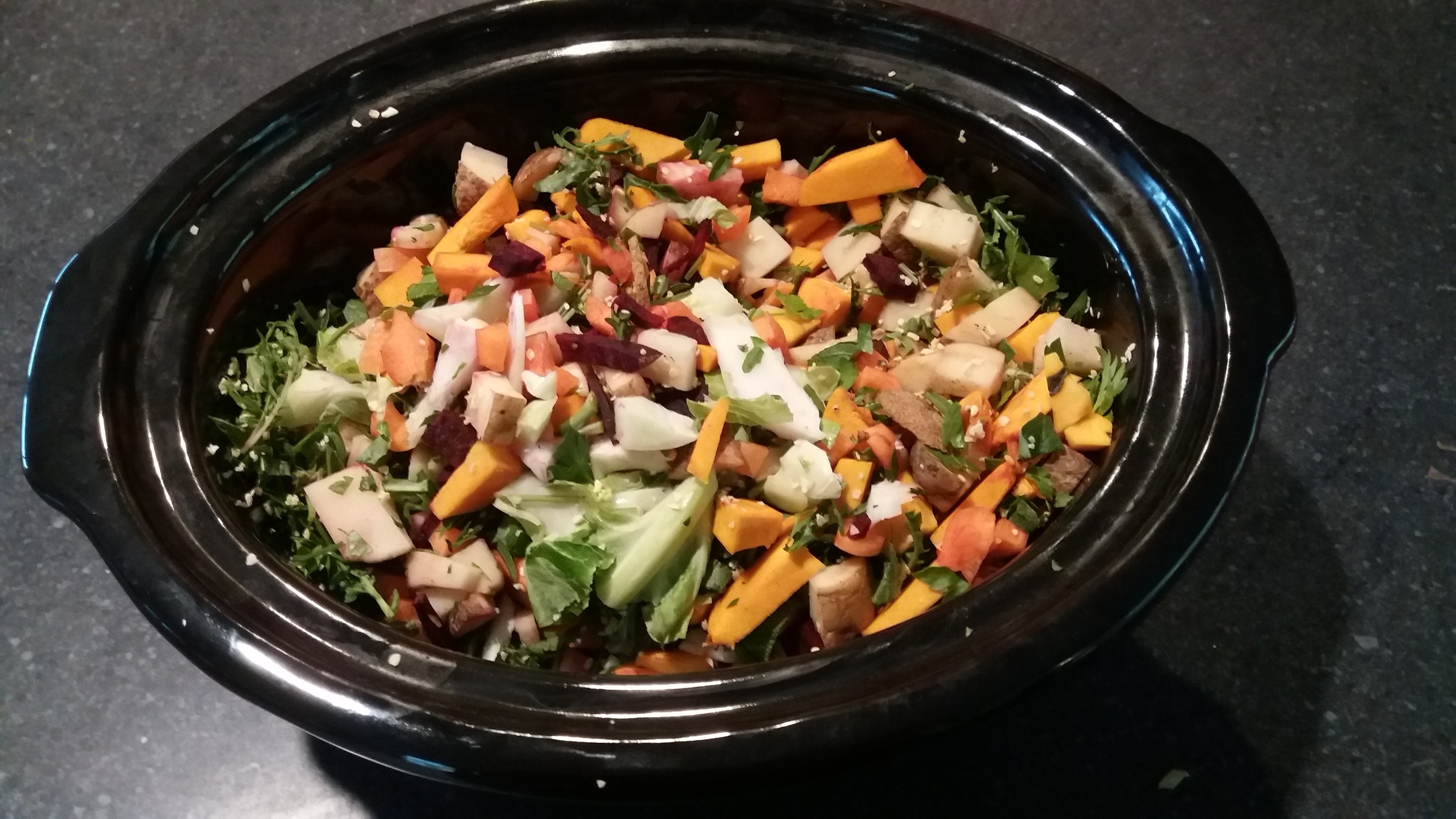 I was a bit scared this was going to be really expensive and difficult but it turned out much cheaper and easier than expected.
I buy frozen raw minced meat from a pet food supplier which already has a mixture of muscle, organ, fat and sinew. It only costs $3.50 a kilo. I would stay away from chicken as it is neither ethically nor healthily farmed, but any other meat would do.
For the vegetables, I save any broccoli and cauliflower stalks and leaves, and add cabbage, silver beet, spinach, chickweed, puha, kale, ugly old greens which go to waste in the vegetable garden, carrots, beet root and their tops, celery, pumpkin and a plus for gardeners, zucchini. It helps to have a vegetable garden, but last year I was forced to buy vegetables in winter and it was still relatively easy to stockpile trimmings in a plastic bag in the fridge and add big bunches of silver beet and kale.
Pile all of these roughly chopped vegetables into a slow cooker with a little water and some meaty bones to add flavour. Some neighbouring children popped in to visit while I was cooking one of these batches and backed out the door again with their noses twitching at the horrible over-cooked cabbage smell. It is not very nice, but it passes.
Some other additives could be some linseed for a healthy gut or some turmeric and a little black pepper for an older dog with arthritis. I add an assortment of culinary herbs, too, just for variety.
When the mixture has cooked, strip any meat off and discard the bones (never feed a dog cooked bones, they are too brittle).
I blend the mixture for a bit with a stick blender so the dog doesn't cherry pick what she is eating. I freeze the vegetable mixture in 500g containers which, when thawed, last for a few days. This cooking task can be done in a big batch which lasts for a month, so it is not too time-consuming and annoying.
I feed our dog two-thirds meats, and one-third vegetables, but you can increase the meat ratio if you like. Be careful with raw meat and thoroughly wash anything it has been in contact with in hot soapy water.
Gradually introduced the new food to prevent stomach upsets.
This raw food diet gives your dog healthier skin and coat, cleaner teeth and healthier gums, lean strong muscles; it is suitable for dogs with grain sensitivities and is easy to digest. It is great, too, knowing what is in the food you are giving your dog, that it is New Zealand pasture-raised or wild meat, and local vegetables, and has not been shipped across the world like some varieties.
Ms Fodla seems very happy and healthy and there has been no recurrence of her cancer after two years, though we are crossing our paws on that one.
- Hilary Rowley is a frugal, foraging foodie from Waitati. Each week in this column, one of a panel of writers addresses issues of sustainability.