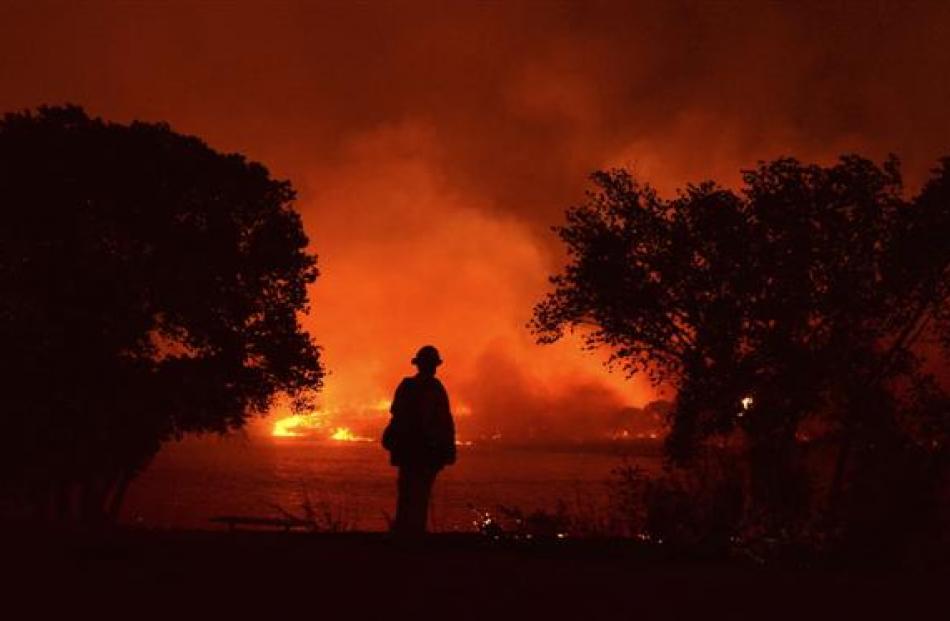 One of the prophets of global warming visits Dunedin this week, and you can be assured the message will be chilling, reports Tom McKinlay
Five hundred dead in India. Dead fish and dolphins washing ashore on Australia's beaches. Dying glaciers in California.
What does it all mean? Are these events even connected?
The short answer is, yes - at least in cyberspace. They are all news items recently tweeted by journalist turned climate-change campaigner Bill McKibben.
The first is from a story in The Times of India, reporting on a May heat wave in that country pushing temperatures well into the 40s, with fatal results for some.
The dead fish story first appeared in The Guardian, recording that unprecedented high sea-surface temperatures from summer to April caused thousands of small fish to wash up dead in South Australian waters.
Dead people, dead fish, retreating glaciers. Should we be worried?
Well, yes, of course, McKibben says.
Precisely why is set out in his book Eaarth - spelt with an extra letter because the planet we live on has been so changed by the cumulative impacts of humanity that it is now a different place, he contends.
As he writes early in the volume, ''global warming is no longer a philosophical threat, no longer a future threat, no longer a threat at all.
"It's our reality. We've changed the planet, changed it in large and fundamental ways.''
Critically, one of those fundamental ways is to push atmospheric carbon dioxide up to 400ppm from the pre-industrial revolution level of 280.
CO2 has not touched the 400 level for millions of years. Back then, camels lived in the high Arctic and Earth's oceans were 20m higher.
McKibben, an American who started out as a journalist for The New Yorker, has been on about this for years now.
Last month he won the $100,000 Sophie Prize for his efforts on global warming.
He is credited with writing the first book for a general audience about climate change, The End of Nature, in 1989. Eaarth is something of a bookender to that volume, describing as it does the ways in which McKibben thinks the impacts of climate change will force changes to the way we live.
So does he think the opportunity to head off anthropogenic (human-induced) climate change is past? Have we blown it?
''We're too late to stop global warming - that's not on the menu any more,'' he says in an interview.
''Now we need to see if we can keep it from getting completely out of control. It's a different world, the question is how different we're going to let it get.
"And that turns out to be the most important question of our time, I think.''
In order to help people focus on the challenge, Mr McKibben is on the road with his ''Do The Maths'' world tour, which is stopping in Dunedin this week to explain why the numbers on climate change put the argument beyond doubt.
The campaigner is perhaps most closely associated with the number 350, after setting up the organisation 350.org to campaign for a CO2 ceiling at that level. But there are other numbers he sees as just as important.
Several of these appeared in an article he wrote for Rolling Stone magazine last year, ''Global Warming's Terrifying New Math'', which carried the subtitle
''Three simple numbers that add up to global catastrophe - and that make clear who the real enemy is''.
Those numbers are: 2degC, the bottom line as he sees it in terms of global warming. More than that and we're fried.
So far, we are up about 0.8degC. 565 gigatonnes, the amount of CO2 we can afford to pour into the atmosphere by 2050 if we hope to limit warming to 2degC.
Unfortunately, proven fossil fuel reserves, if burned, would release five times that amount. That's the third number, 2795 gigatonnes.
''The numbers, in a sense, speak for themselves,'' McKibben says.
''As financial analysts have now demonstrated, the fossil fuel industry has five times the amount of carbon in its reserves as the most conservative governments and scientists on Earth think would be safe to burn - five times what would take us past two degrees. Once you know those numbers, you realise that this has become a rogue industry.''
 This is not really radical stuff. Most of the world accepted the importance of limiting global warming to 2degC at the Copenhagen Climate Change Conference of 2009.
The ''real enemy'' of McKibben's maths tour is the fossil-fuel industry. And that's where the blame for all this lies, he says. They are the reason there has been so little action on reducing carbon emissions.
''Because that rogue industry is also the richest enterprise in human history, and so it's able to exert powerful influence on our political systems to prevent change,'' McKibben says.
''For the most part, it's allowed to throw out its waste for free, unlike any other industry.''
McKibben is targeting the fossil-fuel industry with a campaign of divestment, modelled on the anti-apartheid movement's efforts to get governments and others to pull their money out of the South African pariah state.
He almost daily tweets the latest victory, with a US college here, a parish, local government or pension fund there deciding to pull their investments out of carbon-intensive energy companies.
The mayor of Portland this week called for the entire state of Oregan to divest itself of fossil fuel holdings.
It is an alternative route to addressing climate change, given the serial government-level failures.
''Yes, it's an effort to weaken the fossil-fuel industry some, so they can't be so politically dominant.
"And it's another way to spread the basic idea, that they've become outlaw companies -outlaws against the laws of physics, anyhow.''
Civil disobedience is another apartheid-era tool in the toolbox McKibben says, another path to building widespread moral outrage that global warming continues to run unchecked.
''We'll never outspend the fossil-fuel industry, so we look for new currencies: passion, spirit, creativity.''
In a Rolling Stone article in April this year, McKibben called this nascent movement The Fossil Fuel Resistance.
Whether it will do for climate change what it did for Nelson Mandela remains to be seen, but McKibben points to some heavy-hitting allies.
''Desmond Tutu asked everyone this [autumn] to divest from fossil-fuel companies, citing the toll of drought and famine on Africans.''
Among the difficulties in casting Exxon Mobil and BP as public enemy No 1, is of course, that most of us continue to rely on their product to get around.
''We're all enmeshed in this system. But very few of us are demanding that it never change,'' McKibben says.
''Individual change is important, but at the point we've now reached, structural and systemic change is required.''
All this presupposes the science of climate change. But there are voices to the contrary, albeit a small minority.
McKibben says we have arrived at the point where we need not rely on the word of scientists, there is evidence more immediately available than their climate models and prognostications.
''At this point, you don't need to pay that much attention to predictions.
"Look at the world around you, and see the change already under way: rapidly melting ice, rapidly acidifying oceans, ever more drought and flood.''
This week McKibben's been tweeting about Europe's floods, highlighting a New Scientist article, among others, that makes the connection between climate change and waters rising to a 500-year high.
Nevertheless, doubters remain, finding alternative explanations for continental firestorms and city-sacking hurricanes.
By one assessment, there's a 97% scientific consensus on anthropogenic climate change, but just 45% of the general public believe there is scientific agreement. That is not to say there is complete agreement among climate-change scientists on every point.
A recent article in Nature Geoscience, for example suggested a lower level of climate sensitivity to doubling of carbon dioxide - though it still predicted a temperature rise of up to 3.9degC.
McKibben is not daunted, suggesting that rather than denting the arguments for reducing carbon emissions, the article provides a glimmer of hope.
''It means, if it turns out to be true, that there's slightly more hope we can still make a difference. The biggest obstacle to action is the idea that it's all beyond hope.
"And it may be - the Arctic melted last year, which is not a good sign. But this kind of news does make it seem more worthwhile to keep fighting,'' he says.
There are signs of activity. One of the world's biggest polluters, China, recently declared it will put a cap on its emissions before 2020.
It is both too timid a step and a hopeful sign, according to McKibben.
''But the Chinese deserve credit for engaging this issue even though they have hundreds of millions remaining in poverty,'' he says.
On the other hand, the New Zealand Government recently approved access to conservation land for a new coal mine, while in McKibben's backyard, the United States Congress has again voted to back the construction of a pipeline across the US to carry tar-sand oil to markets - increasing the pressure on President Barack Obama to approve it.
So are we heading in the right direction on climate change or not?
''We are not. The amount of carbon in the atmosphere continues to mount, and the lack of political leadership in many places is sad.
"So, we'll have to supply that leadership ourselves,'' McKibben says.
''Things are bad already. Hard to imagine a storm much worse than Hurricane Sandy.''
Sandy, the Manhattan-flooding storm of last year, was just another symptom of a changed world, in McKibben's telling.
What then of the North Island drought in New Zealand's past summer?
''I don't know the natural history of rainfall patterns in New Zealand.
"But clearly every weather event is now influenced by the extra solar energy we're trapping in our narrow envelope of atmosphere. In the crudest terms, expect dry areas to get drier, and wet areas wetter,'' he says.
And what of the debate in Dunedin over support for deep-sea oil exploration off the coast?
''Dunedin is one of the loveliest towns I've ever been to,'' he says.
''If you pay any attention to the climate maths, you'll know that we need to leave carbon underground.
"There's no risk of environmental damage from climate change - there's a guarantee.''