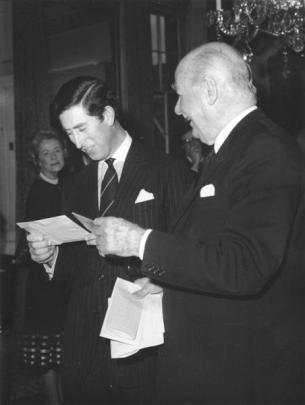 An extraordinary man is commemorated in a new book. But the most extraordinary thing of all about Lord Arthur Porritt - Olympian, war hero, New Zealand Governor-General and Royal Surgeon - is that his story has remained untold until now. Nigel Benson meets author Joseph Romanos.
In the film Chariots of Fire a willowy figure in a black singlet with a silver fern ghosts towards the tape in the 1924 Olympic Games 100m sprint final in Paris.
Arthur Porritt, of Wanganui, won the bronze medal that day; in what was perhaps the most famous Olympic sprint final of all time.
Porritt would have been immortalised in New Zealand history just for that race, but his legend was only just beginning.
The University of Otago-trained doctor and athlete went on to have a life out of a Boy's Own annual.
"People know his name, but not his story. There's never been a book on him," journalist and author Joseph Romanos says.
"He was the only New Zealander to ever win a sprint medal. He later said that the 11 seconds of that race had set him up for life. For his whole life after that he was introduced as an Olympic medallist," Romanos says.
"I think the guy's an exceptional New Zealander, who's never really been properly appreciated. It's amazing, but he's not that extraordinarily well known."
Romanos and co-author Dr Graeme Woodfield used Porritt's unpublished memoirs, "Nine Lives", and a remarkable collection of family photographs to produce No Ordinary Man - The Remarkable Life of Arthur Porritt.
The book follows Porritt's upbringing in Wanganui and Dunedin and his extraordinary subsequent life in England.
"He always thought he was very lucky; and he was. But you have to use your luck," Romanos says.
"He was lucky to win an Olympic medal, because he was up against one of the greatest fields of all time. It was a very, very strong field, with runners like Harold Abrahams, Charley Paddock and Jackson Scholz.
"He was quite realistic about his chances. A month before the Olympics, he ran in the British championships 100m and didn't even make the final," Romanos said.
"Before the Olympic final he said: 'I can run backwards and still be the sixth fastest 100m runner in the world'."
An ebullient optimist by nature, Porritt was also a self-effacing soul who had no tickets on himself.
"In Chariots of Fire he was called 'Tom Watson', because he'd refused the film-makers' permission to use his name in the film . He thought it would be tin-pot movie that wouldn't do justice to those great runners and that period," Romanos says.
"He felt terrible when he sat down in the theatre later and saw that it was a great movie. He was very, very regretful about that later on."
Porritt later wrote of that regret in his memoirs.
"I didn't want any part of it," he said.
"How wrong I was. When I saw the film I wished it was Arthur Porritt rather than the fictional Tom Watson who sailed on the ship across the channel with Abrahams, Eric Liddell and the rest, and Porritt who ran third behind Harold."
The year before that memorable final, Porritt was studying medicine at the University of Otago.
He had moved to Dunedin from his native Wanganui in 1920, before leaving in 1923 to take up a Rhodes Scholarship in London.
He embraced the London scene and made England his new home.
He became a member of the International Olympic Committee in 1935 and was later centre stage at some of New Zealand's greatest sporting moments, presenting gold medals to Jack Lovelock (1500m) in 1936, Yvette Williams (long jump) in 1952 and Peter Snell (1500m) and Murray Halberg (5000m) in 1960.
He also served as chairman of the British Empire and Commonwealth Games Federation for 18 years, from 1948.
However one of his proudest days was when the British Royal Family came calling.
"In 1936, he was asked to be surgeon to the Royal Family. It was obviously very important to him. He put an asterisk in his diary on days that something important happened. On that day he put eight asterisks," Romanos says.
Porritt served as Royal Surgeon from 1936 to 1967.
"That put him in the circles he aspired to be in. But, he remained a very nice guy and got on with everyone," Romanos says.
"He was extremely proud he came from New Zealand and mentioned his links with New Zealand his whole life. But, he was a total Pom, really."
The foreword to No Ordinary Man - The Remarkable Life of Arthur Porritt has been written by the Duke of Edinburgh Prince Philip.
The outbreak of World War 2 in 1939 saw Porritt posted to a field hospital at Dieppe, France, with the British Expeditionary Forces in May 1940, and he later also served in the Middle East.
"I had no idea what an incredible war hero he was," Romanos says.
"He was minutes away from being put in a concentration camp and he would have been there for five years. He was on the last boat out of France. He was at the D-Day landings and ended up getting decorated by the Americans."
After the war he returned to St Mary's Hospital in London.
In 1950, he became the first person to be simultaneously president of the Royal College of Surgeons council and the British Medical Association.
On May 8, that year, Porritt became the first New Zealand Rhodes Scholar to be knighted.
On November 19, 1966, Porritt was appointed Governor-General and he was elevated to the peerage in 1973, when he was invited into the House of Lords.
Romanos first met Porritt when he was a Wellington schoolboy and the Governor-General visited his school.
"I met him in the early 1970s, when I was at St Pats College in Wellington," Romanos says.
"When I went to the Olympics in Barcelona in 1992, I made a point on the way back of going to London to meet Arthur at his home in St John's Wood. I spent a day with him there. He was wonderful. Very funny and very sharp and he knew so many people," Romanos recalls.
"He had this great big silver doorstop at his home and I asked him what it was. It was an Olympic torch from 1948 which he'd kept.
"I later met his daughter, Joanna Meredith Hardy, and she told me he never watched television till he was in his mid-80s. He was just too busy," Romanos says.
In later life, Porritt often reflected on his New Zealand heritage.
"I can never be sufficiently grateful to New Zealand for that first 20 years of my life.
"To grow up, through infancy and childhood, through adolescence to young adulthood, in a country still responding actively to the challenge and adventure of colonial development, in an environment and in a climate so blessed by nature, in an atmosphere of freedom, fun and friendship, all these are gifts beyond price," he wrote in his memoir.
"It is a comforting and heart-warming thought in one's old age that at least to some extent I have been able to repay the debt I shall always owe to the country of my birth."
He died in London aged 93, just a few minutes after midnight, on January 1, 1994.
He was cremated and his ashes returned to New Zealand to be buried beside his father in the Karori, Wellington, Returned Soldiers' Cemetery.
No Ordinary Man - The Remarkable Life of Arthur Porritt (Trio Books, hbk, $60).