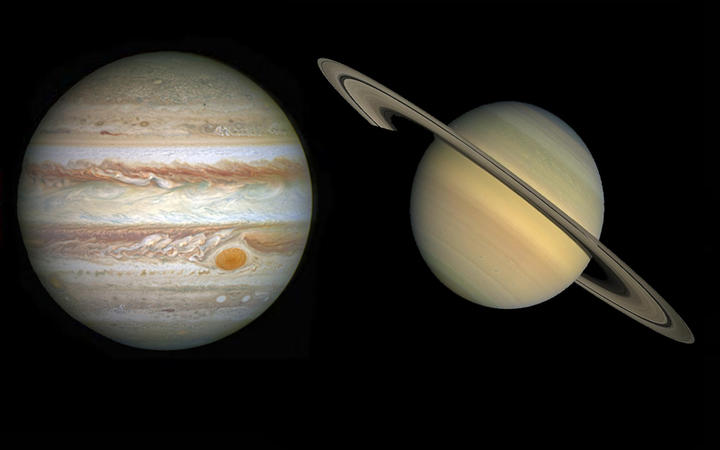 The sun reaches the southernmost point in its annual journey around the sky at 11.02pm on Monday, writes Ian Griffin.
It is the southern hemisphere summer solstice, which means stargazers across New Zealand can celebrate that, for the next six months, each night will be longer than the last.
There's another reason sky-watchers should be celebrating on Monday. That's because, after sunset, Jupiter and Saturn will be so close to each other in the sky that they will appear as a single star to the unaided eye.
This rather unusual event is called a great conjunction by astronomers, and you don't want to miss it!
While close approaches between Jupiter and Saturn occur roughly once every 20 years, the last time stargazers could see an approach this close from New Zealand was in March 1286.
Since the planets won't be as close again until 2080, this really is something worth making an effort to witness.
To see the conjunction, you will need to find a spot with an unobstructed western horizon. Sunset occurs just before 9.30pm, at which time the planets will be a smidgeon under 20 degrees above the horizon.
The best views will come an hour after sunset when the sky is reasonably dark. By this time, Jupiter and Saturn will be just seven degrees above the horizon.
While they will appear as a single star to the naked eye, binoculars will easily split the planetary pairing.
The best views will require a telescope. If you have one, it really is time to dust it off. You will be able to see the four major moons of Jupiter and Saturn's largest moon, Titan.
In reality, of course, the planets aren't very close to each other at all. The great conjunction is just a line of sight effect.
On Monday night, Jupiter will be more than 880 million kilometres from Earth, while Saturn's distance will be more than 1.6 billion kilometres!
Let's hope this great conjunction is a sign of better things to come in 2021.
Compliments of the season to all Otago sky-watchers!