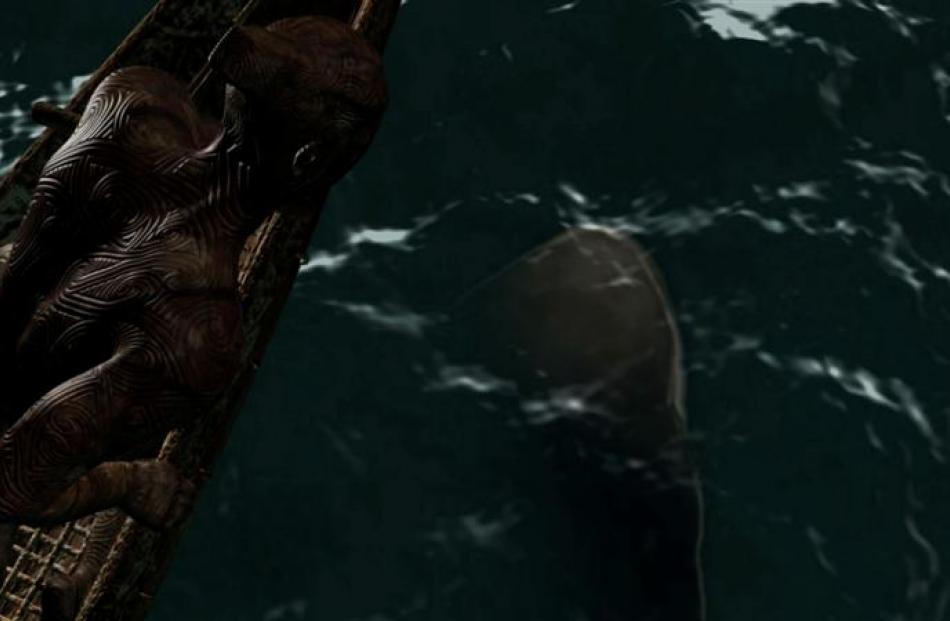 Ian Taylor's computer graphics business has gone global. Now he's been named a World Class New Zealander. Kim Dungey reports.
Ian Taylor had woken at two in the morning with no idea of where he was.
But the chief executive of Animation Research Ltd was used to being in Europe on business and assumed it would be 2pm in New Zealand - a good time to call the office.
Baffled when there was no reply from his Dunedin staff, he tried again later.
"I'm watching TV, thinking, God, they have Mitre 10s here as well," he recalls, laughing. "Then I pulled my curtains open and I was looking out at the sky tower. I was actually in Auckland."
To those who know his punishing schedule, Taylor's lapse is probably understandable. For others, pinning him down can be difficult.
New Zealand's pin-up boy for computer technology has agreed to an interview but it needs to be today because he will be in Christchurch and Wellington the next two days, then flying to London. He proposes meeting in an hour, then calls back and suggests 30 minutes.
He wants to talk about some of his team who as students won the world's biggest computer programming competition, but punctuates that tale with many others - all told with an infectious enthusiasm as one story leads into another, then doubles back on itself.
Later, he checks on the progress of various projects, remembers that he needs to send something to a client and tries to find his missing laptop.
At 62, the former pop star and children's television presenter heads a business that has been hailed as a world leader in computer graphics and teetered on the verge of bankruptcy.
And just as his rambling office with poor cellphone reception is not what one might expect a high-tech company to occupy, Taylor doesn't fit the mould of technical whizz kid.
He describes himself as a technophobe who has been only average at anything and who felt like an imposter when in 2008 he was inducted into the New Zealand High-Tech Hall of Fame. More recently, when someone told him he had won the creative category of the World Class New Zealand Awards, he thought they were "bloody mad".
A celebration of New Zealand's "tall poppies", the awards were presented on Thursday night by Trade and Enterprise New Zealand to those who have contributed significantly to the nation's development and reputation: "There have been some prestigious people win it. I just get up in the morning and go to work. But it occurred to me ... that it's easy to win a World Class New Zealander award. You just surround yourself with world-class Kiwis."
As a result he has been giving speeches around the country about the four University of Otago students who in 1989 were the first non-Americans to enter the ACM International Collegiate Programming Contest.
Like the Jamaican bobsledders at the 1988 Winter Olympics, the Otago team was the underdog, with two members not even computer science students but doing PhDs in physics.
Paul Sharp, Craig McNaughton, John Gee and Bruce Warrington were not expected to win their heat, let alone the final the following year.
When they asked how to enter, puzzled organisers consulted a map and decided they would have to qualify in Southern California, the closest part of the United States to New Zealand.
To put the achievement into perspective, Taylor lists some of the minor teams the All Blacks have beaten on the way to Rugby World Cup glory and those beaten by the students, including Stanford, Harvard and UCLA.
"We don't celebrate that sort of stuff enough."
And he says it is not only Sharp and McNaughton who work with him but everyone at ARL who continue to succeed internationally.
"We do have world-class people here [in New Zealand] but the big problem is these heroes end up on pages six and seven of most newspapers."
"Even today, when everybody talks the talk about how New Zealand's got these really clever people, nobody walks the walk. You can't win government contracts.
The people who have the ability to help you grow your business and to award contracts, never do it. They don't trust you to deliver."
The rare exception was when Airways New Zealand awarded a contract for an air traffic control simulator to ARL, "a little company in Dunedin that had never built one", later selling a second one to South Africa and entering into negotiations with other places such as the Gulf region.
"But how do you get to do that if New Zealand people don't step up and say, 'We believe you're world-class' as well?"
Lessons can be learned from the computing team's experience, he adds.
"If you want to be a world-class Kiwi, you have to take on the best in the world, which is what they did.
"And when you decide to do that, you've got to be aware that no-one gives a damn about where you're from."
Few know this better than the man who in the late 1980s decided he would never leave Dunedin because of the lifestyle the city and Central Otago offer.
"While some might say it limits your choices, it helps you focus as well," he says, adding that it means he sees opportunities that he might not otherwise have recognised.
"We'd be way, way more successful and way, way more profitable if we weren't in Dunedin ... but it's not an option."
Many local people already know how he and colleague Graham McArthur borrowed half a million dollars to take over the local studio being closed by TVNZ and how ARL was born when Taylor walked into the university's computer science division and saw students doing "amazing things with 3-D graphics".
What they may not know about are the gambles taken since.
A year in, when Animation Research had lost $120,000, the university pulled out of the joint venture, leaving him to find more money.
But more than 20 years on, four of the five original members, including Stu Smith, Paul Sharp and computer science professor Dr Geoff Wyvill, remain as shareholders. And all of them work there, apart from Dr Wyvill who Taylor describes as his total opposite - "quiet and humble and clever".
The company made its name developing graphics for the America's Cup, later expanding into other sports, but almost went bust when it spent $1.5 million developing ball-tracking technology and was "shafted" on a cricket broadcasting deal in India.
Arriving at work in April 2008 to close down the business, Taylor was greeted by receptionist Alison Gare holding up the Otago Daily Times. A front-page headline stated that Fisher and Paykel Appliances was shutting its Mosgiel factory, with the loss of 430 jobs.
"I can still remember her saying, 'God, wouldn't that be horrible'. And I thought, 'Well, I can't do it today'."
Over the next week he and wife Liz Grieve devised a rescue plan.
Cashing in their shares in the land information company Terralink gave them enough money to pay their debts and continue on a month-by-month basis.
And gradually more work began to come in, including a multimillion-dollar contract with the BBC to provide the graphics for its worldwide coverage of the Formula One racing series.
"That was four years ago and we're still chugging away."
Other projects are in the pipeline for ARL. It plans to promote the idea of a sports analysis centre at Forsyth Barr Stadium, has a contract with a large Australian firm that he cannot yet name and is looking at the possibility of being one of only two companies in the world to provide ball tracking in tennis.
Though he doesn't read spreadsheets, finds business plans boring and claims to be only an "average businessman, surrounded by a brilliant team", Taylor is known for his ability to see opportunities and to inspire those around him.
"I'm a dreamer," he says. "I don't believe there's anything that can't be done. But it has to be fun, which is why I still have to walk around golf courses plotting golf balls and tracking things ...
"I don't see anything as a risk, which is probably a bit dangerous ... Or if there is a risk, the opportunity is always bigger so it makes the risk irrelevant."
Whenever he has reached a crossroads in life, he's chosen the option that looked the most fun - and seems surprised by where that approach has taken him.
"You're walking down a fairway at the British Open or the US Open alongside Tiger Woods and you chuckle away to yourself, thinking holy s***, how did this happen?"
The son of a Maori mother and a Pakeha father, Taylor grew up in the east coast town of Raupunga where he remembers listening to Life with Dexter on a battery-powered radio. In a profile he once wrote, he described the day electricity arrived and the way a single light bulb filled the room with "daylight".
"I don't think we called it technology in those days. But ... it had a huge impact on me. At 8 years of age I figured if you could do that by flicking a switch, you could do anything."
It was while doing a law degree at Otago that he met Grieve, who is also a lawyer and in charge of contracts at Animation Research.
She claims that he sold her textbooks, which were out of date.
He says he had never read them so wouldn't have known.
The couple have two sons. Sam (26), who is in the sixth year of a medical degree at Otago, and Ben (23), who runs the company's European golf operation and is one of 11 former Kavanagh College pupils on the payroll of 23.
When not at work, Taylor spends time at a holiday home in Wanaka, plays golf, reads and tries unsuccessfully to beat his wife on "hard" Sudokus.
But evenings are often spent talking to overseas clients on Skype, which has revolutionised the way he does business.
Recently he tuned his television to the sports channels to find ARL coverage of cricket in New Zealand, Formula One in Melbourne, the Volvo Ocean race out of China and golf from Spain, he says.
"On my TV set in Ann St, Dunedin, all operated by people from here. How cool is that?"
And his own personal schedule seems no less hectic.
By the time we catch up with him again, Taylor has returned from London, where he has talked to the BBC about the British Open and to McLaren Applied Technologies.
He's arrived home on Sunday morning, done his washing, had lunch with his wife, then flown to Christchurch, Wellington and Auckland for a series of presentations. In a few days, he will travel to Gisborne to speak at a conference, before heading back to England.
Often, when talking about technology killing the tyranny of distance, he finishes with a video made by the "guys upstairs", he says. It's a computer graphic of a plane flying out of Dunedin and is based on his itinerary in one six-week period. As the video plays, Taylor continues talking but the eyes of his audience remain on the screen.
"As it goes on, you see them start to laugh because it just gets ridiculous. It comes back to Dunedin and you think it's finished and off it goes again. When Stu Smith finished it, he said, 'Did you realise that's quarter of the way to the moon'?"
---
The back story
Born: Northland 1950, to Maori mother (Ngati Kahungunu) and Pakeha father, both teachers.
Raised: In the small east coast settlement of Raupunga, halfway between Napier and Gisborne.
Education: Catholic boarding school in Masterton; quit business degree at Victoria University to join a band; called up for compulsory military training.
Moving south: Did law degree at Otago; in final year started work on Play School; presenter on the children's show, Spot On.
Going solo: Set up television production company Taylormade 1989, making documentaries and children's programmes.
Animation: Founded computer graphics company Animation Research Ltd in a joint venture with the computer science division at the University of Otago; developed world-first live 3-D animations for sports coverage - used at America's Cup 1992 - and its sporting division, Virtual Eye, since used for golf, Formula One racing and cricket.
Other projects: Air traffic control simulator for Airways New Zealand; virtual tour for Whalewatch Kaikoura; 3-D films for Waka Maori pavilion during the 2011 Rugby World Cup; co-founded online tourism software BookIt.
Other roles: Board of Maori Television and innovation board of the Ministry of Science and Innovation.
Honours: New Zealand Hi-Tech Hall of Fame 2008; Companion of the NZ Order of Merit 2012; winner of creative section of the World Class New Zealand Awards 2012.
---