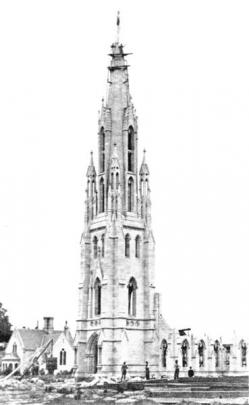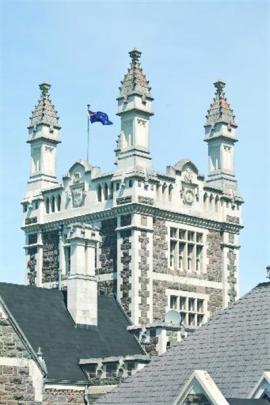 Otago can now hold her head higher at any mention of R.A. Lawson. Author and retired architect Norman Ledgerwood has brought to bear a lifetime of Lawson discoveries and thousands of hours of research to create a fuller understanding of the province's outstanding, sometimes controversial, early architect, writes Bruce Munro.
The things you find. In 1954, a fresh-faced architectural draughtsman was sent to fetch something from the upstairs storeroom of Dunedin architectural firm Salmond and Burt.
What 18-year-old Norman Ledgerwood found instead among the attic detritus were long-forgotten original drawings by Robert Arthur Lawson of his designs for several of New Zealand's most important historic buildings.
''The first one I opened up was the [1862] competition drawings for First Church,'' Mr Ledgerwood (76) recounted this month.
Next he dragged out a large rolled-up elevation drawing of Seacliff lunatic asylum.
Other original drawings followed.
When he took several downstairs and showed them to the firm's principal, Arthur Salmond, the effect was electrifying.
''I can remember Arthur was like a pup with two tails. He grabbed the drawings. He couldn't get out of the office quick enough to go along to First Church to show them the original drawings.''
More than half a century later, Mr Ledgerwood, by then a retired architect, began digging deep again. The result is R.A. Lawson: Victorian Architect of Dunedin, the first, and long-overdue, comprehensive treatment of the life, work and legacy of one of the colony's foremost architects.
The book, which is being launched this week, reveals the renowned architect as a gifted individual who was not without weaknesses. It also rehabilitates and enhances his reputation besmirched by, among other things, inaccurate reports of the Seacliff lunatic asylum debacle.
Growing up in Deborah Bay, on the northern edge of Otago Harbour, Mr Ledgerwood's knowledge of Dunedin and its architecture was limited to ''the walk from the railway station up the hill to school'' at King Edward Technical High School, in Stuart St.
''I think we just took it for granted,'' Mr Ledgerwood said.
But a flair for technical drawing and the prompting of a school careers master saw him become the office junior at Salmond and Burt, where he made his fortuitous discoveries.
Mr Ledgerwood worked in Dunedin after graduating as an architect. He and his family also spent a dozen years in Hong Kong, where he oversaw the capital works programme for the island state's vocational training council.
After retiring in 2002, his interest in Lawson gathered strength through researching his second book, The Heart of the City - The story of Dunedin's Octagon.
''I was surprised a Lawson biography hadn't already been written. He was a very important figure in New Zealand architecture,'' Mr Ledgerwood said.
The basic facts were already well-established. Robert Arthur Lawson, born in a small Scottish village on January 1, 1833, trained as an architect before emigrating to New Zealand via Australia. He arrived in Dunedin in May 1862 after winning a competition to design the future First Presbyterian Church of Otago.
During the ensuing decades he would design some of the young nation's most memorable buildings - First Church, Knox Church, the Octagon's Municipal Chambers, Otago Boys' High School, Larnach Castle ... He also designed the ill-fated Seacliff lunatic asylum where his negligence, according to what became the accepted story, brought his career to a halt.
Lawson shifted to Melbourne in 1890, but returned to Dunedin a decade later. He died on December 3, 1902, aged 69.
But, Mr Ledgerwood wondered, who was the man behind the name? What exactly was his contribution? What is his legacy? And what really stalled a career that appeared to have so much momentum?Mr Ledgerwood began the search in earnest five years ago. He was helped by art historian Peter Entwisle and Historic Cemeteries Conservation Trust chairman Stewart Harvey.
The hunt did not prove easy. Lawson left behind virtually no written records; neither private correspondence nor office records.
''We started to go through the newspaper advertisements and articles, going to Papers Past [website] and putting 'Lawson' into the Otago Daily Times and Otago Witness, and getting thousands and thousands of hits, and then having to sort through them all.
''That started to build up a picture.''
The first surprise was just how prolific Lawson was. From the town hall in Lawrence and the Presbyterian Church in Gore, to the Dundas St home of Dunedin Mayor Keith Ramsay, the Bank of New Zealand in Timaru, and Earlsbrae Hall in Melbourne, Australia, Mr Ledgerwood uncovered an ever-longer list of Lawson buildings of all types.
An appendix in the book, which includes new builds and alterations, lists 65 church buildings, 21 banks, 134 houses, 16 school buildings, 18 hotels, 15 civic and institutional buildings, and 117 commercial and industrial buildings.
It is many decades since most of those commercial and industrial buildings, most of them designed by Lawson in the 1870s, have been correctly attributed to him.
As a result, Mr Ledgerwood now disputes an assertion by the late Cyril Knight, who was emeritus professor of architecture at the University of Auckland, that Lawson's commercial buildings were ''never as convincing as his churches''.
''I think the design of some of his commercial buildings was extremely good,'' Mr Ledgerwood said.
''But I think when Cyril Knight wrote that, he wasn't aware of the number of buildings Lawson had actually done.
''For example, I doubt he would have known about the highly decorated New Zealand Loan and Mercantile warehouse. I didn't know it was a Lawson until I found the tender advertisement.''
A journal kept by the 21-year-old Lawson during his sea journey to Australia in 1854 is the only personal writing of his that has been found.
It provides several threads that can be traced through the years in newspaper reports about Lawson's activities and letters he wrote to the editor, which weave together to form a rough facsimile of the architect's inner world.
He was a devout Presbyterian who took an active role in church and mission activities. But he was not dour, regularly taking part in social gatherings. He was a teetotaller but pragmatic, designing hotels and an extension to Speight's Brewery. And with it all he was extremely self-confident and deeply stubborn.
''I'm not sure I would have been very fond of him had I known him,'' Mr Ledgerwood said.
''But then, of course, he lived in a different time.
''He was very much a man of his time.''
That stubborn streak exacerbated problems with the Seacliff lunatic asylum, built on unstable land, which became the subject of an official commission of inquiry in 1888. But it does not justify the hammering dealt to his reputation in recent decades, Mr Ledgerwood argues.
''One of the great myths ... is this nonsense that somebody wrote about the commission of inquiry finding him to be 'professionally negligent and incompetent'.
''That description has stuck ... And yet those words were never used by the commission.''
While he certainly was not blameless, the commission found both Lawson and the public works department were at fault.
''[But] that myth has never been challenged, until now.''
The idea that Lawson was then shunned by his peers also did not fit with the facts, Mr Ledgerwood said. So why then did Lawson spend most of his remaining years in Melbourne?
Mr Ledgerwood believed it was precipitated by the revelation that First Church, only 17 years old, was in an unsafe condition.
Christchurch architect Thomas Lambert had been called in by church leaders to identify and remedy the obvious dampness of the building's walls. His report was a ''damning indictment'' of the standard of construction of the church.
''[Lawson] appeared to have overcome the outcome of the Seacliff inquiry, and was surviving the effects of the financial depression,'' Mr Ledgerwood said.
''Lawson's decision to leave appears to have been made soon after he became aware of the investigation and the extent of the damage to the building.
''His church colleagues didn't know he was going permanently until he wrote [from Melbourne] asking for his [membership] records. I don't think he was altogether proud of the fact that he had left.''
But if youthful inexperience caused costly problems with First Church, Lawson's skill as an architect is evidenced by the many buildings he designed which still stand more than a century on.
Take, for example, the Reid and McLean warehouse that is now the Carpet Court building, in Cumberland St, Dunedin, Mr Ledgerwood said.
''When you see the construction ... and the structural systems used, it's quite remarkable.''
Mr Ledgerwood's book lists 94 surviving Lawson buildings, including 61 within Dunedin City boundaries and five in Melbourne. Dozens of them were photographed for the book by professional commercial photographer Graham Warman, of Dunedin.
London-trained Mr Warman specialises in architectural photography, usually new builds.
''I went into it with the thought it was just another job,'' Mr Warman said.
''Then all of a sudden I found the detail in the stonework and the whole heritage aspect of the project got me.
''I loved it.''