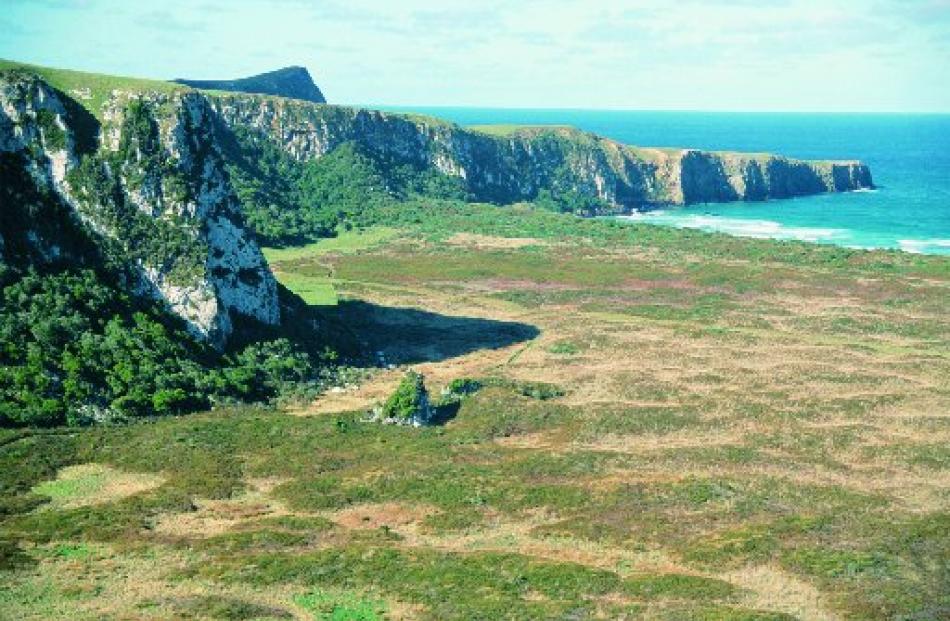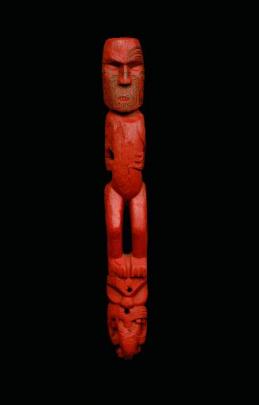 In this extract from Ngai Tahu: A Migration History -The Carrington Text, the South Island iwi Ngai Tahu and Ngati Mamoe struggle towards a lasting peace.

The establishment of peace between Ngai Tahu and Ngati Mamoe by about the time of European arrival was a prolonged and difficult process.
To some extent, the coming of takata pora (the ship people) was a factor in the ending of hostilities, the novelty of the people and their fascinating possessions being a powerful distraction from warfare.
Moreover, the truce was far from being as clearly defined as the iwi terms suggest.
For example, Te Ruahikihiki's son, grandson and great-grandson had all married Ngati Mamoe women, this being the conventional Ngai Tahu route to security of land tenure: Moki II was married to Hineraki, Te Pahi to Hakuiao, and Taikawa to Koraki.
When Kohuwai, Koraki's daughter, was married to Honekai, son of the Ngai Tahu leader Te Hau-tapu-nui-o-Tu, to seal the peace sought by the Ngäti Mamoe chief Raki-ihia, she was already half Ngäi Tahu by descent.
So although the peace depended on the agreement of Te Hau-tapu-nui-o-Tü and Raki-ihia, for direct descendants of Tüteähuka and Te Rakitauneke respectively, the issues were, strictly speaking, less about whakapapa than about a political identity that had acquired a significant regional character.
Evidently, the peace negotiated by the two leaders was generally accepted by Ngäi Tahu, who sent a large party of supporters back to Pukekura pä with Raki-ihia and his new wife, Hinehäkiri (a cousin to Te Hau-tapu-nui-o-Tü or sister, in Mäori terms).
But the acquiescence of Ngäti Mamoe was less complete.
Raki-ihia was clearly aware of this resistance, especially among his own brothers.
When two of his brothers killed Te Wera's family and followers at Matariki Island (a name recalling the pä on the Kaiköura coast where Ngäti Kurï had slaughtered Tüteurutiras Ngäti Mamoe kin), this led to the ambush by Te Hau-tapu-nui-o-Tü at Hillend, on the Clutha, an outcome that might have been avoided but for the death of Raki-ihia in a domestic incident.
There ensued a predictable series of battles involving the legendary Tarewai, which ranged from Pukekura pä to Mätauira Island in Preservation Inlet.
Similar events led to the chase and killing of Pukutahi, younger brother of Raki-ihia, at Te Anäu. The outcome of these feuds and battles was that Ngäi Tahu gained control of the south.
Carrington text
The deeds told here of Te Hau-tapu-nui-o-Tü, which led to the final pacification and unification of Mäori in the South Island, occurred during the last half of the eighteenth century.
It is clear that Te Hau-tapu-nui-o-Tü was the prominent figure of the South Island shortly before Te Rauparaha came on his raids from the North Island.
Those raids began not earlier than the year 1820, and Te Hau-tapu-nui-o-Tü's last battle was probably a good generation before that.
Te Hau-tapu-nui-o-Tü was dead when Te Rauparaha came.
When more settled conditions came to the southern portion of the island with the death of Taoka, there grew amongst Ngäti Mamoe a large party that was for peace and agreement with Ngäi Tahu, although a small party (just as there had been in North Canterbury) continued to wage war instead of accepting the inevitable.
All the time, intermarriage was working for unity, and there must have been a steady drift of individuals and families from the north to the lands of their new relations in the south.
At the same time, the continual strife was tending to weaken a population that had never been over-numerous.
The Carrington text goes on to tell of the exploits of Tarewai, a great Ngai Tahu fighting chief, whom Te Hau-tapu-nui-o-Tu had left in charge of Pukekura pa on Otago Peninsula.
Tarewai's Ngati Mamoe neighbours asked one day for assistance in building a big whare at Kapuketuroto, not far from Pukekura.
A number of Ngäi Tahu men responded to the call, among them being Tarewai himself.
Ngäti Mamoe, however, had concocted a clever ruse to get rid of the Ngäi Tahu warriors, and under the pretext of wrestling, managed to get some of them isolated in the bush alongside, where it was easy to dispatch them.
The whole of the Ngäi Tahu party, including the tohunga, Kahutüpuni, but excepting Tarewai, were killed in this way.
Tarewai, bound as a prisoner, was waiting to be disposed of.
Whakatakarewa, the Ngäti Mamoe chief, having decided that Tarewai's heart was to be eaten, took a sharp piece of flint and proceeded to cut him open, which entailed a long cut from the throat to the pit of the stomach.
He had made the first incision, which only cut the skin, and had just pierced the cavity below the breast-bone, when the men who were holding Tarewai, deceived by his passivity, relaxed their grasp slightly.
Up till then he had not winced or moved at all, but then suddenly he broke loose with a yell that quite astonished his enemies, and before they had recovered he was lost in the bush.
Ngäti Mamoe's hot pursuit failed to find him.
Tarewai found a suitable hiding place, doctored his wounds, managed to get some food (roots and birds), and then during the hours of darkness came back to the Ngäti Mamoe camp.
There he found the men sitting around the fire, talking of his escape and passing round his whalebone mere from hand to hand for inspection.
Quietly he worked his way into the crowd and at last was able to ask, in a feigned voice, for permission to handle the weapon: "Let me, too, look at the weapon of this brave warrior."
Then, with a terrible yell, and his famous mere held firmly in his hand, Tarewai again astounded Ngäti Mamoe as he revealed his identity and once more vanished into the bush.
The next day Tarewai went back to Pukekura, which in the meantime had been besieged by Ngäti Mamoe.
From a tree, he contrived to signal to his friends in the pä to perform a haka, always a great spectacle, and so attract Ngäti Mamoe to the seaward side of the pä, which enabled him to get into the pä from the other side.
His sudden appearance so terrified Ngäti Mamoe and heartened his own people that a sudden attack drove the besiegers away.
This particular branch of Ngäti Mamoe then left Otago Heads and went around to Preservation Inlet, where they built a pä named Te Pä-a-te-whara, but it was not long before Tarewai was on their trail.
Tarewai and his nephew, Te Waha-o-te-märama, went around in two big double war canoes, ostensibly on a friendly visit.
The Ngäi Tahu canoes were anchored off the pä, but during the night one of the Ngäti Mamoe swam out to Tarewai's canoe, to which he fastened a rope; the canoe was then gently and quietly dragged ashore, where Tarewai and his men were made prisoners.
In the pä, Tarewai, who was a man of great size and strength, made a determined effort to escape, but slipped on some green flax and was overcome by weight of numbers.
His men were then easily disposed of.
When Tarewai's nephew returned to Pukekura with the news of his death, his other relatives at once organised a war party to attack Ngäti Mamoe, and went around the coast to Preservation Inlet in a newly painted double canoe.
They arrived at night, and paddled quietly past the pä. Further up the inlet, they hid their canoe in the bush which came down to the waters edge, while they made their way overland back to the entrance of the pä.
Mätauira Island, on which the Ngäti Mamoe pä was situated, was connected to the mainland by a narrow spit, and there a man named Maru, Tarewai's uncle, emulated the ruse of his ancestor, Te Räkaitauheke, and pretended to be a seal.
Again Ngäti Mamoe were caught in the trap and came out to get te ika moana (the sea creature) so providentially cast up at their very door.
Maru sprang up with a shout as the men from the pä approached, and the Ngäi Tahu warriors sprang between Ngäti Mamoe and their pä.
Ngäti Mamoe had come out unarmed, and the slaughter was rapid. Most of the men having been killed, the pä easily fell. Ngäi Tahu, however, were not to enjoy their triumph for long.
It so happened that another Ngäti Mamoe party had been out fishing further up the sound and came back past the place where Ngäi Tahu had hidden their war canoe.
In daylight the canoe was easily visible, and Ngäti Mamoe very naturally took it in tow.
As they came abreast of Mätauira Island they could see what was going on in the pä, while Ngäi Tahu in the heat of victory could see their only means of transport being taken from them.
The Ngäti Mamoe went on to their settlement in Dusky Sound, and the Ngäi Tahu party was never heard of again.
It is certain that its leaders never returned to Otago Heads.
The last phase of the Ngäi Tahu invasion and occupation of the South Island is concerned at first with the remains of the Ngäti Mamoe chief Raki-ihia, who had gone to Kaiapoi to arrange peace and returned to his home in the south with Te Hau-tapu-nui-o-Tü, only to meet his death from a spear wound at the hands of the husband of a slave.
At his own special request he was buried on the summit of Te Urunga-te-raki, a little hill on the sea coast near the Clutha, from where his spirit "might see his old haunts to the southward".
Many years after Raki-ihia's death, his bones were carried down to the beach by a landslip, where they were found by some Ngäi Tahu fishermen who made fish-hooks of them.
When out fishing they made remarks, in the hearing of some Ngäti Mamoe, about the old man holding the häpuku well.
These Ngäti Mamoe reported the occurrence to their friends, found that the grave had been disturbed, and determined to take their revenge, saying: "The two brothers (Te Raki-ämomohia and Taihua) died on the field of battle, but this man (Raki-ihia) has been dishonoured in death".
An opportunity for revenge occurred shortly afterwards, when Täne-whakatoro-tika, a grandson of Taoka, went out with a party of men from Pukekura to collect fern-roots.
The Ngäi Tahu party was surprised, Täne-whakatoro-tika being taken prisoner and all his men killed.
Täne-whakatoro-tika was taken to Te Mäui, a relative of Raki-ihia and his two brothers, who was told the identity and status of the prisoner.
"This comb-fastening is equal to that comb-fastening," said Te Mäui (meaning that Täne-whakatoro-tikas rank was equal to that of Raki-ihia, and his death would give compensation), and thereupon he killed the prisoner.
Taikawa, the Ngäti Mamoe chief who had helped Ngäi Tahu on previous occasions, came along at about that time and was amazed when he heard that they had killed a prominent Ngäi Tahu chief.
"You have done foolishly," he said, "for not a single one of you will now be spared. You must fly, and safety lies only in the depths of the forests and the haunts of the kiwi."
Ngäti Mamoe, realising that flight was their only hope, made for the Waiau River and travelled up towards Lake Te Anäu.
With the party was Pukutahi, the younger brother of Raki-ihia, whom that chief had told Te Hau-tapu-nui-o-Tü to spare.
Since then, however, he had identified himself with the last of the irreconcilables, and was to meet his fate. He was advanced in years and in bad health.
At the crossroads known as Key of the Lakes, the fugitives divided, Pukutahi going to Te Anäu and Te Mäui, who was accompanied by Huatea, going to Moturau, now called Manapöuri.
In the meantime, the news of Täne-whakatoro-tika's death had been spread throughout Ngäi Tahu, and Te Hau-tapu-nui-o-Tü at once organised a war party.
This was the last combined war party that fought against Ngäti Mamoe, though there were other parties later to meet another foe.
Southwards from Kaiköura came Te Hau-tapu-nui-o-Tü, his army increasing as he passed each settlement.
By the time Pukutahi reached Te Anäu, Te Hau-tapu-nui-o-Tü was hot on the trail.
At the Key of the Lakes, Te Hau-tapu-nui-o-Tü observed that the fugitives had divided and, unfortunately for Pukutahi, he decided to follow the trail up to Te Anäu.
Pukutahi lay sick in his shelter, while some of his followers made rafts for themselves and went exploring up the lake to find some safer place of refuge.
That night, quite unknown to Ngäti Mamoe, Te Hau-tapu-nui-o-Tü approached the encampment, and at daybreak let loose his men upon it.
Pukutahi was killed, and the last of his men were killed or taken prisoner. Many important Ngäti Mamoe chiefs were amongst those taken.
Te Hau-tapu-nui-o-Tu did not at that time pursue Te Mäui, who eventually returned to Otago and led a fugitive existence with a few men, killing an occasional Ngai Tahu, until he was caught and killed also. As Taikawa had predicted, Ngati Mamoe were not spared.
Ngai Tahu had become exasperated with the attitude of the section of Ngati Mamoe that had kept the two tribes at war, and Te Hau-tapu-nui-o-Tu and his war party had come down the coast with the sole object of ending once and for all any Ngati Mamoe claims to independence.
As he followed the fugitives, he had exterminated every community that had shown the slightest sign of opposition.
Now, having in his hands the bulk of those who were opposed to affiliation with Ngai Tahu, as well as the more important owners of the land, he was determined to extinguish their rights forever.
The prisoners of no importance were immediately dispatched and sent to the ovens.
Of the others, some were also eaten, Te Hau-tapu-nui-o-Tu thereby personally absorbing their claims to land, and some were given their lives in exchange for their lands.
From hill to hill, and island by island, he acquired the title to the ownership of the land in exchange for the lives of its previous owners.
Pokohiwi, Manawa-karito and Ruataniwha were some of those who purchased their lives.
Thus were Ngati Mamoe, if not exterminated, absorbed by Ngai Tahu and dispossessed of their lands; and thus was the Ngäi Tahu invasion of the South Island brought to its successful conclusion after about one hundred and fifty years of strife.
But there was still more to be done, for in the north there had arisen a new power Te Rauparaha of Ngäti Toa.
Ngäi Tahu were shortly to be called upon to suffer great woes in attempting to hold what they had conquered.