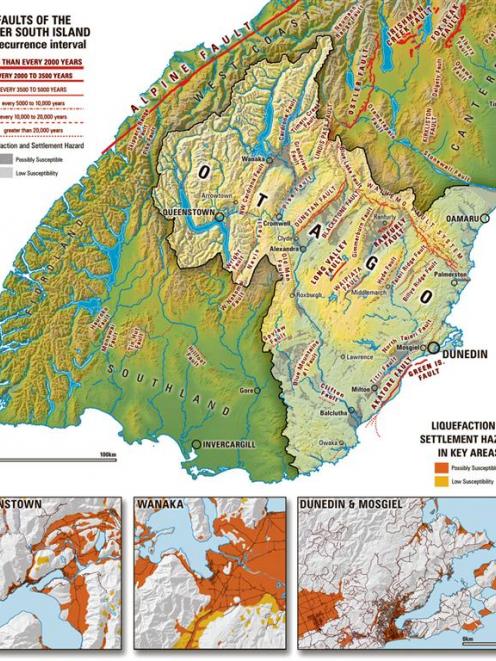 The Christchurch earthquake has raised the obvious question of whether Dunedin is likely to be similarly struck, and how prepared the city is to cope. Mark Price and Kim Dungey report.
If earthquakes were as regular as clockwork, then a "big one" of magnitude 8 affecting Otago is 43 years overdue.
The South Island's major fault line, the "Alpine Fault", which is responsible for the Southern Alps, last moved in a big way about 1717, 293 years ago.
But, the geological record shows four major earthquakes there over the past 1000 years - or one every 250 years on average.
University of Otago geophysicist Dr Andrew Gorman does not believe it is scaremongering to suggest we are overdue for a big one.
"There is a 50% chance over the next 50 years that there will be a magnitude 8 earthquake on the alpine fault.
"Using statistics, that's sort of the best answer we can give."
He says the gaps between quakes on the alpine fault have varied between 400 years and 112 years.
"So, it's not a precise clock that's ticking.
"But certainly the longer that gap is, the more likely there is going to be one."
And, although all the many fault lines of the South Island are interlinked, Dr Gorman does not expect the Canterbury earthquake has reduced the odds.
"It's certainly reducing the pressure but it basically comes down to statistics, and statistics can bite you sometimes.
"You can end up having another one that's really close in time and it could be just bad luck.
"The other thing that's been found, just looking at earthquakes in other parts of the world, is that sometimes earthquakes will happen in clusters.
"So you will get one earthquake that will happen and then another one will happen that's related to it - maybe not even in the same location.
By releasing the pressure in one point, you might have increased it somewhere else."
And the "somewhere else" could be any one of the many fault lines running through Otago.
Dr Gorman points out that on a drive across Otago, every ridge crossed has a fault at its base.
Between Dunedin and Ranfurly for instance there are the Akatore, Titri, North Taieri, Taieri Ridge, Hyde, Waipiata, Ranfurly and Waihemo faults that could be active.
"In geology, we'll say a fault is active if it has ruptured since the last ice age - say the past 10,000-15,000 years.
"And there's geological evidence for all of these having gone in that time period."
But, as with the Canterbury fault, he expects there are more faults beneath Otago that are not visible.
"In some case, there's just as much chance that they are going to be causing damage but there's no real direct evidence of them on the surface so we can't really predict where they are going to be."
Dr Gorman says 70% of fault motion occurs along the alpine fault where the Pacific plate, carrying Otago, and the Australian plate meet.
The other 30% is "distributed back" on to the Pacific plate.
"And so all of these little faults ... will take up some of the motion - essentially the crinkling of the plate as you get close to the edge."
The most well-known fault near Dunedin is the Akatore fault, which was blamed for the 1974 quake in the city.
More recent work, however, suggests that earthquake may have been on the more recently discovered Green Island fault.
But, Dr Gorman believes it is the Alpine Fault that demands most attention in Otago, particularly the western side "... because we know that's going to happen and when it does happen it's likely to be a much larger earthquake too".
"So even if it is 100km away, it could be a magnitude 8 or higher and that certainly could cause a lot of damage." 
On a more reassuring note, Dr Gorman says he is impressed with civil defence preparations, particularly in Dunedin, Queenstown and Wanaka.
"They have been making sure they are aware of the science behind things and I think they certainly have identified the biggest hazards and risks to populations."
---
The boss of one of the country's biggest building firms is quite clear about where he would not like to be during a big earthquake in Dunedin.
Retiring managing director of Naylor Love Trevor Kempton says there "will be a number of buildings in that category".
"And, I would suggest they would be the two- to three-level, timber floor, brick buildings that haven't had their seismic upgrade done."
Mr Kempton believes being in a building like that would not be "a particularly comfortable experience".
"It's essentially the relatively narrow buildings in the main street, some of those, which have had no seismic upgrade at all that I'd be a bit dodgy about."
Mr Kempton said he would have no concerns about being in one of the city's more modern buildings such as Otago House, in Princes St, and would also have fewer concerns about being in one of the city's heritage buildings.
Mr Kempton has visited Christchurch to see the earthquake damage at first hand and can relate the effects he has seen there to the Dunedin situation.
"The kinds of buildings in Christchurch that have suffered very significant damage are amongst the cheaper and simpler of the buildings.
"In the main streets of towns, you have a big, two-storey building. A lot of them are the ones that have failed and are being demolished.
"They'll have a heavy frontage on them, they won't be that wide ... and they have bricks (or unreinforced concrete blocks) down each side."
Their other feature will be a lack of internal partitions holding the frontage together.
"There might only be one wooden floor, which won't be tied in very well at all. An earthquake comes along and it [the frontage] just falls over in the street. If it's a biggie."
He believes there is also a risk in Dunedin from parapets falling into the street, even from a milder earthquake.
"You've seen a lot of that in Christchurch - the parapets just fallen in the street. And that is a mortal danger to pedestrians."
Mr Kempton believes the solution to many of the safety issues is what he terms "detailing".
"That is, are the floors tied in solidly to the walls so that they can offer a supporting diaphragm and are there vertical partitions inside the building ... which are tied solidly into those exterior walls?"
"There is a good deal of seismic upgrade that will simply be detail - putting in a lot of additional componentry, metalwork generally, that will tie all the components together."
Mr Kempton says Naylor Love has done "a lot" of that sort of work around Dunedin and he mentions, in particular, the Settlers Museum, the geology department and other buildings at the University of Otago, the Westpac bank building in George St, the clock tower of the railway station, Otago Girls High School and Cleopatra's nightclub, the former BNZ building in Princes St.
And, having seen how well some of Christchurch's heritage buildings withstood the earthquake, he also has considerable faith in them.
"They often have a better chance of survival than some of these little ... buildings that have been built to a budget and that's because their stonework may well have superior detailing.
And the stonemasonry may be of a particularly high quality."
Mr Kempton accepts there is a difficulty for the Dunedin City Council in imposing earthquake strengthening on building owners.
"The thing you have to be careful about is that we don't impose standards which wreck the viability of a lot of our main street businesses.
"It's a very delicate proposition."
He says insisting on seismic upgrades would likely lead to increased rents "... and then the little businesses say there's no place for us in the main street. That affects the viability of the main street which is something the city council is really keen to maintain.
"I think it's really quite important that if the city is going to impose higher seismic standards then it isn't pitched at a level which drives business out of those older buildings."
A solution, he believes, might be insisting a percentage of detailing work is done so "the building might get stuffed in a big earthquake but the people won't get killed".
"It's relatively low-impact work which, if well done, will achieve a great deal.
"The first thing you would do is secure the parapets because that's the first thing that's going to kill somebody, even in a relatively mild earthquake."
Mr Kempton did not know how many parapets were secure.
"But, there are plenty around that aren't."